HARTING's solutions make the digital railway a reality
HARTING are constantly developing and refining their connection technologies to improve the transmission of data, signals and power in railway applications. They also deliver future proof solutions via cutting edge products and hi-tech developments designed for the rail industry.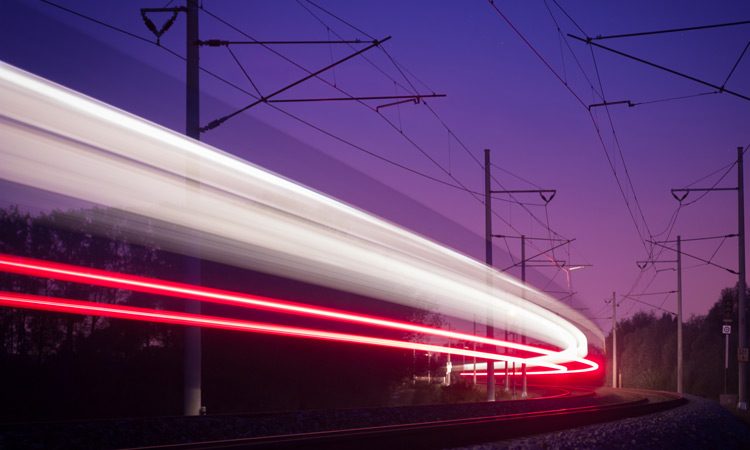 One important method of digitalising processes involves the ability to identify and locate components and tools. HARTING's range of UHF Radio Frequency Identification (RFID) products are robust and adaptable, meaning they can be employed across a host of rail environments.
The portfolio includes special transponders, known as RFID tags, which allow railways to track components across their facilities, carry out Automatic Vehicle Identification (AVI) and simplify maintenance. As the train enters the servicing area the RFID reader automatically identifies it, reads the transponders and informs engineers which components require maintenance. Transponders can store a host of useful information such as installation date, date of manufacture and last service date, allowing engineers to instantly access a full, paperless service history.
RFID can also be used for accurate positioning at stations. Trains must stop at specific and exact points for safety reasons and sometimes not all doors can be opened due to platform lengths. Contactless and maintenance-free UHF RFID systems allow for precise and reliable train positioning, even under adverse conditions.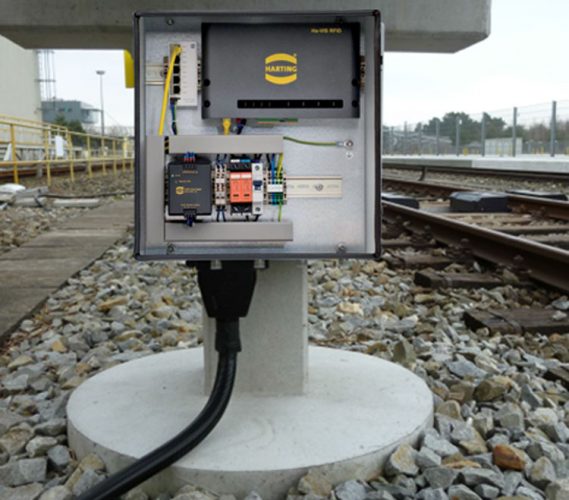 Many HARTING RFID products are IP65/IP67 rated and can endure wide temperature variations, high humidity and continue to be readable in harsh, industrial environments where the tag may become coated in oil and grease. Tags can also be securely encrypted to protect sensitive data. In addition, RFID hardware is future proofed through the addition of features such as WLAN, Bluetooth Low Energy and GSM.
Another key benefit of RFID is that, unlike barcodes, direct line of sight is not required to read the transponder. It's also possible to get information and data from multiple tags at once, with the high-speed technology allowing up to 300 tags per second to be read. Another advantage for the rail industry is that tags can be read from several metres away, even when trains are travelling at over 120mph.
Another key challenge facing rail operators is the need for larger data capacities on rolling stock. Passenger information systems rely on audio and video signals to communicate and travellers now expect fast and reliable internet access.
By using EtherRail® cables and the preLink® system, which are specifically designed for railway requirements, data networks in trains can be securely built and future proofed. The termination block of the preLink® system simplifies the creation of the cable connection and makes it possible to pre-fabricate data cables outside the carriage before installing them. This method offers flexibility and simplifies assembly, making it faster and more reliable.
HARTING has also created a space-saving solution for the delivery of Ethernet at up to 10 Gbit/sec. Devices in trains such as sensors, cameras and automation equipment are rapidly decreasing in size, whilst passenger information screens are becoming thinner and flatter. Device connectors must therefore follow suit, to ensure they don't take up too much of the limited installation space on miniaturised equipment.
The ix Industrial® is a robust Ethernet connector to replace the traditional RJ45. It has a 70 per cent smaller PCB jack so it can be used on compact devices and a high current-carrying capacity that supports both existing and future Power over Ethernet (PoE) applications. It is standardised to comply with IEC 61076-3-124 and conforms to the shock and vibration resistance levels set out in EN 50155 railway specifications.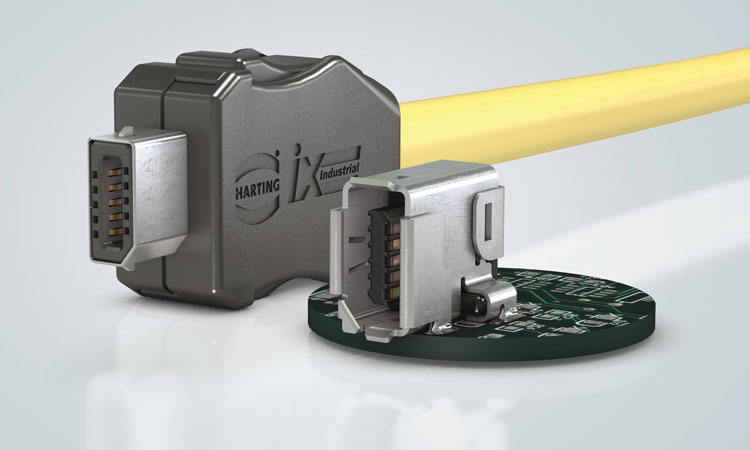 Related topics
Related organisations