The role of Green Furniture Concept's sustainable station design
Johan Berhin, founder and designer, and Adele Kamel, Head of Global Marketing, from Green Furniture Concept spoke with Global Railway Review to discuss the significance of station design and sustainability, as well as how the COVID-19 pandemic has impacted the future of the company's approach to station design.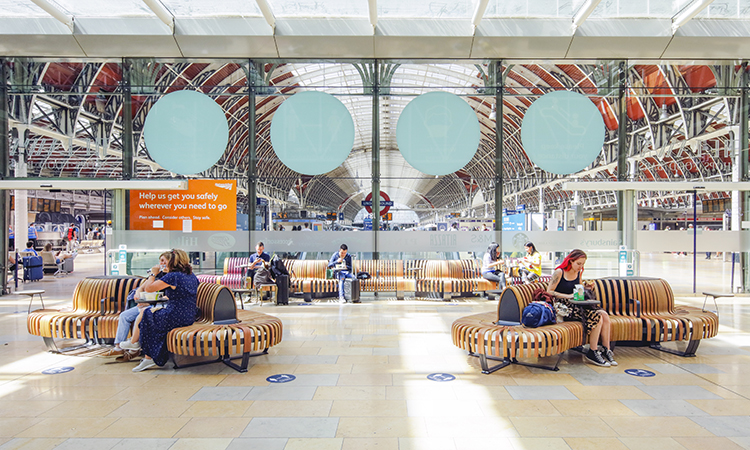 Credit: Green Furniture Concept
How important is the role of station design in improving the passenger experience at train stations?
Just to give you an example – changing the seating at London Victoria Station and London Bridge Station brought the waiting experience satisfaction from below 30 per cent to over 80 per cent.
Our design is placemaking. "Placemaking is about turning a place from somewhere you can't wait to go through to somewhere you never want to leave".
A recent report from Airports Council International (ACI) showed that every one per cent increased passenger satisfaction yields 1.5 per cent more retail.
What unique features do your products offer for passengers beyond being solely seating areas?
Green Furniture Concept seating is modular architecture. It has an impact on the overall impression of the place, and it is easily configured to go with the flow and fit around the structures of the building.
Today, many public places or waiting areas have endless straight, grey lines of seating. Many are lacking in warmth, a welcoming nature and any sense of place, and are just a space like any other. Green Furniture Concept wanted to challenge this perception of what a public space could look like, and design something more people friendly, something for everyone to share. An island in the public space; a place where people talk, laugh, contemplate and network; a place to build relationships. Creating meeting points that reach out beyond spatiality to a sense of place, a sense of local character, that becomes conversation pieces and landmarks.
The biophilic design brings nature inside and helps passengers to connect with nature to improve health and well-being. In addition, we know how dependent we all are on our electronic devices. Therefore, integrated electricity and charging points while waiting has been appreciated.
Why is sustainability such a vital part of Green Furniture Concept's ethos?
Sustainability is why we are here. Our mission as a company is to show a good, circular way in public places around the world for the rest of the industry to follow. We are happy to share our sustainable findings with our competitors, as sharing is the only way that we can make a difference and, like that, we can go to work with a smile every day – knowing we are part of making a positive impact.
What makes your products sustainable and how do you ensure this?
The basics are quite simple – circularity. We use natural materials that are part of the ecosystem, and recycled materials that can be recycled again. Our business model is circular, and we buy back our seating when it is not needed anymore in order to reuse the parts in new furniture.
Has the COVID-19 pandemic changed the way Green Furniture Concept approaches station design?
People feel insecure about travelling these days. Creating nice places to sit down and rest gives people a break, and this is needed now more than ever. Fitting a lot of people in waiting areas may not seem like a priority right now. So, to optimise the capacity, our seamless and modular design helps us keep families together with the option to ensure distance from others.
What does a post-COVID-19 future of station design and furniture cleanliness look like to Green Furniture Concept?
Surface disinfection is now conducted in all public interiors, where formerly it was only in healthcare. The experience we gained from working with hospitals, including having to meet their requirements for hygiene and cleanliness, means that we can now apply those same principles to other sectors, like the rail sector. This is particularly key considering the current climate surrounding health safety during the COVID-19 pandemic. Our furniture is made of natural wood that is also a natural antiseptic. 
COVID-19 will change how the world behaves. But this is not the first or last time of redirection. Modularity and reconfigurability are key to moving with any unprecedented changes in how waiting areas are used – this time, formations can be split up into smaller units or divided with planters in a nice way to create sensible social distancing.

Johan Berhin is the founder of Green Furniture Concept. He is the designer behind the Nova C series that you can find in public places all over the world. He has an engineering and industrial background and received his design education at the TU Delft in Holland, and at Domus Academy in Milano. His industrial experience has given him a good knowledge of manufacturing and has fed a need to make things better – to find ways of manufacturing closer to nature.

Adele Kamel, Head of Global Marketing at Green Furniture Concept, has a Master's degree in Business Development and Entrepreneurship. Her strength is in combining marketing strategies across multiple channels and departments using her background and experience from sales and leadership to get a holistic approach and understanding how to bring optimal value to the market.