Infrabel focuses on digital data as it moves towards predictive maintenance
Over the last five years, Infrabel, the Belgian rail infrastructure manager, has made a strong commitment to the digital transformation of maintenance to further improve the safety and quality of rail transport in Belgium. For Global Railway Review, Annelies Stevens, Manager of Switches, covers the many challenges of this transformation in the area of switch maintenance and its impact on Infrabel's organisation.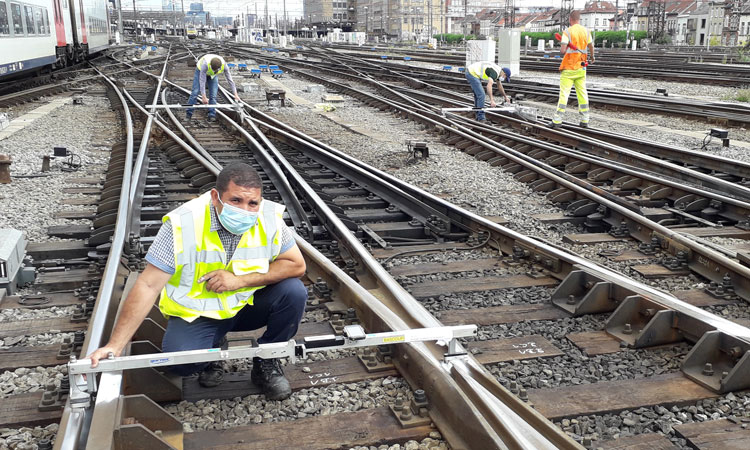 Big data – the basis of predictive maintenance
The Belgian railway network is one of the busiest in Europe. To guarantee safe and punctual rail traffic, Infrabel must regularly check, maintain and, where necessary, replace its rail infrastructure. For example, the track geometry on 3,600km of railway lines and 10,000 switches is measured several times a year to determine where maintenance is required. In recent years, we have invested heavily in digitalising our data. This concerns both the maintenance plans of tracks and switches and crossings (S&C) and the records linked to that maintenance. Every employee has access to the necessary information via the digital SAP platform. He or she can check whether maintenance was carried out, see whether it was done on time and look up the findings and measurements.
Tablets, from paper to paperless
As a first step, paper records were converted into digital data that can be accessed directly and centrally. During periodic checks, the technician records their findings on a tablet, based on predefined error catalogues. Measurements are immediately recorded and sent to a central platform in the SAP system. Centrally accessible data allows us to perform many more analyses and detect trends, thereby helping us to carry out predictive maintenance. Dedicated data teams have, therefore, been set up with specialists in image recognition, machine learning and mathematical algorithms who will play a crucial role in the ongoing transformation to predictive maintenance in the years to come.
Digital rulers
In addition to storing data via mobile applications, many steps have been taken to automate recordings. For example, instead of an analogue ruler, the geometry of track devices is now measured with a digital ruler that transmits the data directly to the central platform.
The often more complex digital measuring devices require specific training and knowledge. By sending specialised measuring teams into the field to carry out checks and inspections at S&C, it was possible to provide appropriate training and guidance. At the same time, the quality of the work carried out was improved and work was performed in a more consistent way across the various teams.
Measuring trains
In parallel with the investment in digital rulers, a measuring system for S&C was also acquired for one of our measuring trains. The Switch Measuring System (SMS) is able to carry out the same measurements on S&C entirely automatically, far more efficiently than a measuring team. The SMS currently measures 3,000 S&C on the main track, and we are looking to equip a second measuring train with this system to further increase the numbers. As well as the switch measuring system itself, which replaces manual measurement, Infrabel's measuring train also has a Switch Video System (SVS) that films the S&C in high resolution. This system replaces the eyes of the measuring team.
The introduction of switch measurements by train improves the quality of the measurements: The track or S&C measurements are more realistic because they are made under real load. The infrastructure is, therefore, measured as seen by the train running on it.
What is more, measurements made with a measuring train take place continuously, whereas manual measurements are only taken in certain predefined places on the S&C. This means that we get a more complete picture of the S&C.
Also, measurement with a train requires less track occupation compared to manual measurement, leaving more capacity for commercial train paths.
Last but not least, introducing measuring trains increases safety: Technicians no longer need to be on the track to carry out measurements, which means a safer working environment for our people.
The measurement data and video images are sent to a central data centre – in the case of Infrabel, to the Muizen Data Centre, near Mechelen – after which they are processed by the central Track Data Cell, which analyses the measurements and video images and draws up a measurement report for each S&C.
Finally, the measurement report for each S&C is submitted to the local maintenance engineer. He or she analyses the findings and the measurement report and decides what maintenance operations are needed.
For the first time, maintenance is carried out on the basis of measurements that were not carried out locally. This is a huge step for our maintenance technicians, who relinquish part of the process, entrusting it to new technology and the central data cell. Whereas, in the past, the team that measured the S&C was also responsible for maintaining them, the two processes are now completely separate. In time, this should lead to higher quality and, hence, greater safety.
Sensors
As well as automation, Infrabel is strongly committed to monitoring and IoT of localised infrastructure assets, such as S&C. Since railway equipment is electrically controlled, it is not a complex matter to monitor certain parameters with sensors and transmit the data to the central platform. Today, the power consumption of around 600 switches is measured and used to predict failures and resolve them faster.
Developments in the monitoring market are closely followed, and proofs of concepts (POCs) are regularly organised to test new systems. This includes measurements of vibration, acceleration, force and displacement in switch operation. The ultimate goal is to manage crucial S&C in such a way that the combination of monitoring and measuring trains allows maintenance to be organised without the intervention of measuring teams. Preferably, this will be done far enough in advance to ensure that impacts on safety, punctuality and capacity are kept to a minimum.
Digitalise fully and continue to evolve
Experience has taught us that digital transformation is not just about tools, but also people and processes. Digitalisation requires a different mindset from every employee, with certain tasks being placed elsewhere, new tools being introduced and processes adapted. It is important to implement the changes gradually and in consultation with local maintenance teams. Their knowledge and expertise must remain the core, supported by automation and data.
Through positive cooperation with those working in the field and a dynamic approach, Infrabel has created a successful central data platform. This opens the door to real usage and condition‑based maintenance. The challenge now is to go on developing the processes to use all of this data as effectively as possible and evolve towards predictive maintenance.

Annelies Stevens graduated in 1999 as a civil engineer in materials science at the University of Ghent. After her studies, she joined the national railway company as team lead of the mechanical department in the materials laboratory. Besides routine mechanical testing, Annelies studied different types of failures on all sorts of components for trains and railway infrastructure. In 2010, Annelies started to work in Infrabel's Inspection Department, responsible for the quality assessment of the important suppliers of railway infrastructure components, such as rails, sleepers, frogs and much more. In 2015, she became the Manager of Switches (and crossings) at Infrabel, responsible for the design and maintenance rules for turnouts.