A unique strategy for digitally transforming Russian Railways: The train driver app
Oleg Valinsky, Deputy Managing Director of Russian Railways, shares details about the railway company's train driver mobile app and how it helps to interact with locomotive crews.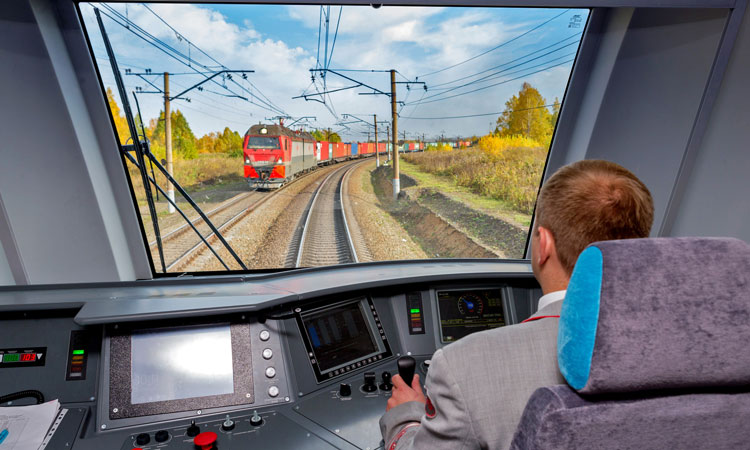 In the modern world, apps are more popular than ever and continue to be an important tool for communication between governments and citizens in many different spheres.
For example, the one-click apps popular for shopping combine the ease of choosing products, payment, logistics, targeted advertising, etc., on a single platform. In addition to their obvious advantages, such as reducing costs and increasing customer coverage, larger goals are also achieved; for example, altering the habits of end consumers and encouraging online purchases.
Navigation apps are very helpful in solving transportation problems in some of Russia's largest cities, such as Moscow and St. Petersburg. Delivery services provided invaluable assistance during the hardest periods of the pandemic and quarantine and, taking into account the sheer size of Russia and how widespread its population is, the role of Gosuslugi (the federal and municipal public-services portal) cannot be overstated.
Mobile platforms reduce transaction costs; cut out middlemen in information-sharing processes; help integrate communication into a single information space; increase end-user loyalty; and, ultimately, facilitate the digital transformation of entire sectors of the economy.
Russian Railways (RZD) has developed several apps for travellers (i.e., for electronic ticket sales) and employees (including a portal presenting an array of services, benefits and information) as part of its digital transformation strategy.
RZD's Traction Rolling Stock platform, which includes project portfolios for managing train crews, locomotive lifecycles and support, is being developed at the Directorate of Traction. These projects are based on technologies such as the Internet of Things (IoT), big data, artificial intelligence (AI) and blockchain, and they were designed so that train crews and other transportation workers can access them through an app.
In the second half of 2020, we started rolling out the train driver app – a unique strategy for digitally transforming Russian Railways – to all divisions of the Directorate of Traction.
Before explaining how unique the driver app is, I'd like to highlight the uniqueness of the Directorate of Traction itself, which is a subdivision of RZD.
We are singlehandedly responsible for the company's entire locomotive economy and, today, the Directorate includes 16 subdivisions – regional traction directorates distributed throughout Russia, from Kaliningrad to Vladivostok. Each one has an average of 10 operational locomotive depots with a staff of about 1,000 locomotive crews. So, at the moment, more than 110,000 drivers and assistant drivers work for us.
In addition to the numbers, several features were taken into account when designing and developing this app; for example, locomotive classes, types of currents and climates are all different for different regional directorates. Because we employ people of various ages with different skillsets and experience in digital technology, developing an intuitive interface was very important.
As I've already mentioned, the app has an enormous number of users, and every person is unique, but, thanks to the great technical training of locomotive crews and all of the features that were taken into account during its design, we've already managed to connect about 100,000 people.
Another very important aspect is our interactions with other departments within RZD and outside contractors, such as the companies that repair Directorate of Traction locomotives. This was also addressed in the app.
The train driver app is the first industrial social-networking app of its kind. We managed to organise user interactions with production information systems to provide a number of social services and communication platforms, all within a single product.
It greatly simplifies things such as receiving instructions before a trip, sending feedback on railway infrastructure and electronic routing. Employees can view information on energy consumption, the operating speed target and other important criteria. The train driver app will remind workers when it's time for a medical examination; any exams coming up; and, of course, their next trip, as planned by one of the platform's modules.
There are so many other qualities of this app; it offers about 30 services, each of which has its own performance metrics and continuous-improvement processes.
Although the influence of digital transformation projects can be appreciated only after they have been in operation for some time, it's clear that non-key services such as Receiving Orders (allowing off-duty locomotive crews to keep track of any increase in shift hours and inform drivers about the Operation of Logical Controls) will drastically change technological processes.
Other key services provided by the train driver app that will likely significantly transform business processes include the Electronic Logbook, Driver Inspection Reports, Instructions, Regulatory Documentation Evaluation, Electronic Forms, Process Flow Diagrams and Information about the Locomotive. However, I would not be surprised if the Forum or Blogging features also significantly impact the efficiency and safety of locomotive crews.
It should also be noted that this app was developed using modern techniques, such as Agile and Design thinking. For the first version, 20 locomotive workers were involved in the project team and rapid prototyping was used. The project is still in development, because, in the today's world, when you stop moving, you stop progressing. Right now, the focus group features about 1,000 participants involved in redesigning the app.
In the end, I'd say that effectively managing an enterprise requires up-to-date and complete information on the company's facilities. As an intelligent system for interacting with locomotive crews, the train driver app goes both ways: information from the rolling stock platform modules, processed by analysts or neural networks, is sent to the locomotive crews, and we receive data from those working on the ground.
Tools like the train driver app allow the use of network-centric management practices; contribute to a cultural shift in our teams; and, we expect, will significantly contribute to the digital transformation of the Russian Railways Directorate of Traction.

Oleg Valinsky began his railway service in 1980 from entry-level positions. In 1986, he graduated from the Leningrad Technical College of Railway Transportation with a degree in Railway Operation and, in 1997, from St. Petersburg State Transport University with a major in Transportation Organisation and Management. In 2004, Oleg worked as Deputy Head of the Oktyabrskaya Railway (a branch of Russian Railways, servicing railway lines in the north-west of Russia and the line linking St. Petersburg with Moscow). In 2008, Oleg was appointed as First Deputy Head of the Oktyabrskaya Railway and, in 2014, he was promoted to the Head of the Railway. In 2016, he was appointed as Vice President (Deputy Managing Director) of Russian Railways and headed the Directorate for Traction, accountable for the operation of locomotives.