Security first: A look at VIA Rail's Police Service
Peter Lambrinakos, Chief of Police and Corporate Security at VIA Rail Canada, discusses VIA Rail Police's mandate and the efforts deployed to provide a safe and secure passenger rail service across Canada.
As passengers are at the heart of VIA Rail's mission, safety and security have always been our top priorities.
As passengers are at the heart of VIA Rail's mission, safety and security have always been our top priorities. In fact, they are at the forefront of all our activities and are deeply rooted in our organisation's culture – whether in our stations, on board our trains, in our maintenance centres, and in the more than 400 communities we serve from coast to coast.
Always led by high standards of integrity, professionalism and dedication, VIA Rail's Police Service has continued to grow its presence across the country since its creation four years ago, in spite of the impact of the pandemic on operations.
A commitment to strengthening railway security
Before delving into the mandate and the efforts deployed by VIA Rail Police, it is first important to understand the extent of the Corporation's services. Indeed, VIA Rail operates on a 12,500km network and offers intercity rail services and travel options to regional and remote communities.
Over the years, VIA Rail has become a recognised leader in safety and security, and is committed to educating the public, training employees and fostering a culture in which safety and security are the number one priority in all it does.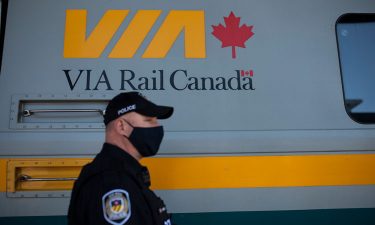 VIA Rail thus started its Police Service in 2017 with the primary mandate of ensuring the security of passengers, employees and communities served across the country, as well as the protection of properties and assets of its railway operations. And with a growing ridership over the past few years, the Corporation took its commitment towards security a step further by aiming to go from safe to safer.
As such, since its creation VIA Rail Police has established several security programmes and initiatives, which have become an integral part of the Corporation's responsibility under the Railway Safety Act, as regulated by Transport Canada. Some of these responsibilities include promoting confidence in the Corporation's services through a reassuring presence for customers, enhancing operational effectiveness and efficiency, preventing crime and security incidents, as well as safeguarding victims and people in situations of vulnerability.
Working alongside VIA Rail's Corporate Security, the Police Service focuses on a proactive and preventative approach, adopting a holistic problem-solving method through a community-based policing model. As such, our Police Inspectors have regional responsibilities, while VIA Rail's Police Constables hold a liaison role and are assigned to various stations across our network. Some also act as canine handlers for Yukon and Ty, VIA Rail's trained explosive detection dogs.
Working alongside VIA Rail's Corporate Security, the Police Service focuses on a proactive and preventative approach, adopting a holistic problem-solving method through a community-based policing model.
Founded in 2017, the special canine unit is able to deploy non-invasive and effective security measures, thanks to its ability to screen wide crowds, without affecting traffic flow or operations. VIA Rail's Police Service dogs are the first 'Vapor Wake' detection canines in Canada. Environmentally prepared and scientifically conditioned from birth, Yukon and Ty were specifically trained to proactively alert their human handlers to the presence of concealed and body-worn explosive threats before they become a danger by screening large, moving crowds in areas of high traffic, such as train stations, without impeding customer flow.
In addition to including a canine unit to its service, VIA Rail Police has grown its team and expanded its duties over the years. It now encompasses the Intelligence Service, which focuses on facilitating intelligence and information sharing with law enforcement agencies across the country; VIA Rail Police Communications Centre, which is responsible for real-time communications, dispatching calls, managing video surveillance and access management systems; and Security Forces, which are now centralised and oversee on-board protective service agents as well as the station and maintenance security guards.
With the gradual yet significant growth of our service, we also needed to modernise our technological tools in order to continue fulfilling our mandate. This led to, among others, the integration of new technology to enhance VIA Rail Police's Open Source Intelligence (OSINT) Threat Management capabilities and the revamping of our security incident alert system to better align with partners. VIA Rail Police has also implemented a state-of-the-art digital Records Management System, shared by multiple law enforcement agencies. It enables constables to have access to technology and allows them to do their job effectively and safely within an intelligence-led policing model.
Collaboration: A crucial factor in ensuring security
For the past four years, our Police Service has collaborated closely with communities and over 100 law enforcement agencies – ranging from Canadian Police Services to security and intelligence agencies across the country's rail network.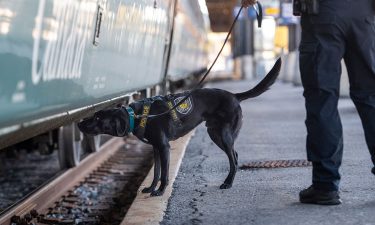 Thus, to promote the implementation of integrated, collaborative and efficient security best practices, VIA Rail Police participates in strategic partnerships, namely with the Canadian and International Associations of Chiefs of Police, as well as numerous committees working on provincial and national resolutions, policies and protocols within the rail security industry. Moreover, VIA Rail Police also teams up with other first responders such as emergency medical services, fire departments, emergency measures organisations, as well as with coroners and medical examiners.
In addition, in collaboration with federal, provincial, municipal, railway, transit and First Nations law enforcement, VIA Rail Police deploys safety and security exercises in stations across the country to test incident response capabilities, as well as monitor, prevent and manage security risks. Other activities include mental health partnerships, response to homelessness, human trafficking prevention and fraud enforcement.
Security measures in times of crisis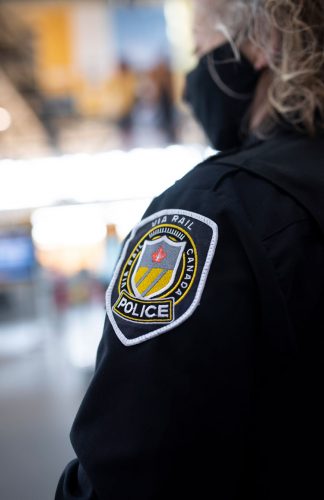 Since the beginning of the COVID-19 pandemic, VIA Rail has proactively put in place a strict protocol of sanitary measures to minimise the spread of the virus, all while maintaining a safe and essential public service. As a result, VIA Rail Police also had to adapt its operations in order to continue fulfilling its mandate during these unprecedented times.
For instance, the Corporation's front-line employees and passengers have been able to count on the continued support of our Police Service, which has provided a visible and reassuring presence through increased patrols in key stations across the country, all while ensuring the respect of sanitary measures and physical distancing. VIA Rail Police also pursued the training programme of its two Labrador Retrievers. In March 2021, the handlers led joint exercises in empty trains with Ottawa Police Service's K9 team and the Ontario Provincial Police, which ensures the dogs' training and skills remain flawless.
Of course, promoting security best practices does not only mean training employees, but also raising awareness through prevention and education of the public. As such, since its creation, VIA Rail Police has been participating in Operation Lifesaver Canada's Rail Safety Week. In the context of the pandemic, VIA Rail Police had to rethink how it would conduct security awareness initiatives and education efforts. Thus, our police constables hosted virtual presentations for students across Canada to continue to raise awareness around railway safety and the risks associated to trespassing. Ultimately, VIA Rail Police aims to deploy year-around initiatives to educate the public on precautions to take around railway property and the real dangers of venturing near tracks.
Leaning on a comprehensive approach to security, VIA Rail Police is dedicated to pursuing its mandate by adopting industry standards and best practices, all while driving strategic collaborations with key partners, and by always being guided by the Corporation's values.

After leaving the Montréal Police Service in 2015, Peter Lambrinakos joined VIA Rail Canada. With more than 30 years of experience in law enforcement, he contributed to building the Corporation's own Police Service, which was born in 2017, and became its first Chief of Police and Corporate Security. Over the years, the organisation's security approach has continuously evolved to align to a growing ridership and the changing expectations and needs of its customers.