Russian Railways: Keeping our passengers and staff safe during a pandemic
Dmitry Pegov, Deputy Managing Director of Passenger Services at Russian Railways (RZD), details the thorough measures that were and continue to be taken to ensure the health and safety of passengers and employees during the COVID-19 pandemic.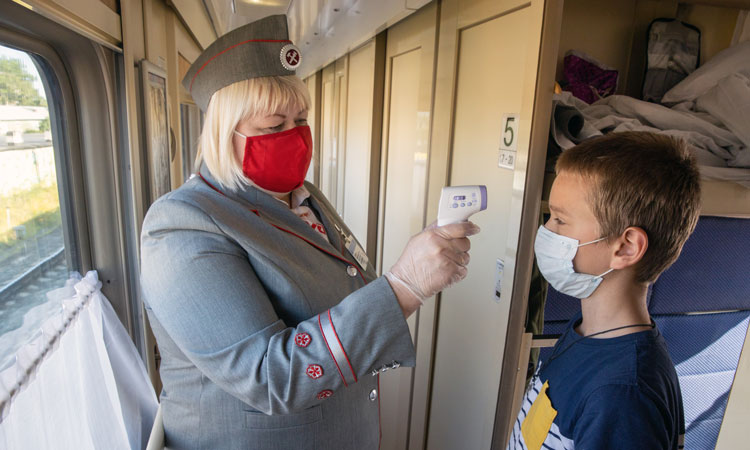 Every year, millions of Russians choose to travel the country by rail. In 2020, despite COVID-19 restrictions, Russian Railways (RZD) welcomed almost 870 million passengers; 68 million on long-distance trains and 802 million on suburban trains.
Throughout it all, we paid close attention to ensuring the health of both our passengers and our employees. Moreover, Russia is very large, and passengers can end up spending several days on our network; our trains, which travel along the Trans-Siberian Railway, almost the entire country from west to east, will spend almost a week going from Moscow to Vladivostok. You could say that the train is practically a hotel or even a second home for our passengers, so it is important that they feel comfortable and safe while they are with us.
We have always fully complied with sanitary standards, but COVID-19 made them even stricter, and we are sticklers for adhering to them. To keep new coronavirus infections from spreading, we are carrying out a whole range of measures to ensure passengers' safety.
Getting trains ready for the trip
It all starts before the trains depart. We disinfect all surfaces using antiviral agents, and we also do it more often during the trips, too: before the pandemic, we cleaned twice a day, and now it's four times a day. All handles and handrails inside the trains are wiped with disinfectants.
Before the voyage, a technical inspection is carried out for each train, with diagnostics and inspections carried out to ensure that the ventilation and air conditioning are working properly.
All new trains, as well as those that have undergone major remodelling, are equipped with a cleaning system and air disinfection. The air entering from the outside is cleaned by a filtration system and interior air is disinfected using ultraviolet lamps.
On the network
All long-distance passenger trains are equipped with non-contact thermometers, and our conductors take the body temperature of passengers as they board the train and during the trip as often as doctors recommend, depending on how long the trip lasts: at least once per trip if the train is travelling for up to five hours, and at least twice a day if it's longer, as well as any time that a passenger requests it.
If a passenger feels unwell and has a temperature, medical workers will attend to them at the nearest station. Before the doctors arrive, the train crew will follow all instructions and precautions in accordance with regulations.
On high-speed trains travelling up to five hours in one direction, passengers are required to wear a mask; on other long-distance trains running several days and nights, the use of personal protective equipment (PPE) and masks is advised.
If a passenger doesn't have their own PPE, then masks, gloves and antiseptics can be purchased from the conductor.
Of course, we constantly remind our passengers of the need to comply with safety measures: each carriage has a list of recommendations for personal hygiene and precautions, including wearing masks while travelling, and important information is also broadcast over the train's loudspeaker.
At train stations
PPE can also be purchased at ticket offices, pharmacies, vending machines and retail stores located in the train stations.
An array of anti-epidemic measures have also been implemented at all train stations and stops since March 2020. To maintain social distancing in lobbies, ticket halls and waiting rooms, there are upright indicators and floor markings showing how far away from each other it is safe to stand, and seating sections in waiting rooms are labelled with seating recommendations.
Station employees ventilate and clean the premises using safe disinfectants with a wide range of antimicrobial effects on a regular basis. Surfaces that passengers regularly come into contact with – such as door handles, railings, handrails, seat armrests and tables – are given special attention. Antiseptic dispensers are also available for visitors, as are disposable bags to keep personal belongings from coming into contact with surfaces. Several railway stations also use non-contact infrared thermometers to take passengers' temperatures.
Medical stations are additionally equipped with anti-epidemic agents and hand-held non-contact infrared thermometers.
Ensuring the health of our workers
Employee health is a big priority for our company. The frontline personnel of RZD undergo additional briefings on safety procedures so that they know what to do if they come into contact with someone with symptoms of an infectious disease. All employees that interact with passengers are provided with masks, gloves and antiseptics.
In addition, RZD personnel who are in daily contact with large numbers of people undergo mandatory medical examinations before taking their shift, with a focus on identifying employees with symptoms of acute respiratory infections.
Frontline staff periodically take PCR COVID-19 tests, and the train master or conductor can travel only after testing negative.
RZD was also one of the first companies in the country to provide its employees with vaccinations against COVID-19. The first vaccination points were opened on 23 December 2020 at two Russian Railways Medicine healthcare facilities, and vaccination centres are equipped with all of the necessary medical equipment. Cold-chain logistics are used for the storage and transportation of the vaccine, and everyone who receives a vaccination receives a certificate. Any employee that wants to be vaccinated and has no medical contraindications has the opportunity to do so.

Dmitry Pegov began his professional career in the railway sector in 1994 as an assistant electric train driver at a locomotive depot. He later worked as an electric train driver and a driver instructor of locomotive crews (in high-speed traffic) before being appointed as Deputy Head of the St. Petersburg–Moskovskoye Multiple-Unit Train Depot of the Oktyabrskaya Railway (a branch of Russian Railways). In 2004, Pegov headed up this depot. In June 2009, he was appointed Head of the North-Western Directorate of High-speed Communication – a structural division of the Directorate of High-speed Communication (a branch of Russian Railways). In February 2010, he headed up the Directorate of High-speed Communication and, in this position, oversaw the launch of the first high-speed trains in Russia. From 2014 to 2017, Dmitry was Head of State Unitary Enterprise Moscow Metro. In May 2017, he was appointed as Director of Passenger Services at Russian Railways and, in 2018, Deputy Managing Director of Russian Railways.