FRMCS and its role in Finland's rail safety related communications
Markku Voutilainen, Senior Inspector Project Manager at the Finnish Transport Infrastructure Agency (FTIA), delves into the topic of safety related communications across Finland's rail network, exploring the complexities of preparing for FRMCS while facing uncertainty around specification and implementation timelines, while marking the technological step forward it will mean for the industry.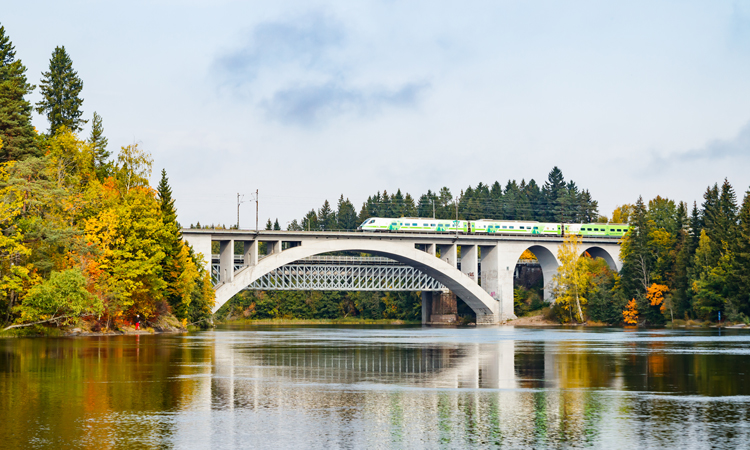 The current situation regarding railway safety related communications in Finland, our preliminary plans and considerations, are presented in Figure 1. Simply, we will need a new solution to be able to provide voice and data communication services in the future. We have a clear vision how to proceed, but the current situation is quite complex and there are many dependencies which are partly beyond our control. Therefore, the presented time schedule is a draft and it is based on certain assumptions and estimations.
FRMCS specification and standardisation
The Future Railway Mobile Communications System (FRMCS) specification is in an intensive phase and the system is taking shape. Figure 1 presents the main players regarding FRMCS specification and standardisation work and its estimated time schedule.
A precondition for all radio systems is a frequency spectrum with proper radio signal propagation characteristic. The International Union of Railways (UIC) coordinated lobbying work to get the frequency spectrum for FRMCS. This resulted in the European Commission (EC) mandating the European Conference of Postal and Telecommunications Administration (CEPT) and its Electronic Communications Committee (ECC) to define the radio spectrum and harmonise the least restrictive technical conditions for it. The final EU decision is expected at some point in 2021. Therefore, railways will get an extension for the existing GSM-R frequency band in the area of 900 MHz and a new band in the area of 1900 MHz. The preconditions are fulfilled, when national allocation of these frequencies are granted.
5G radio access, even 5G Stand Alone (SA), is already a reality in public mobile networks. The UIC has set a FRMCS project, which together with stakeholders are specifying functional, system and some interface requirements for FRMCS. The goal is to get the first phase specifications (FRMCS V1) as comprehensive as possible and include them in the CCS TSI revision in 2022. The complementary second phase package (FRMCS V2) will be included later in the next CCS TSI revision, perhaps in 2025. The challenge is that the content of the first CCS TSI revision is not yet known.
In addition to these railway specific requirements, FRMCS equipment needs to be based on the European Harmonized Standards. European Telecommunications Standards Institute (ETSI) is an European Standards Organization (ESO) and one of the seven Organisational Partners of the 3rd Generation Partnership Project (3GPP), which develops global standards for cellular telecommunications technologies, like 5G. FRMCS will also cause some changes to the 3GPP standards. FRMCS changes are a minor part of the 3GPP work and we are fully dependent on their time schedules for new releases of the 5G standards. Based on the EU mandate, ETSI will specify necessary complementary European standards for FRMCS and they will be delivered by the end of 2022.
These standardisation matters are quite complex, but we need to contribute and closely follow the progress and content of this standardisation work to be able to change our plans, if needed. The main standardisation milestones are presented in Figure 1.
Voice communication
After demolishing our GSM-R network, we started to use public authorities' countrywide mission critical radio network for railway safety related voice communication. Figure 1 shows the Public Protection and Disaster Relief (PPDR) narrowband network, called Virve. It is a very cost-effective solution for us and users are satisfied with its services, so we have no need to change the situation. The network technology is old narrowband TETRA. Virve 2.0 is an ongoing project, whose task is to transfer TETRA communication to 4G/5G based broadband network during the 2020 decade. Therefore, we also must find a new solution for approximately 5,000 railway mobile users before the TETRA network is closed down. The challenge is that the real closing date is not yet known, therefore we need to closely follow the development and progress of the public authorities' Virve 2.0 broadband project.
Bearer independent approach
Figure 2 illustrates our bearer independent approach for the railway voice communication services. The picture tells the whole story. The starting point was in 2014, when we started to plan and prepare how to continue voice communication services when GSM-R equipment was approaching the end of its lifetime. The decision was to buy communication service from the TETRA network and retrofit TETRA train radios. The main justification was the cost (investment and operation). Mid-life investment for GSM-R upgrade was considered to be too high, due to the short utilisation time before switching to the new FRMCS. Finland is a railway island in the EU and we received temporary EU derogation for it, while waiting for FRMCS specifications and its market launch.
For the GSM-R to TETRA migration phase, and due to missing interworking functions and some railway specific functions in the TETRA network, we needed to specify a bearer independent communication and application platform – what we are calling a Unified Railway Communication Application (URCA) platform. URCA merges GSM-R, TETRA and public mobile networks and provides a unified platform for functional identity registrations, voice calls and emergency calls (e.g. EIRENE functions). The URCA enables most of the railway functionalities to also be used in the public mobile network by using a railway specific functional registration application on a smartphone. We are calling it RAPLI-application. The URCA and new fully IP based RAPLI will have an essential role during the next communication transfer to FRMCS compliant Radio Access Network (RAN) and in an interoperable way.
Radio network-based train control system
The Ministry of Transport and Communications established the Digirail project, whose goal is to introduce a modern radio network-based train control system for the entire rail network by the 2040s. The European Rail Traffic Management System (ERTMS) will also replace the legacy class B system in accordance with EU requirements. A recently started new development and verification phase of the project will continue until the end of 2027. Its aim is to define and verify the 'proof of concept' which will be used first in commercial pilot track, and later during the national rollout phase of the Digirail project. The recommended radio network is FRMCS based on 5G, which would rely on the available RAN of commercial operators, if sufficient Quality of Service (QoS) requirements were met. This will be verified by measurements before deciding the way to implement the RAN during 2022. The Digirail project's time schedule is presented in Figure 1.
Does the FRMCS time to market schedule fulfil requirements?
The FRMCS time to market schedule is very critical for us. Unfortunately, we do not know it now. Our positive estimation is that stable products will be available in 2026. We would need the CCS TSI compliant stable ETCS over FRMCS onboard and trackside products in 2026 at the latest, for our commercial ETCS pilot project. The length of the ETCS L2 pilot track is less than 200km and our goal is to use public Mobile Network Operators (MNO) 4G/5G RAN for the pilot.
We also need a FRMCS compliant RAN for voice communication services covering 5,700km of track before we can start migration from the TETRA network to FRMCS. Today, we do not know the real closing date of the TETRA network. It may be between 2026 and 2030. Therefore, the presented time schedule for voice services is based on the above-mentioned assumption on FRMCS time to market date.
We may need to adapt time schedules for our ETCS and voice communication projects based on progress of the FRMCS standardisation and real time to market date.
What can 5G-based FRMCS offer for the future of railways?
5G is often associated with new spectrum, massive Multiple Input Multiple Output (MIMO), network slicing, dual connectivity cloud implementation and edge computing, which enables ultra-reliable low latency communications and will boost mobile broadband data rates beyond 10 Gbps. Are these the vital future needs of the railways or are they cost effective reliable narrowband communication services (voice, ETCS, ATO)?
These requirements are defined in the draft FRMCS System Requirement Specification (RSR) document. The FRMCS system shall provide a clear separation and decoupling of the application environment from the network layer. The system shall be able to support multiple RAN and technology evolution shall easily be possible. The system shall support sharing principles and services and allow for a variety of organisational/ ownership/control models.
If FRMCS can fulfil all these requirements, it will unlock new and versatile opportunities for cooperation in network sharing and hybrid solutions together with public MNO, PPDR organisations and railways, because they will all be using 5G mobile technology in near future.
Will it be economically feasible to build railways broadband services using only the dedicated FRMCS frequency bands (900 MHz FDD 2x5MHz and 1900 TDD 10MHz), when public MNOs' have approximately 24 times more frequency band available in 700-2100 MHz area (calculated uplink and downlink bands together 480/20 MHz) and 147 times more frequency band available in 2.6‑28 GHz area? 5G cell capacity (data throughput) is directly depending on the available frequency spectrum according to the Shannon's law: Capacity ≈ Spectrum x Antennas x log2 (1 + SNR).
We are just at the beginning of planning and the introduction of 5G base communication systems. 5G technology will open new and versatile opportunities, which were not possible with GSM-R. Let us keep these open and not unnecessarily limit them with legislation.

Markku Voutilainen has been working for the Finnish Transport Infrastructure Agency (FTIA) since 2002. He has lead the GSM-R radio network implementation project. Later he was leading the project, where communication was transferred from GSM-R to the state security TETRA network and a bearer independent communication concept was introduced. He is now preparing the next communication evolution step how to introduce Future Railway Mobile Communications System (FRMCS) in Finland. Prior to his current position, he has worked for Nokia and Ericsson in Finland, Europe, Far and Middle East and has more than 35 years' versatile experience in public and private telecommunications.