Indian Railways' freight IT system: Towards a digitally integrated value chain
Amit Kumar Jain, General Manager/FOIS in the Centre for Railway Information – an IT arm of India's Ministry of Railways, explains how a Freight Operations Information System (FOIS) has emerged as a key player in the development of a digitally integrated logistics ecosystem in the country.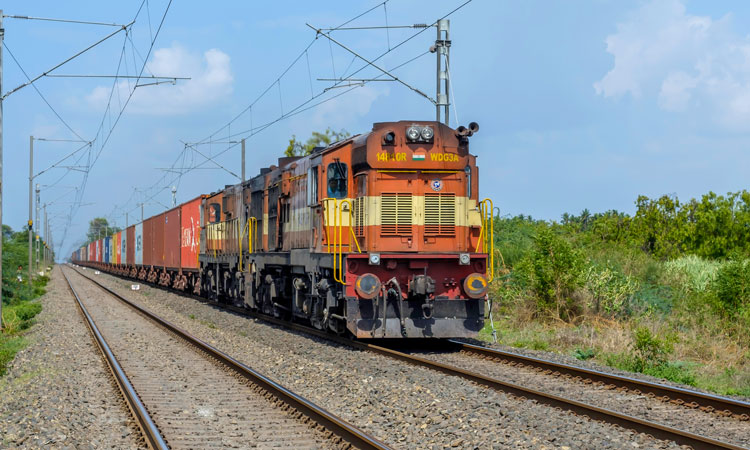 Indian Railways (IR) is the backbone of the country's logistics sector. During 2020-2021, when most activities were under lockdown due to the coronavirus pandemic, IR was providing relentless services in freight transportation in the country. IR achieved the highest ever loading of 1,232 million tonnes in 2020-2021.
Freight trains earn two-thirds of IR revenues and are referred to as the 'bread earners' for the railways. The freight operations of IR entail the management of a fleet of more than 330,000 wagons, 12,000 locomotives, and the running of 6,000 freight trains daily. Unlike passenger trains, freight trains do not run to a fixed schedule in India, makeing freight operations a highly information-intensive activity. These kinds of behemoth operations cannot be managed without a robust IT application.
The freight operations of IR entail the management of a fleet of more than 330,000 wagons, 12,000 locomotives, and the running of 6,000 freight trains daily.
Realising the need for a data-driven management system, IR formed the Centre for Railway Information Systems (CRIS), an autonomous organisation to develop, and manage, the Information Technology applications of the IR. In the year 2000, Freight Operations Information System (FOIS) was introduced as an application to track and monitor the movement of wagons, locomotives, and unit trains. With continuous technical developments over time, today, FOIS is a complete freight business solution comprising both customer services and train operations. Today, a customer can perform all tasks for freight movement through the system digitally, from placing demand, making payment, collecting Railway Receipts (RRs), transmitting RRs to the destination and the delivery of the cargo along with tracking their consignments on the move. Presently, 95 per cent of demands are placed online, and 97-98 per cent of RRs are generated and transmitted electronically.
FOIS towards digitally integrated supply chain management
FOIS has emerged as a key player in the development of a digitally integrated logistics ecosystem in the country. The application is agile, configurable, and flexible in design, and easy to integrate with other systems. FOIS has been at the forefront in digital integration with other IT applications of IR dealing with train operations, major freight customers and other stakeholders of the logistics sector.
Integration with other rail IT systems
FOIS was the first IT application for train operations to be developed and adopted by CRIS for IR. It has been seamlessly integrated with other IT applications related to operations developed subsequently. Today, FOIS exchanges data on a real-time basis through enterprise service bus (ESB) and web services with a number of such applications. Some of the prominent IR applications integrated with FOIS are shown in Table 1.
| | |
| --- | --- |
| Application | Purpose |
| Control Office Application (COA) | COA is used for the electronic charting of trains on a time-distance train graph by the section controllers in the divisional operations control centre (OCC). FOIS receives train running data from COA on a near real-time basis. |
| Crew Management System (CMS) | FOIS provides Train Plans and insights to CMS for Crew Planning at Crew Lobbies. Data about the booking of the train driver and guard for a freight train is shared by CMS with FOIS. |
| Freight Maintenance Module (FMM) | The data for the maintenance of wagons is exchanged between FMM and FOIS. |
| Software for Loco Asset Management (SLAM) | The data for the maintenance of locomotives is exchanged between FOIS and SLAM. |
| Traffic Account Management System (TAMS) | The data for the collection of freight and other charges are shared FOIS with TAMS. |
| Rates Branch Section (RBS) | Stationmaster and inter-station distances on which freight is charged is shared by RBS with FOIS. |
| Integrated Coach Management System (ICMS) | FOIS manages and maintains the entire Loco Inventory and shares the same with ICMS for Passenger Train Operations. |
Table 1: Major IR applications integrated with FOIS
B2B integrations with major customers
Initially, FOIS was designed and developed as an IT tool for use of Indian Railways. With the proliferation of digitalisation across the transportation sector, FOIS has been enhanced to offer customised digital solutions to freight customers. The FOIS application can be accessed digitally by freight customers through the following four means:
1. Freight Business Development Portal (FBD)
Every registered freight customer can access a dashboard available on the Freight Business Development Portal. The dashboard provides customer-specific details of pending demands (indents), on run consignments, payments due and status of concerns raised. The customer can make online payments using net banking, view payment history and contact the nodal railway officers.
2. Standard e-customer solution
Customers can sign a tripartite agreement with IR and their bank allowing FOIS to debit freight and other charges directly from the bank account of the customer at the time of preparation of the RR. These customers (called e-payment customers) are provided with an enhanced dashboard with information such as track and trace, pending demand, diversion details, station help, long term contracts etc.
3. Customised e-customer solution
On request of the customers, the standard dashboard provided to the e-payment customers is further enhanced to add more information such as RRs, e-payment logs, rake detention report, loading, unloading, demurrage, wharfage etc. depending upon the requirements of the specific customer.
4. API based Freight Business Data Integration (FBDI)
The limitation of the e-customer solution is that the customer has to log on to the FOIS website to access the data, as there is no flow of data from FOIS to the IT platform of the customer. To overcome this, FOIS is offering Application Platform Interface (API) based access to customers through digital integration called Freight Business Data Integration (FBDI). The APIs being designed and offered on Open Standards enables customers to import freight business data of their organisation from FOIS directly into their Enterprise resource planning (ERP) systems with ease. The data can be sliced & diced as per the specific need, and can also be used for the creation of dashboards and data analytics solutions. FBDI services are actively used by major customers across the sectors including coal, thermal power, oil companies, cement and steel etc.
To facilitate API based sharing of data, CRIS has launched an API Gateway Management Solution (APIM) called Pravah (means flow) in July 2021. Using this platform, a user can register and request access to APIs of CRIS. Once approved, the user can access the API.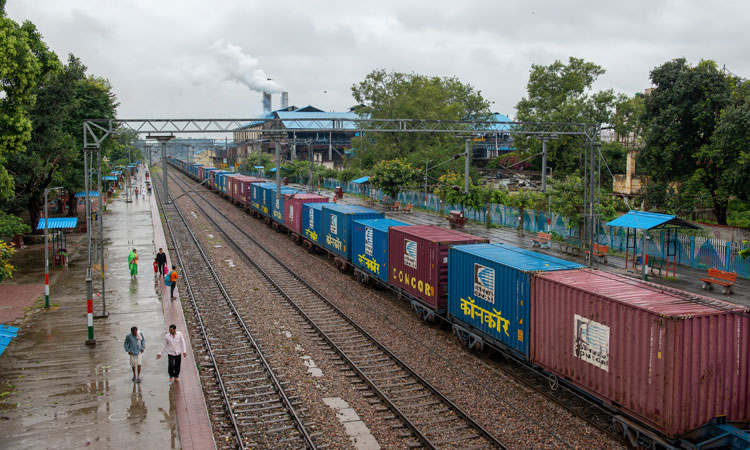 Integration with other stakeholders
FOIS has become a crucial part of the digital value chain for many customers.
The logistics services involve the cooperation and collaboration of multiple stakeholders. Digital integration among these stakeholders is fundamental to develop a digitally connected supply chain in a country. These stakeholders include warehousing banking institutions, private container train operators, port operators, other transport service providers, tax authorities, customs, national logistics platforms etc. FOIS has been a key player in the Logistics IT Ecosystem of the country, having API based integration with the following stakeholders:
Financial institutions
FOIS is integrated with seven banks in India to provide e-payment services to freight customers. Every year, more numbers of banks are integrated with FOIS to proliferate e-payment services. E-payment facilities are availed by major customers of IR. In 2021, FOIS integrated with the State Bank of India, the largest bank in India, to provide an online payment gateway to smaller customers who do not want to avail e-payment facility (signing tripartite agreement).
Port Community System (PCS 2.0)
Ports are the major stakeholders for import and export traffic in any country. Port Community System (PCS 2.0) is a digital platform which allows the secure and intelligent exchange of information between the different organisations that make up railways, airways and ports. FOIS shares information regarding all trains moving towards a port, their load, their location and expected arrival at destination on a real-time basis. The data is very useful for ports to plan their operations, loading/unloading of cargo in vessels and trains, transportation by road etc.
Container train operators
There are private container train operators (CTOs) in India whose fleet of flat railway wagons are required to transport containers. FOIS is integrated with the IT systems of CTOs and share data on the movement of container trains.
Customs department
All export and import traffic in a country has to be cleared by the national customs department. Indian Customs Electronic Gateway (ICEGATE) is the national portal of Indian Customs of Central Board of Indirect Taxes and Customs (CBIC) that provides e-filing services to the Trade, Cargo Carriers and other Trading Partners electronically. The data for export and import containers moving by trains is exchanged between FOIS and ICEGATE.
GST department
The transportation of cargo by railways attracts Goods and Service Tax (GST) on freight and other charges collected by IR. Goods and Services Tax Network (GSTN) provides the necessary IT infrastructure to file returns, maintain payments of indirect tax liabilities, and accomplish other compliance. FOIS is integrated with GSTN to share data of invoice number, freight charges, GST collected and filing returns.
Mining authorities
The transportation of ores and minerals out of state requires permission from the government authorities. Earlier, such permissions were issued on paper and submitted to railway authorities physically by the customer. FOIS has now been integrated with mining departments of Karnataka state of India wherein the permission is transmitted digitally from IT platform of state to FOIS after which only loading in railway wagons is permitted.
Logistics Data Bank System
The 'Logistics Data Bank System (LDB System)' is an IT application developed by the National Industrial Corridor Development Corporation (NICDC) India. LDB integrates the information available with various agencies across the supply chain to provide detailed real-time information of EXIM containers within a single window. FOIS shares the movement details of containers carried by railway systems with LDB on a real-time basis.
Unified Logistics Interface Platform (ULIP)
ULIP is being developed as a technology platform in the logistics sector to provide real-time information to all stakeholders, and visibility of multi-modal transport across the existing systems of various Ministries/Departments working in logistics. FOIS shares movement of the consignment by railways with ULIP through enquiry based on Freight Name Record (FNR), which is a unique number associated with every consignment booked by rail.
PRAKASH portal
PRAKASH (Power Rail Koyla Availability through Supply Harmony) is a web portal launched by the Ministry of Power, India, to improve coordination between the power, coal and railway ministries to ensure coal supplies to power plants. FOIS shares data for loading, unloading and movement of coal by rail with the PRAKASH portal.
Warehousing services
The warehousing service is one of the most important components of the supply chain and the logistics system. Warehousing allows for timely delivery and optimised distribution, leading to increased labour productivity and greater customer satisfaction. Say a customer would like to know the location and availability of the warehousing services in its supply chain. FOIS has been integrated with Central Warehousing Corporation (CWC), India to display to freight customers the total capacity and available space in various warehouses of CWC across the country.
FOIS which was initially developed as a tool for feeding data for the movement of freight trains, but has emerged as a complete Freight Business Suite for IR. The application is integrated with IT systems of IR used for train operations, ERP systems of the customers and other stakeholders in the logistics sector in the country. Considering the importance of real-time data sharing in transportation to cut down the costs of inventory management, warehousing etc, FOIS has become a crucial part of the digital value chain for many customers. FOIS is poised to bring digital transformation to the logistics sector of the country.
Dr Amit Kumar Jain is presently working as General Manager/FOIS for the Centre for Railway Information – an IT arm of Ministry of Railways, Government of India. He has more than 21 years of experience in railway operations and management and, prior to this, has worked as lead operations, Delhi Division, Northern Railways, Joint General Manager/Operations and Principal Training Institute, Delhi Metro Rail Corporation. He has authored books titled 'Exploring [email protected]', and 'Intelligent Transportation Systems'. He is a Visiting Faculty on emerging technologies to several institutes in India. Views presented in this article are personal.