Modernising Poland's railways for all
In this article for Global Railway Review Issue 2 2022, PKP PLK explore how recent investments worth billions of zlotys to modernise Poland's railway infrastructure is making rail travel more accessible for all.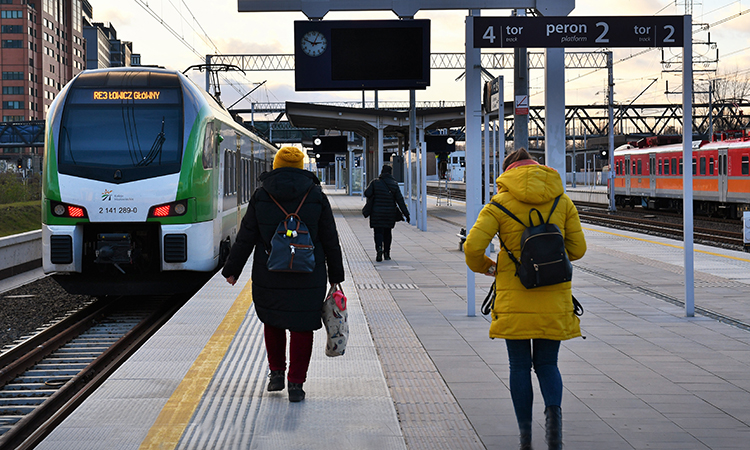 After many years, people can once again travel by train from Warszawa Główna station.
Today, rail transport in Poland is more attractive and more accessible than ever before, due to the effective use of European Union (EU) funds and budgetary funds by PKP Polskie Linie Kolejowe S.A (PKP PLK), the Polish rail infrastructure manager. PKP PLK has been implementing the largest investment programme in its history, the National Railway Programme (NRP), worth nearly zł77 billion. Investments under the NRP are co-financed with budgetary funds and EU funds, specifically the Infrastructure and Environment Operational Programme, Eastern Poland Operational Programme, Regional Operational Programmes and CEF 'Connecting Europe' Facility. At present, EU funding amounts to zł41.5 billion (€9.2 billion).
PKP PLK's work to make rail travel more accessible for all travellers has already seen great progress, with huge benefits already being realised.
It is thanks to these investments, co-financed by EU funds in Poland, that passengers can once again travel by train between Legnica and Glogow, from Mielec to Debica, from Wroclaw to Jelcz via Swojczyce and from Hajnowka to Lewki in the Podlasie region. 2021 also saw the return of trains on the Wroclaw to Jelcz route in Lower Silesia after a notable absence, thanks to these funds. Shorter travel times, such as from Warsaw to Tricity, from Krakow to Katowice, and from Wroclaw to Poznan, as well as new stops and collision-free crossings, are just some of the benefits that Poland is realising.
Improving the accessibility of rail in Poland
Over 60 new stops have increased the accessibility of rail throughout Poland, notably on routes in Warsaw Powazki, Krakow Bronowice, Olsztyn Likusy, Wroclaw Szczepin and Iwiny near Wroclaw, Parzniew near Warsaw, Orzechowicze in Podlasie Region, Szydlow Centrum. The inhabitants of more than 100 municipalities are now benefitting from being able to travel more comfortably by rail to work and school.
Lifts, ramps and special signage have made rail access more comfortable. Thousands of travellers, whether they be from big cities or smaller towns, are discovering the advantages of rail travel from the growing number of facilities every year. Indeed, the 'Improvement of technical condition of passenger service infrastructure (including adjustment to TSI PRM requirements), stage IV – passenger infrastructure on revitalised lines under OPI&E 2007 – 2013' project is dedicated to the improvement of railway accessibility. Approximately 400 stations and stops within the National Railway Programme have been modernised. Better access is especially important for people with reduced mobility, and PKP PLK have held their needs front of mind, throughout all investments.
Travellers are increasingly choosing rail for urban, agglomeration, regional and long-distance travel due to time savings and convenience. After many years, efficient railway transportation has returned to the lines between Legnica–Rudna Gwizdanow, Lublin–Łukow, Mielec–Debica, Wroclaw–Jelcz, Skarzysko–Kamienna–Tomaszow Mazowiecki and Lewki–Hajnowka in Podlasie Region, vastly increasing the appeal of rail for travellers.
Travel time has also been shortened on routes between Katowice–Krakow, Wroclaw–Poznan, Warsaw–Gdansk, Wrocław–Gdynia, Poznan–Pila, Olsztyn–Szczytno–Elk and Warsaw–Olsztyn.
Safety
There has been a significant increase in safety on the railways throughout Poland. Drivers now use more than 500 new collision-free crossings and rebuilt viaducts, as well as more than 2,000 level crossings equipped with new devices, enabling safer travel for all. In addition, the national and international railway route, Rail Baltica, will see dozens of new collision-free crossings being built in Poland, implemented under the CEF fund.
Sustainable travel
Poland is realising the increasing importance of rail as an environmentally friendly means of transport. Climate friendly electric trains are already operating on electrified routes from Lublin to Stalowa Wola, Wegliniec to Zgorzelec and Ocice to Rzeszow. Modern railway infrastructure is also seeing a reduction in noise and water pollution. PKP PLK is adapting bridges, has built special crossings and regularly checks animal routes across its network.
Freight
Rail freight transport in Europe and Poland is making effective use of the routes rebuilt by PKP Polish Railways S.A. among others, particularly the reconstructed routes in the Baltic–Adriatic and North Sea–Baltic corridors (RFC 5 and RFC 8). Investment in Poland's infrastructure is seeing trains carrying goods travel faster and more efficiently across the country and connecting beyond. The route from Wroclaw to Poznan, from Warsaw to ports in Gdansk and Gdynia, as well as from east to west, e.g., along international route E30 (in Poland connecting Medyka station with Zgorzelec station) and E20 (Kunowice–Terespol), is a specific example of the benefits already being realised. Longer and heavier cargo trains can reach the seaport more efficiently and safely, in turn increasing the ports' potential.
Freight trains in the Silesian Region are also running faster and more efficiently, such as on the Toszek Polnoc–Rudziniec Gliwicki–Stare Kozle, Chybie–Zory–Rybnik–Nedza/Turze, and Czestochowa–Chorzew Siemkowice routes. These routes required, among other things, the building of new, modern bridges and viaducts. EU funds were used for the construction of nearly 600 bridges, for instance on the international Rail Baltica route on the Bug River, over the Vistula River in Krakow, or over the San River on the Lublin–Stalowa Wola route. Investments in rail freight transport are beneficial for the environment and contribute to increased road safety.
Ongoing modernisation of Polish railways
Preparation works for projects, developing study and design documentation, within the new 2021‑2027 perspective have been underway for several years now. The basic assumption in the new EU financial perspective is the continuation of investments aimed at adapting the infrastructure to the requirements of the TEN-T core network, i.e. the running of goods trains with a minimum length of 740m while maintaining pressures of 221kN/axle, full electrification of individual railway lines included in the corridors of the TEN-T core network, adaptation of the infrastructure to run freight trains at a speed of 100km/h, as well as the implementation of the ERTMS/ETCS system.
Under the new EU perspective, projects are also planned to improve capacity in urban agglomerations by extending the entrances to the agglomeration to four tracks, which will allow the separation of suburban, long-distance and freight traffic. In addition, investments will aim to connect the main urban and agglomeration centres with modernised railway lines, on which it will be possible to further increase the maximum speed, enabling shorter travel times between cities.
Investments are also planned on railway lines managed by PKP PLK, which will be part of the so‑called 'spokes of the Central Communication Port'. Complementing the planned investments in Poland with the use of EU funds, will be the implementation of the Railway Plus Programme, the Governmental Programme for the Construction or Modernisation of Railway Stops 2021-2025. PKP PLK's work to make rail travel more accessible for all travellers has already seen great progress, with huge benefits already being realised. With the use of further EU and PKP PLK funding, the future is looking bright for Polish railways.

"We use EU funds effectively and thanks to them, the conditions of rail travel throughout Poland are improving,"  Ireneusz Merchel, President of the Management Board of PKP Polskie Linie Kolejowe S.A., said. "Thanks to the investments of PKP Polskie Linie Kolejowe S.A., residents voivodship and large and small towns gained better access to railways and an offer of better travel. We travel faster and shorter, for example, from Warsaw to Gdańsk, from Kraków to Katowice, from Poznań to Wrocław or from Warsaw to Olsztyn. Furthermore, after many years, trains have returned to lines such as Dębica to Mielec."