Four ways exo reduces the environmental footprint of its rail operations
Daniel Koudolo and Paul Dorval from exo, the public transit authority that operates the commuter train network in the Greater Montréal Area, detail four different and innovative initiatives that enable exo to reduce its environmental footprint by preventing several tonnes of GHG emissions every year.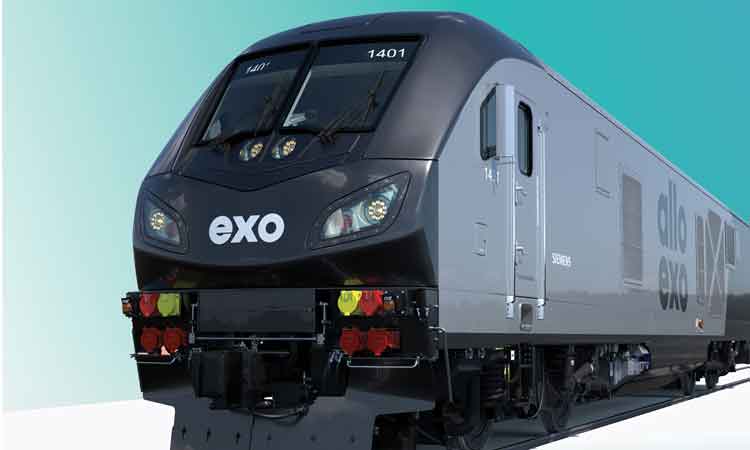 With five passenger train lines that run 206 train cars and 41 locomotives, exo has undertaken several initiatives to lessen the environmental footprint of its operations. These actions align with exo's goal to do even more to promote all aspects of sustainable development, as outlined in its Sustainable Development Action Plan. To follow are four initiatives that allow exo to provide commuter train services that are not only efficient and enjoyable, but also environmentally friendly.
1. New locomotives with low environmental impact
On 28 January 2022, exo announced that it had awarded a contract, worth approximately C$132 million, to Siemens Mobility to purchase 10 Charger locomotives. These locomotives will gradually replace the F59PH locomotives that have been in service since 1989 and have reached the end of their operating life. This acquisition will enable exo to reduce the environmental impact of its rail operations, since the new locomotives will pollute less than the ones currently in service.
In the calls for tender, exo imposed very strict requirements for environmental performance. The locomotives had to be equipped with an engine that meets Tier 4 emissions standards, set forth by the U.S. Environmental Protection Agency (EPA). The Charger meets these standards, which are the most stringent in the industry, in addition to having low fuel consumption and the ability to run on biodiesel. This makes them one of the most environmentally friendly diesel locomotives in the passenger transportation industry.
Emissions tests for hydrocarbons (THC), carbon monoxide (CO), carbon dioxide (CO2), nitrogen oxides (Nox), ammonia (Nh3), nitrous oxide (N20), methane (CH4) and particulate matter (PM) demonstrate the Charger locomotives' compliance with EPA Tier 4 standards for locomotives. The Charger's environmental performance therefore stands out from current Tier 0 locomotives, i.e., those manufactured prior to 2001, reducing pollutant emissions by 95 per cent and greenhouse gas (GHG) emissions by 89 per cent.
The first Charger locomotive is scheduled to be delivered in 2025. The next nine locomotives will arrive shortly after. As one of the key initiatives in the Sustainable Development Action Plan, acquiring these new locomotives will allow exo to improve its environmental performance.
Exo will continue to monitor locomotive manufacturers as they develop new technologies. The goal is to continue striving to reduce the environmental footprint of exo's public transit operations while continuing to provide high-quality service to users with technologies that meet the highest standards in the rail industry.
2. Fleet optimisation plan
Optimal fleet management is a concrete way to promote fuel economy and minimise emissions of air pollutants. Adding a car to a train increases its overall weight by approximately 10 per cent. This means that more energy is required to pull the additional car, as well as to run its heat and air conditioning systems, lighting, and all other onboard auxiliary systems such as the dynamic information systems. Compared to transporting freight, transporting passengers involves specific energy requirements because it demands electrical power from the locomotive.
Therefore, exo has developed a deployment plan to optimise the number of cars on each train based on their ridership figures, while respecting inevitable operational constraints. These include ensuring enough cars are used to guarantee braking performance and that a car with push‑pull capabilities is positioned at the end of the train. This way, trains are configured with the number of cars necessary to transport passengers while respecting exo's standards for comfort, i.e., a maximum occupancy of 100 per cent for seated passengers and two people per square metre for standing passengers.
3. Storage yard locations
For more than 20 years, exo and its predecessor, the Agence Métropolitaine de Transport, have developed storage yards to park its trains when they are not in service. These storage yards are strategically located at the end of the train lines for overnight parking, and near downtown for parking between peak periods. Since running fewer empty trains means using less fuel, minimising unnecessary trips for out-of-service trains reduces energy consumption and produces fewer air pollutant emissions.
4. Power supplies for trains
Passenger train cars must be powered to run their heating, air conditioning, lighting and all other onboard systems. When they are in operation, locomotives provide this energy from their diesel engines. However, when parked overnight or between peak periods, the cars must still be powered to ensure, among other things, they have minimal heating, lighting for cleaning, and their auxiliary systems running. It is important to note that heating and air conditioning are essential for exo operations, since temperatures can reach as low as -30°C in winter and as high as 35°C in summer in the Montréal region.
To avoid powering trains via parked locomotives at storage yards overnight or during the day, electrical power supply systems are installed at each site. Each parked train is connected with a 480-volt cable to a power supply located beside each track in the storage yard. This system allows exo to save more than one million litres of fuel every year. In addition to generating substantial savings, this initiative also allows exo to lessen GHG emissions related to its operations.
Continual improvements
These four concrete initiatives enable exo to reduce its environmental footprint by preventing several tonnes of GHG emissions every year. Exo is continuing to find new and innovative ways to improve its environmental performance, both in providing train, bus and paratransit services and in developing its infrastructure. Exo's Sustainable Development Action Plan demonstrates its commitment to work even harder to make a positive impact on the environment.
Daniel Koudolo is Project Manager, Rolling Stock Acquisition at exo public transit authority. He oversees exo's project to acquire 10 new locomotives and contributed to the recent purchase of 44 new train cars. Thanks to his expertise in railway structures, Daniel has also participated in creating two new patents in recent years.

Paul Dorval is Senior Researcher at exo public transit authority. He has an impressive 37 years of experience in the rail sector. From 1986 to 1996, Paul helped to modernise the Deux-Montagnes and Vaudreuil-Hudson commuter train lines. He also helped to expand the commuter train network by developing four new lines which were gradually commissioned from 1996 to 2014.