Next generation information displays for Indian Railways passengers
Anisha Pandeya and Raman Arora from the Centre for Railway Information Systems (CRIS) – an IT arm of India's Ministry of Railways – explain how Indian Railways is set to revolutionise the way it delivers communication to its passengers thanks to a centralised display control system.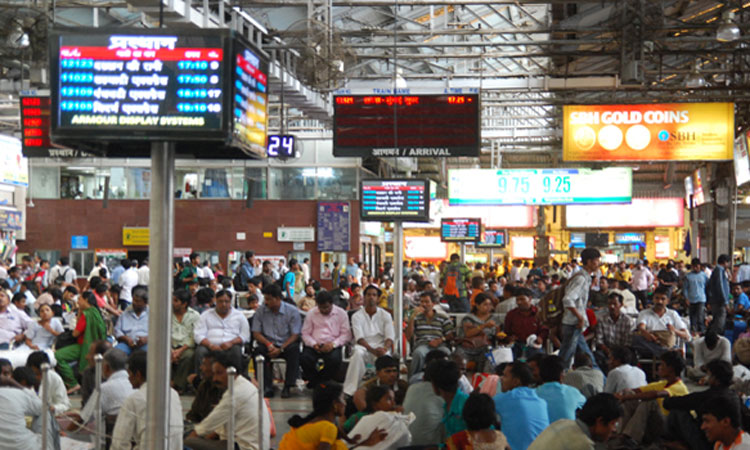 Railways have always played a critical role in catalysing the pace of economic development and continue to be an integral part of the growth engine of any country. Like other major railways in the world, Indian Railways traverses the length and breadth of the country providing the required connectivity and integration for a balanced regional development. The system has been up and running unceasingly for decades, 'It never gets tired, never stops'.
Over the last 160 years, Indian Railways has brought about deep and irreversible changes across India, hauling it along towards modernity. With a network of over 68,000km, it integrates people and markets across the country; in fact, Indian Railways is acting as the lifeline of this rapidly developing nation. In an earlier era, Indian Railways was described as 'imperium in imperio', an 'empire within an empire'. With its gigantic size and scale, Indian Railways is the fourth largest railway network in the world with over 22,593 operating trains (9,141 freight and 13,452 passenger) and a daily passenger count of over 24 million passengers and approximately four million tonnes of freight. Incidentally, the Indian Railways network is recognised as one of the largest railway systems in the world under a single management.
To keep pace with a consistent upward trajectory for rail passenger mobility, the national transporter, owned and operated by the Government of India, is making significant strides towards sustainable and efficient transportation.
Stations: the gateway to Indian Railways
With over 8,000 stations spread across its vast network, Indian Railways continuously strives to enhance the passenger experience with state-of-the-art amenities backed up by technology-powered service offerings.
Railway stations are considered the passengers' gateway to Indian Railways and are important components in regional and city transport systems as these are the focal points of economic and social activities. These locus points are a microcosm of India with people from all segments of society using the rail transportation facility. In fact, the actual footfalls are much higher than the passenger figures due to the cultural habit of sending off and receiving family members and friends. With over 8,000 stations spread across its vast network, Indian Railways continuously strives to enhance the passenger experience with state-of-the-art amenities backed up by technology-powered service offerings.
Communicating information to travellers has also been advancing with changes in technology. The display systems installed at railway stations are a primary source of communication. The current analogue display systems are fragmented station-wise on multi-year contracts, with no ability to address a display or choose a content source dynamically.
Enriching passenger information
To further enhance passenger engagement at these gateway points, the Ministry of Railways has begun implementing a centrally managed Railway Display Network (RDN) covering around 2,000 railway stations across India. The RDN hosts digital display screens of varied sizes installed at strategic points such as foot bridges, platforms, waiting rooms, concourses and inside AC coaches of premium trains. The network will be versatile i.e., any information source to any display device, showing context awareness and giving the relevant information to railway users from the most appropriate sources. The information can take the form of audio/video/social media/live/recorded messages. RDN is envisaged to become the next generation medium of communication with passengers which will not only provide necessary information and social messages, but also become a medium of enriched infotainment. Thus, RDN will meet rail travellers' need for integrated and comprehensive information for all aspects of their journey and will also help generate non-fare revenue for Indian Railways.
A robust IT platform is required to steer this project in a centralised and secure way. The expansive network, complex blend of functions and matrix nature of Indian Railways requires it to be managed in a multi-layer system with the whole of the Indian Railways business divided into 16 zones, which is further subdivided into 68 divisions. Since the management and handling of RDN controls will remain in the hands of divisional railway management, the proposed IT system should grant access and privileges to all railway divisions.
Centre for Railway Information Systems (CRIS), the IT arm of Indian Railways, has designed and developed a digital platform using cutting-edge IT to distribute and manage the RDN media content in a faster, secure and convenient way. The IRCDMA (Indian Railways Content Distribution and Management Application) is a scalable and unique IT application which is ready to fuel this digital network of display devices with its distinctive and multitudinous features. The IRCDMA portal powering RDN is expected to revolutionise the way communication takes place between Indian Railways and its users.
IRCDMA: Ready to steer the RDN
As the world's seventh largest country with the world's second largest population, India is famous for its common "Unity in Diversity" saying.
The IRCDMA portal powering RDN is expected to revolutionise the way communication takes place between Indian Railways and its users.
The Indian subcon­tinent has acted as a cul-de-sac absorbing successive migratory waves of peoples. Consequently, they get intermingled to such an extent that racially distinct divi­sions are hard to establish. Therefore, language and religion, rather than ethnic origin, are the primary cultural distinc­tions between people. The country contains over a billion people and recognises 22 languages constitutionally. People from different origins across the country have rightful access to all the services. In order to honour this diversity, the IRCDMA portal offers a facility to control media contents for display in individual states and in different languages as well. The portal has been rolled out on the occasion of 75th Anniversary year of India's Independence, formally known as 'Azadi ka Amrit Mahotsav'.
In order to ensure security and confidentiality of the contents and of their display schedules, the portal is only accessible to the authorised personnel and also on their verified devices. Clusters of RDN devices (with different size and form-factor) in a division are managed by their respective control centres in that division. Only the registered control centres are authorised to get access to these uploaded contents.
Uploading content
All the content targeted for the RDN devices is to be uploaded to the CRIS private cloud. The portal facilitates authorised personnel to upload media content, register their display schedule and select the target state(s) or across the nation in a highly simplified way. Media contents are broken into a number of chunks, encrypted and then stored in a secure file system. Contents running in GB sizes can be uploaded to enable High Dynamic Range (HDR) viewing. Real-time statistics of already uploaded content to the cloud is also presented to the user. The uploaded content is stored in an encrypted way to prevent any interference, ensuring tinker-free display. The screenshot below shows the IRCDMA portal offering myriad features to control the RDN displays.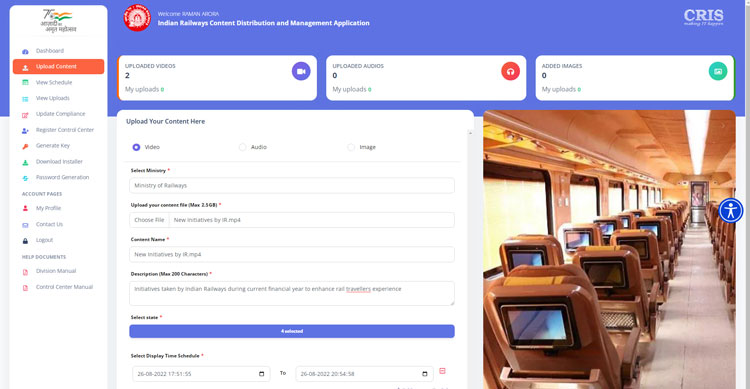 Viewing schedules and uploads
A timeline chart presenting occupied and vacant time slots assists in planning further uploads and helps to optimise the RDN devices. The view also provides information on content scheduled for different states, their frequency and time schedules. The 'View Uploads' facility helps by verifying and viewing the uploaded content for a specific region and also enables modification/cancellation to any content schedule.
Update compliance
Compliance of projecting the uploaded contents onto RDN devices, as per their scheduled time, is necessary to ensure the optimum utilisation of these digital display devices. Control centres across the Indian Railways business can report conformity to the schedules to update their compliance in the system. The compliance reports are made available to divisional, zonal and Indian Railways' management to assist in planning and optimisation.
Register control centre
The IRCDMA portal grants exclusive privileges to Indian Railways' divisions viz. registering new control centres and removing any existing. The newly registered control centre shall automatically get access to the uploaded content, and can manage the RDN displays under its jurisdiction and update compliance through the portal. 
Automatic download of contents to control centres
After successful registration of the control centre in the system, media contents are automatically downloaded to its registered device(s). Any new upload of media content in the cloud triggers a just-in-time download of its chunks and automatic churning to reproduce the real-media, ready for display. Absence of manual intervention ensures secure, error-free and reliable display of contents on the RDN.
The portal mandates download and installation of a binary file as a prerequisite for this system-driven centralised content distribution process.
IRCDMA dashboard
The dashboard enables Indian Railways' management to analyse the utilisation of the RDN across states and over the entire Indian Railways' territory. Statistics of control centres on-boarding, content uploads and downloads, help effective monitoring of the RDN usage and schedule compliance. For deeper insight, analysis can be performed for a zone or a division. MIS reports are also available to plan further actions. The screen below shows the IRCDMA dashboard highlighting key statistics.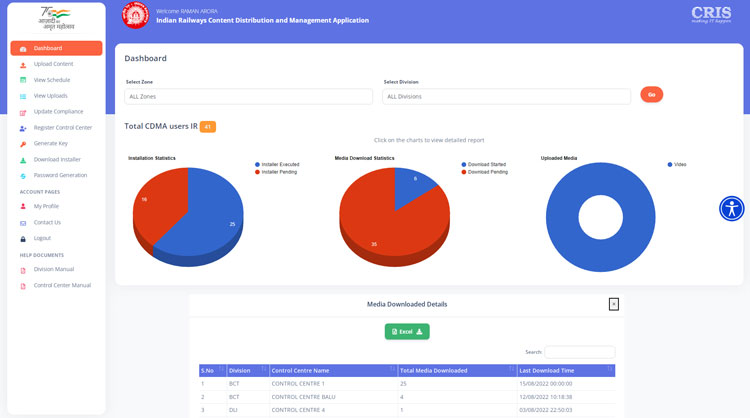 With the pace of RDN implementation over the Indian Railways' network, the portal shall evolve in parallel, offering more features and central controls. The evolution of the IRCDMA shall add impulse to the digital transformation of Indian Railways. 
The IRCDMA portal aims to bolster the highly ambitious RDN project through its elegant, simplified and robust interface providing centralised management, content security, coordination and control. With this innovative IT solution managing and controlling the RDN contents, Indian Railways is vying to make rail travellers' experiences more friendly, reliable and entertaining by ensuring that the RDN becomes a principal source of rail passenger engagement. This will ensure a constant stream of views which in turn shall drive Indian Railways' strategies of sustainable and growing advertisement (non-fare) revenue. Indian Railways expects the portal to bring a radical change in management and control of the RDN, hosted across the nation.
The tenacity and miracle of teamwork
The entire work and delivery of the IRCDMA application is based on the tenacity of the team. It was a team of 10, working in different projects and technologies who had been put together to deliver something eccentric with the paucity of both information and time. The sheer dedication and teamwork led to delivery of this project in record time. It was not just about developing an application; it was about conceptualising the entire workflow and discovering a suitable and secure solution in a very short timeframe. As the project was one of its kind, so was the team formation – just as agile as the task itself. The mix of cutting-edge technology, agile practices and moreover the seasoned techies, made it happen!

Anisha Pandeya is Senior Project Engineer in the Centre for Railway Information Systems (CRIS) – an IT arm of India's Ministry of Railways. Anisha Pandeya, a Project Management Professional (PMP)®, has more than 15 years of experience in the field of IT with several in-filed implementations of projects such as Thin Clients, Automatic Ticket Vending Machines as distinct point-of-sales for Indian Railways-Unreserved Ticketing System. She has also been pioneering several unique projects such as Access Control in Indian Railways through Automatic Ticket Checking (pilot), Application Programming Interface Management (APIM) and introduction of Project Management Practices in CRIS. She is a second-year student of the MBA (Faculty of Management Studies – Delhi University), Post Graduate Diploma in IT (PGDIT) and Masters in Computer Application (MCA). Views presented in this article are personal.

Raman Arora is Principal Project Engineer in the Centre for Railway Information Systems (CRIS) – an IT arm of India's Ministry of Railways. Raman has more than 17 years of experience in the field of ICT applications and e-Governance solutions. He has played a key role in digital transformation of various aspects of Indian Railways Freight Business operations along with a number of G2B, G2C and G2G data integrations. He has developed several dashboards, decision support systems, GIS, web, and mobile applications. He has a MBA in Technology Management (IIT Delhi) and B.Tech. in Computer Science and Engineering. Views presented in this article are personal.