Opportunities for environmental progress for U.S. rail freight
Ian Jefferies, President and CEO of the Association of American Railroads (AAR), details four areas that the U.S. rail freight industry needs to improve in order to reduce their reliance on fossil fuels and lessen their overall environmental impact.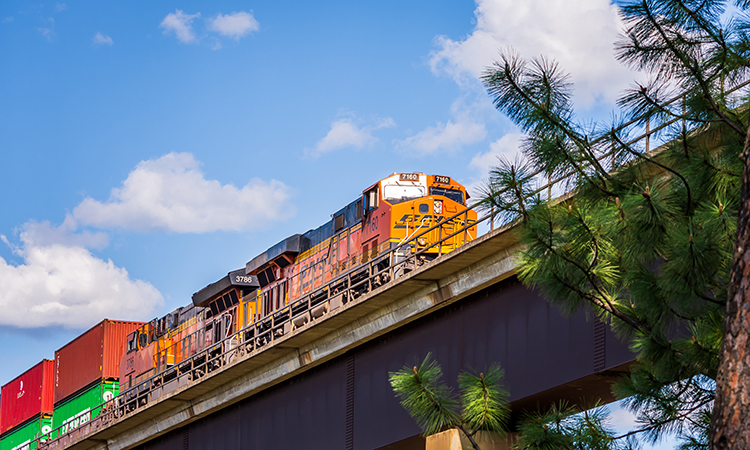 Readers of Global Railway Review understand rail's inherent environmental benefits. The U.S rail freight sector continues to increase its fuel efficiency; it is now, on average, able to move a tonne of freight 500 miles on a single gallon of diesel. This efficiency is reflected in the industry's emission profile: the industry emits only 0.5 per cent of all U.S. greenhouse gas (GHG) emissions.
Yet railroads are clear-eyed about the need for further progress, including in reducing reliance on fossil fuels and lessening environmental impacts in the areas they operate. While multifaceted, I offer four areas for progress.
1. Rail as an ESG partner
Rail customers span the economy, ranging from automakers to agriculture producers to retailers. Due to both private and public sector input, these customers, like railroads, are looking to reduce their carbon impact and improve their corporate standing. "Rail intermodal provides a competitive edge over other less efficient modes of freight transportation as climate change-related environmental regulations increase in their scope," says CSX in its 2021 ESG report.
Rail offers an existing way to reduce emissions within the confines of the 140,000-mile rail network. This is particularly true in the intermodal sector, in truck-competitive markets of 500 miles or less. AAR economists found that if rail captured roughly 25 per cent of the truck traffic moving at least 750 miles, annual GHG emissions would fall by approximately 13.1 million tonnes. That would be equivalent to taking 2.6 million cars off the highway for a year or planting nearly 200 million trees.
Recent trends show that there is slack in the intermodal market to ultimately capture that traffic. Several railroads are updating operating plans with this market in mind. Rail can help get goods to market and lower emissions in the process, helping a diverse set of customers reduce their impact in the process.
2. Increasing biodiesel and renewable diesel for use in locomotives
…railroads can reduce their operation-specific emissions in the near-term by working with equipment manufacturers to increase efficiency and boost biodiesel and renewable diesel use.
Next, railroads can reduce their operation-specific emissions in the near-term by working with equipment manufacturers to increase efficiency and boost biodiesel and renewable diesel use. On efficiency, CSX alone invested $34.8 million in fuel efficiency improvements.
More is already underway across the network, as evidenced by several recent developments, including:
In 2021, Union Pacific and Progress Rail increased the per cent of biodiesel in their B20 blend to up to 20 per cent
In March 2022, BNSF and Wabtec announced a pilot programme to better measure the impact of B20 in use, particularly in California
Canadian National is exploring ways to use a 100 per cent blend of biodiesel and renewable diesel in parts of its operations
Norfolk Southern is currently upgrading 330 locomotives to increase efficiency, including through biofuels that burn cleaner. "Importantly, it will also help us achieve our science-based target of a 42 per cent reduction in emissions intensity by 2034," said NS at the time.
3. Advancing research to realise commercial viability of zero-emission locomotives
Yet, decarbonisation is also a goal of railroads and their customers, underscored by the work that railroads are doing related to battery-electric and hydrogen locomotives.
For instance, BNSF recently completed a test with Wabtec and the California Air Resources Board on a prototype long-haul battery electric locomotive. Additionally, Canadian Pacific has continued its aggressive efforts to develop what would be North America's first line-haul hydrogen-powered locomotives. The company is conducting rail service trials and qualification testing to evaluate the technology's readiness for freight rail operations.
More recently, Union Pacific announced more than $100 million in investments dedicated to electric switcher locomotives, a move that drew the attention of President Joe Biden.
The first units arrive in late-2023, with complete delivery by late-2024 for the Omaha-based company. "They will immediately be put to work in rail yards in California and Nebraska where they will be tested for performance in cold and warm weather," says Union Pacific.
Indeed, the railroads recognise that they can make a particular impact in using electric locomotives, as well as electric cranes, in yards and ports that are often closest to the communities in which they operate.
At the same time, AAR continues work at the intersection of public policy and alternative energy sources, working to develop strategic partnerships when it comes to R&D and grant programmes. On the heels of massive public investments being made available via the bipartisan infrastructure bill passed in 2021, this is particularly important.
Further collaboration in the government between the U.S. Department of Energy (DOE) and the U.S. Department of Transportation (DOT) is essential to funding the right projects and allocating resources appropriately.
4. Smart public policy
Last, railroads require sensible public policies that enable them to compete now and into the future to continue to offer the most environmentally friendly way to move goods over land. Unfortunately, the industry continues to battle regulations that would only hinder this need. A professed preference for rail among policymakers and well-understood goals to reduce emissions are, unfortunately, at times frustratingly inconsistent with the policy agenda of some in charge.
…railroads require sensible public policies that enable them to compete now and into the future to continue to offer the most environmentally friendly way to move goods over land.
This is particularly true as it relates to the ongoing discussion to implement forced reciprocal switching, under some circumstances more so mirroring open access. According to economist Robert Shapiro, an advisor to former president Barack Obama, "mandated reciprocal switching [sic] could force a railroad that is the only rail carrier serving a particular shipper facility to provide another railroad access to that shipper's freight. Under this approach, the first railroad would have to use its assets to assist a second railroad, and the second railroad would pay an access fee that almost certainly would be below the market rate."
While perhaps innocuous sounding, this would force switches where they do not make sense and then gum up the network. Many experts argue that widespread forced switching would reduce efficiency and investment (as a result of reduced revenues and because investors are not keen on subsidising competitors). The end result would be the diversion of freight to more carbon-intense modes like trucks, which are a long way from widespread electrification in their own right and still produce overall emissions on par with current diesel locomotives when considering sourced energy production.
"Given the two most-cited repercussions of market intervention in rail are disinvestment and inefficiencies, we share many of the same concerns as these lawmakers," according to a letter from a group of U.S. environmental organisations. "Should any new regulation cause new bottlenecks, which the Biden administration and the rail industry are already working together to alleviate, freight could shift to more carbon-intensive modes of transportation."
The industry faces other challenges too, including at the U.S. Department of Transportation, which could ultimately reduce the sector's ability to grow their market share and in turn reduce emissions across the economy. Actions to discourage data-proven Automated Track Inspection (ATI) technologies are most obvious. Putting aside that ATI has in some cases reduced track geometry defects by 90 per cent, the technology also increases supply chain fluidity, a direct way to reduce emissions.
A sensible approach with rail growth in mind should guide policymaking across government.
Conclusion
A recent U.N. report noted that the world has reached a pivotal moment when it comes to addressing the climate crisis. As a global community, and as a nation, it is not too late to act, but time is of the essence. The American rail freight industry is on the job and working diligently to be part of the solution. I see this as an opportunity not just to protect the environment, but to better serve our customers and the U.S. economy for decades to come.

As the Association of American Railroads' (AAR) President and CEO, which is a role he took on in 2019, Ian Jefferies advocates for and works with member railroads to ensure the long-term viability of America's railroad industry. Ian has more than a decade of experience working in government. From 2009 to 2013, he served as a Senior Policy Advisor to the Chairman of the U.S. Senate Committee on Commerce, Science and Transportation and, from 2013 to 2019, he was AAR's Senior Vice President of Government Affairs.