FRMCS, MCx, 4G/5G private network, RAN portfolio, and more!
As a global leading supplier of dedicated end-to-end communication solutions for mission-critical networks, who offers tailor made solutions to support customers with their communication challenges, Kontron Transportation was present at InnoTrans 2022.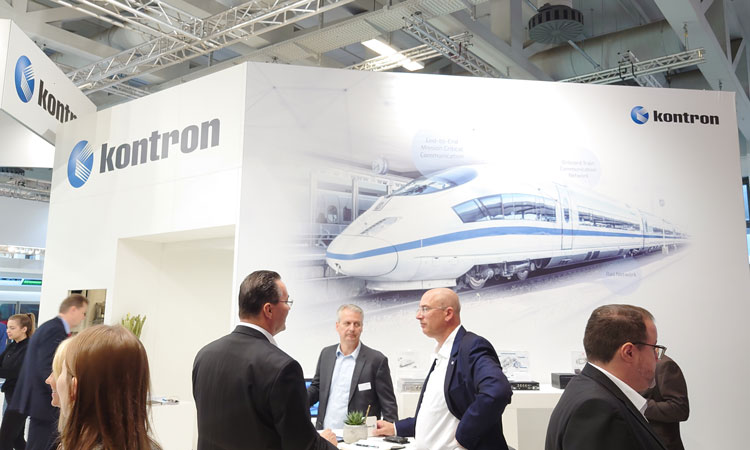 With its unique railway communication expertise, Kontron Transportation safely leads its customers from GSM-R to FRMCS and ensures, that the lifecycle meets the customers investment cycle.
Kontron Transportation was positioned very centrally in Hall 4.1. within the public transport section of InnoTrans. The booth was an appreciated meeting point for experts to talk and discuss the major chances and challenges as well as trends and innovations on the way to FRMCS and cyber-security.
Many customers and business partners were welcomed at the booth and got information about new and established products and solutions, which are end-to-end innovative, driven by new standards, best-of-breed, future-proof, safe and secure. The guests could speak to product and solution experts and had some deeper conversations, also about Kontron Transportation's passion and dedication for railways. Kontron plans and implements a tailor-made concept for each customer and paves the way for a smooth migration for railways from GSM-R to FRMCS with regard on already done investments.
Also, people passing by took the chance to talk to Kontron Transportation experts or to inform themselves via touchscreens about the company. "What our guests really appreciated was the great atmosphere at the booth and the spirit of a high motivated team. Full of passion for their job and commitment to the company they are working for," said Bernd Eder, COO at Kontron Transportation.
Kontron Transportation also presented itself as a great employer in the IT sector, with the booth being a stop during the InnoTrans career tour. Interested students were informed about working at Kontron Transportation and got a first impression of the company. Today more than 450 people are working for the company in nine sites across Europe. Beside an interesting job with innovative tasks and exiting career opportunities, there is a great team spirit and common values for the way of working.
For Bernd Eder and the entire Kontron team the fair was a complete success: "It was great meeting customers and partners in person at InnoTrans again, after the last two years of remote meetings. It was a big success with many interesting visits during which we were able to exchange views on the future of mission-critical communication for railways. We are already looking forward to the InnoTrans 2024!"
Kontron Transportation's highlights at InnoTrans 2022
MCx
Based on the future FRMCS standardisation 3GPP and ETSI, the MCx solution extends obsolete analog radio communication means with modern 'state of the art' train radio functionalities.
Next-Gen Dispatcher
The Next-Gen Dispatcher is a future-proof, standards-based dispatching solution for existing and future rail networks. It supports individual and user-tailored applications for rail operations.
4G/5G private network solutions
The 4G/5G private network solution is tailor-made and offers innovative applications based on cybersecure and reliable state-of-the-art products with differentiating specific features for mission-critical networks.
New radio access network (RAN) portfolio
RAN is a sub-system of the complete new portfolio, aiming to support next generation of wireless technologies, such as 4G/5G private networks and railroad FRMCS (5G). It is complemented by all software core and application solutions.
Cyber-security concepts
Security is at the forefront of Kontron Transportation's activities and has become an essential element in refining processes, designing and developing new products and supporting the solutions deployed in customer networks.