How digital twinning is making Canada's trains run on time
As part of the Canada Line's ongoing digitalisation, the rapid-transit rail line that is part of TransLink's Skytrain network in Metro Vancouver has begun using a digital twin to optimise its operations and maintenance. Ronald Powell, General Manager, Rail & Transit infrastructure at SNC-Lavalin, explains more.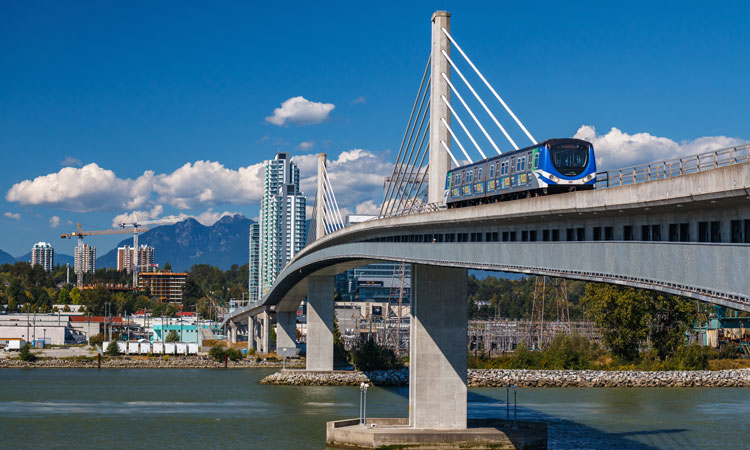 Working with SNC-Lavalin, the rail operator has scanned the whole of its track using LiDAR, ultrasonic and other sensors. The information from these data-capture exercises is then fed into the digital twin – an exact digital replica of the Canada Line and all of its assets.
This twin isn't just a visual 3D model of the line. Each element within the model – every section of track, every switch, signal, and siding – is also a data repository. By selecting an element, users can see what it is made of, its specifications and tolerances, details of when it was last maintained, data that shows its importance to operations, and more. Using this data, engineers can then quickly decide whether maintenance is required and when. If urgent, it can dispatch a crew to the location immediately.
How the digital twin is helping to improve performance
The Canada Line has been in use since 2009. During this period, the team that runs the line have been exploring the use of new technologies to optimise daily operations. As part of the digital twin initiative, this has included a LiDAR scan of the entire network, giving operators a model of the line as is, rather than as it appears on its blueprints.
This is important because to make the right decisions at speed, engineers need accurate, up-to-date, and real-world data, not data based on outdated plans. Attaching sensors to key assets, such as switches, was the next step in the process. These ensure that the digital twin is constantly kept up-to-date with fresh data.
Digital twin technology, coupled with real‑time data-streaming from connected sensors on key assets, has the potential to radically improve efficiency and cut downtime on rail networks worldwide.
Some switches are 'golden assets' – they are crucial to hitting the Canada Line's performance targets, which is for trains to run on schedule, 100 per cent of the time. To that end, sensors have been installed on each switch to measure things such as the time of a swing to graph the smoothness of its swing motion, motor current drawn and so on. Over time, they help to build a picture of what 'normal' looks like. As soon as a switch trends away from normal or a certain variable passes a set threshold – for instance a switch takes too long to swing open – operators can react and create a maintenance plan designed to prevent any downtime. This process change is already helping to significantly improve performance across the line.
Using AI to automate maintenance schedules
With the first two stages of the digital twin's implementation on the Canada Line now complete, the team has begun to turn its attention to Stage 3. This stage is to train the artificial intelligence (AI) in the Canada Line's digital twin so that it understands the thresholds set for 'normal' and can therefore make decisions in real time about what needs to be maintained and when. This will prevent engineers from having to analyse the data outputs themselves, instead creating a fully automatic maintenance schedule, designed to guarantee maximum uptime and minimum disruption. Analysis is often done faster using AI and is more effective at identifying abnormalities that require intervention.
Moving to a system of automatic maintenance schedules will free up staff to work on higher-value elements of operations and maintenance. It will also ensure that faults are both detected and prevented before they cause outages, as well as ensuring that assets that are still operating within their set tolerances aren't unnecessarily taken out of service for scheduled maintenance, which disrupts the service and sub-optimises asset lifecycle costs.
Digital twin technology, coupled with real‑time data-streaming from connected sensors on key assets, has the potential to radically improve efficiency and cut downtime on rail networks worldwide. This effect is already being seen on the Canada Line and, as more operations are automated and changes to AI are utilised to schedule maintenance automatically based on data-driven predictions, we expect to see an even greater uplift in performance. This will not only have a measurable impact on operational costs, but also on the customer experience, making it a win-win for everyone.
The Canada Line
SNC-Lavalin operates and maintains the fully automated Canada Line rapid transit system under a Public-Private Partnership and concession agreement. The Canada Line is part of TransLink's commuter rail network in metro Vancouver. The Canada Line leads in many aspects of commuter rail services and performance. It boasts a series of 'firsts' including being the first commuter rail-international airport link in Canada; one of the first railways in North America to implement an automated Earthquake Early warning system, and one of the first railways in the world to implement a digital twin to optimise asset lifecycle management. The Canada Line Innovation Center continues to develop solutions focused on productivity and safety improvements for rail.

Ronald Powell is the General Manager for SNC-Lavalin's Canada Line project. He holds a Bachelor of Applied Science (BASc) degree in Mechanical Engineering from the University of British Columbia, a Master of Business Administration (MBA) degree from Queen's University at Kingston, Ontario, a Master of Science Degree (with Distinction) and a PhD from the University of Bath, Faculty of Architecture and Civil Engineering. Ronald is a registered Professional Engineer in the Province of British Columbia as well as a Canadian Registered Safety Professional. He is also a member of the International System Safety Society.