Little things making a big difference: improving train interiors for passenger comfort
Darren Kettle, CEO of Southern California's regional passenger rail service, Metrolink, explores the importance of train interiors for a good passenger experience, and details some of the little things that can make a big difference.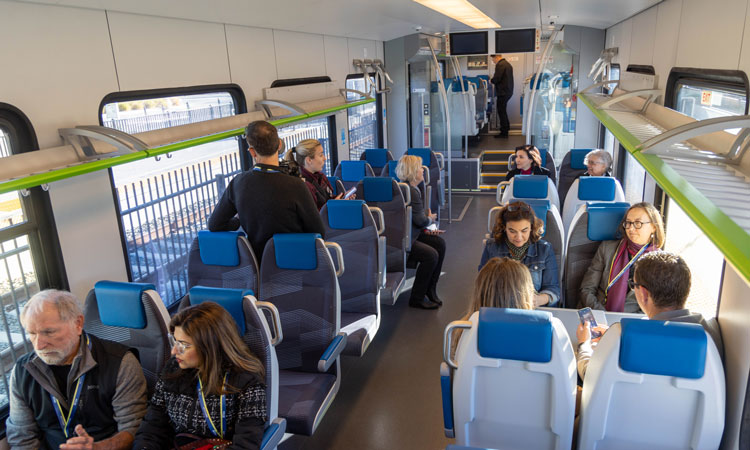 Onboard the brand-new Arrow train on the first day of service.
As CEO and a regular rider of one of the largest passenger rail networks in the United States, serving six counties in the historically car-centric Los Angeles metropolitan area and Southern California region, I think a lot about our customer experience. Improving this is critical towards people trying Metrolink and becoming regular riders.
Of course, customers want to have a service that runs frequently and on time – that's a given. We also know that safety is vitally important to our customers, who totalled nearly 12 million annual boardings along our system's seven lines and 67 stations before the pandemic.
In a 2018 survey where we asked riders about the importance of specific customer amenities, on‑board security, emergency call buttons and security cameras all garnered high marks for their relative importance. That was not a surprising result.
We also learned that people care a lot about the 'little things', such as being able to sit in a designated quiet car and having an electrical outlet or USB charger at their seat. So, while safety will always be our number one priority, the riders' comfort is also top of our mind.
Just look at the automobile industry. Car makers place incredible resources into touting their safety records, but they also promote leather interiors, sleek design, heated seats and an array of 'bells and whistles' to make car travel comfortable and fun.
While Metrolink may not quite reach those levels of comfort or the marketing budget of an auto maker, we still recognise the importance of interior amenities and how they make riding the train an enjoyable experience.
When people feel comfortable, safe and productive on the train, it increases the likelihood they will keep using our service and recommend us to friends and family. We never want to take that for granted. To that end, Metrolink is making several improvements to our train interiors for an enhanced travel experience.
Two recent projects we have in this area include the ongoing refurbishment of 50 legacy passenger train cars that began rolling out in July 2022, and the introduction of brand-new Diesel Multiple Units (DMUs) with the October 2022 launch of our Arrow service.
Refurbished passenger train cars
In July 2022, Metrolink introduced the first of 50 refurbished passenger train cars featuring new and improved amenities. The cars slated for retrofitting were part of a group of 121 cars originally built by Bombardier (now Alstom) between 1992 and 2002. While all Metrolink's passenger cars undergo daily maintenance, some of the older ones needed a 'mid-life make-over' to improve their reliability and extend their useful life.
Besides having a more contemporary interior look, the 'new' cars include features that make them easier to clean, such as vinyl seating and non‑carpeted flooring, as well as enhanced air filtration and UV lighting for bacteria, air pollutant and virus protection. With the pandemic still lingering and winter viruses also taking their toll, these features go a long way in keeping riders healthy.
When we first shared the news of the refurbished cars on our social media channels, we received hundreds of positive comments. Here are just some of the reviews:
"What a fantastic renovation initiative – congratulations Metrolink. So great to see these impactful improvements to support the rider and customer experience. They look awesome!"
"Great job Metrolink team! The cars look very nice and will help continue to provide quality customer service to the region."
"Go Metrolink! Upgraded air filtration and UV lights, vinyl seats all go a long way in making our trips safer."
"Looks more comfortable than the hard plastic seats in the older white train cars."
"I love taking the Metrolink! The upgrades (charging ports!) sound great."
Other improvements on the refurbished cars include new energy-efficient lighting, side door obstacle detection, three emergency intercom buttons on each car and emergency air ventilation in case of power loss. These safety features are important to our riders, so it is great to be able to deliver on those expectations.
And then there are the restrooms. Having restrooms on our Metrolink trains is already a huge plus for travellers, but we wanted to provide more. Just as people expect a hygienic restroom at a restaurant or store, they want our on-board facilities to look and smell clean. That is why the restrooms on all our refurbished passenger cars feature a modern design and have better odour control.
The base order to rebuild 50 of the 121 Bombardier passenger cars was placed with train manufacturer Talgo-SYSTRA JV in June 2019. The total cost of that order is approximately $68 million, with about two-thirds funded by the California Department of Transportation (Caltrans), and the rest coming from other federal and local sources.
We now have three cars in service and we are expecting all 50 cars to be available by the end of 2024. In our contract with Talgo-SYSTRA JV, we also have an option to refurbish the remaining 71 cars and look forward to exercising that option once funding is secured.
Arrow DMUs
Refurbished cars are one thing, but on our new, nine-mile Arrow service that launched in October 2022 between the cities of San Bernardino and Redlands about 60 miles east of Los Angeles, the passenger cars are brand new. They have a sleek, modern design and a bright and inviting green and blue palette inside and out.
Following the launch, one Facebook follower commented that it is "quite possibly the cleanest rail car in the world." We love getting this kind of feedback.
This area of Southern California has not had passenger rail service in 80 years, so Arrow, which was planned and built by the San Bernardino County Transportation Authority (SBCTA), is a real gamechanger for residents. The people need this transportation option to travel either locally along the new corridor, or to Los Angeles, which can be a three-hour slog by car.
The Arrow DMUs are powered by smaller, lower-emission diesel engines for a quieter and more energy-efficient ride. The service helps to not only fulfill our commitment to provide Southern California residents with greater regional rail connectivity, but also to meet our state's aggressive climate-improvement goals.
Arrow trains feature a few amenities that make this service stand out. With capacity of up to 120 passengers and up to eight wheelchairs, the units have USB chargers at most seats, storage for up to 12 bicycles, and will have free Wi-Fi on board. As we head into 2023, I am excited to watch ridership on this new fleet of Arrow trains grow, while continuing the roll out of our refurbished legacy trains cars throughout the rest of the system. I also look forward to learning more about what matters most to customers so Metrolink can continue to ensure travellers throughout Southern California have more reasons to ride the train.

Darren Kettle became Metrolink's CEO in September 2021. He has more than 30 years of experience with local and regional government agencies. Before joining Metrolink, Darren was the Executive Director of the Ventura County Transportation Commission (VCTC) for 14 years. Previously, Darren was with the San Bernardino County Transportation Authority (SBCTA) from 2000 through 2007. Early in his tenure there, he was Director of Intergovernmental and Legislative Affairs for both SBCTA and the Riverside County Transportation Commission (RCTC). He has a bachelor's degree in political science from the University of California, Santa Barbara and a master's degree in public administration from California State University, San Bernardino.