Nightjet of the new generation: a new era in night-time travel
ÖBB – the Austrian Federal Railways – is the biggest company advocating for climate protection in Austria, and the Nightjet has now become synonymous with sustainable travel within Europe. For customers, it is not only the network with lots of attractive destinations in Europe that counts, but also modern and comfortable trains. ÖBB have looked closely at the needs and wishes of today's passengers and designed the interior of the new rolling stock accordingly. ÖBB-Personenverkehr's Dragan Filipovic and Elisabeth Pichler-Weinzierl detail how the Nightjet of the new generation offers modern design, enhanced comfort, and more privacy.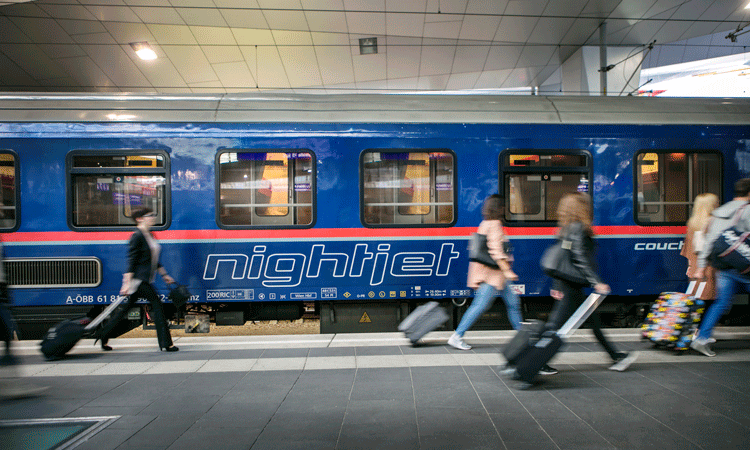 New levels of comfort in night train travel
The Nightjet of the new generation consists of seven carriages: two seat cars (a control car and a multi-function car), three couchettes and two sleeping cars. Each trainset can accommodate up to 254 passengers for an overnight journey to one of Europe's beautiful destinations. The interiors in the new generation Nightjets will provide passengers a brand-new travelling experience. Inside the new train, ultra-modern design meets even greater comfort and even more space. With lower occupancy levels in comparison to the current fleet (compartments for two in the sleeping car and compartments for four in the couchette) and the new Mini Cabins for solo travellers, ÖBB will satisfy passenger demands for greater privacy.
The Mini Cabins are compact sleeping pods and offer everything a passenger needs for an undisturbed and pleasant journey: a storage area and magazine net for personal items, coat hooks, a reading lamp and an adjustable folding table for breakfast which also comes with an integrated mirror. Each traveller has a lockable compartment for luggage and a separate shoe compartment close to the Mini Cabin. The luggage compartment has the dimensions for a conventional hand luggage suitcase, known from airlines. Those who prefer to travel through the night in pairs can also connect the Mini Cabins on the same level by opening a small partition wall.
Inside the sleeping car, travelling is even more comfortable as all compartments are fitted with their own toilet and shower facilities. They also have a comfortable seating area for relaxed working, reading, or eating while travelling. Rigid installed beds improve comfort when sleeping, ensuring a relaxed and well-rested arrival.
Every new Nightjet will also feature a modern couchette compartment with easy access for passengers with reduced mobility, as well as a toilet that can be reached with low-floor boarding. With this, ÖBB offers an unprecedented level of comfort for passengers with reduced mobility.
The multi-function car of the Nightjet will provide new, improved transport options in the future: six bicycle storage spaces for cycling enthusiasts, as well as more space for luggage, strollers, skiing, and snowboard equipment.
In the newly designed seat car, passengers glide through the night with all-round care. The double bucket seats with retractable armrest and full‑length headrest make the journey much more pleasant and ensure maximum privacy. Features such as power sockets, inductive charging, magazine nets, reading lamps, more storage options as well as NFC luggage locks – paired with a pleasant colour scheme and modern unique look with typical Austrian colours and material finish – offer an excellent travel experience.
Technical innovations and features
Travellers can look forward to a variety of technical innovations. A new feature is free on‑board Wi-Fi. Those who want to be amused until they reach their destination can surf free‑of‑charge on the ÖBB Railnet onboard portal and use it for streaming movies and television series, as well as reading a range of digital newspapers and magazines. A modern passenger information system is integrated in all carriages, helping ensure that passengers are kept aware with up‑to‑date travel information. Alongside conventional power sockets, the new Nightjet also provides USB charging options and an inductive charging station for a wide range of electronic devices. New windowpanes that enable better reception will help to improve network function and provide a more stable connection for mobile phones. Compartments also feature a control panel with various comfort features, such as light control and call for service staff on board. In addition, the compartments are fitted with an electronic access system using NFC cards. Furthermore, all carriages have video surveillance in public areas to help passengers feel safer on board. The Nightjet of the new generation also features higher cruising speeds with improved smoothness. The new bogies are designed to be significantly lighter. This makes them gentler on the infrastructure and the lower overall weight of the set saves energy. In addition, the comfort for passengers is increased by improved suspension.
Something to suit every taste
As the Chinese philosopher Confucius once said: "The way is the goal" – your holiday or business trip starts with your ride. The Nightjet is simply convenient: you board the train in the evening, send the last emails, read a book, watch some television, spend some time with your family or just power down and look out the window. The next morning after a hearty breakfast, you can immediately start your day at your desired destination and use every second of it. And while you are getting to your destination of choice, you can protect the environment by saving huge amounts of CO2: a journey by night train is 50 times more climate‑friendly than by plane.
No matter whether young or old, alone or together, with your family or a group friends, the Nightjet has an offer for everyone. Those who want to travel with company but also on low budget can book a couchette. Those who prefer travelling on their own will now be able to book their own sleeping capsule – the Mini Cabin. Those who like to have their own little space with high sleeping comfort and more room will find the right place in the sleeper cabin. And whoever aims to save money or travel short distance can choose a seat in the seat car.
Connecting European cities overnight
Today, ÖBB are Europe's largest provider of night trains with a total of 20 Nightjet lines and with plans to vigorously expand the network. Therefore, a total of 33 ÖBB Nightjets of the new generation were ordered from Siemens Mobility. All 33 new trains will be in use by the end of 2025, linking European cities on overnight trips in a climate‑friendly way with speeds of up to 230km/h. The first Nightjets of the new generation should be in operation by the end of summer 2023 on popular routes to Italy outgoing from both Austria and Germany. Besides these countries they will also run in Switzerland and the Netherlands in the near future. 

At ÖBB – the Austrian Federal Railways, Dragan Filipovic is Project Leader for the implementation of new rolling stock for the new generation of long-distance trains for day and night – the new Railjets and Nightjets. Currently Dragan and his team are intensively working on bringing the new trains on track and creating sustainable products for the mobility of tomorrow.

Elisabeth Pichler-Weinzierl is Senior Specialist for External Communications at ÖBB – the Austrian Federal Railways. She is responsible for the topics of long-distance transport, timetable and rolling stock projects in passenger transport. She is part of the project team for the new generation of day and night trains.