The Beacon bridge: Q&A with Zachary Cocker of Network Rail
In this exclusive article for Global Railway Review, Zachary Cocker, Sponsor at Network Rail, discusses the brand new 'Beacon' bridge which is set to transform passenger accessibility at a West Yorkshire rail station.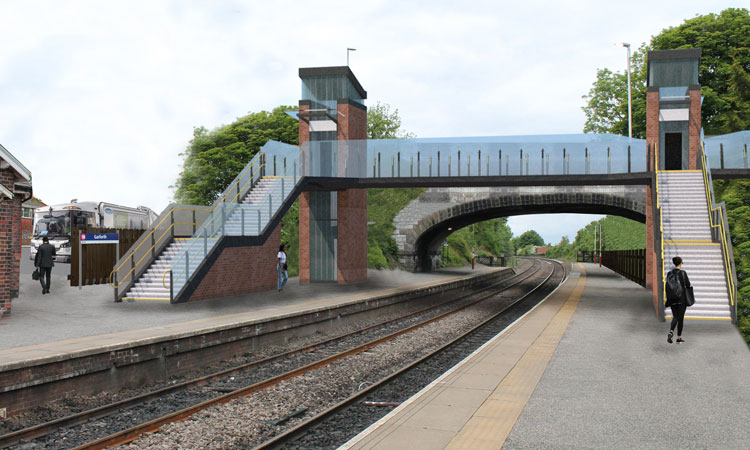 'Beacon' bridge footbridge artist impression. Credit: Network Rail
Can you give a general overview of the 'Beacon' bridge?
The 'Beacon' bridge is a fully glazed footbridge featuring lantern-topped lift towers which has been designed with increased focus on people and place. It will provide a vital step-free link between the station platforms for the first time, which will be a real boost for accessibility at Garforth station.
What are the aims of this new bridge?
The overall aims of the Beacon bridge are twofold: improving station accessibility and enhancing passenger safety. It aims to provide a seamless travel experience while aligning with modern design principles.
Can you tell us about the design of this bridge?
The design of the Beacon bridge combines functionality and aesthetics. It features a sleek and contemporary structure, utilising lightweight materials such as steel and glass. The design incorporates ample natural light, providing an open and welcoming atmosphere for passengers whilst maintaining a visual sightline to the Grade II listed Aberford Road footbridge behind the structure.
This is the first bridge of its kind in the UK, what makes it different from other bridges?
The Beacon bridge is unique in the UK as it diverges from traditional railway footbridge designs.
The Beacon bridge is unique in the UK as it diverges from traditional railway footbridge designs. Unlike previous footbridges that typically feature full steel constructions, the Beacon bridge stands out with its modern and visually striking design, incorporating large glass elements. This departure from convention creates a more open and inviting atmosphere for passengers, offering a refreshing departure from the standard bridge aesthetic. The bridge's contemporary approach sets it apart and adds a distinct character to Garforth station's infrastructure, providing a suitable replacement to its predecessor – the Grade II listed NER footbridge – which is being given a new home at the Bredgar and Wormshill Light Railway in Kent as part of the project.
Can you tell us about the construction process for this bridge?
The construction process for the Beacon bridge involved careful planning and coordination. It commenced back in early 2020 with site surveys and groundworks. This is to be followed by the installation of the bridge's foundations and support structures. The bridge components are to be fabricated off-site to minimise disruption, and then carefully transported and assembled at the station. Extensive quality checks and safety measures are to be implemented throughout the construction process. During the construction process, Garforth station will remain fully operational with a temporary footbridge in place.
How will this bridge change the passenger experience?
The Beacon bridge will significantly transform the passenger experience at Garforth station by introducing step-free access for the first-time. This key accessibility improvement will be welcomed by passengers with limited mobility – as well as those with bicycles, pushchairs or heavy luggage – allowing for easier journeys to destinations such as Leeds, York and Hull. Overall, it will contribute to a much more enjoyable and efficient travel experience for passengers at Garforth station.

Zachary Cocker works as a Sponsor at Network Rail. Over the past three years, Cocker has focussed on delivering multi-million-pound schemes to significantly improve accessibility at multiple stations across Yorkshire. Prior to his role at Network Rail, Cocker spent five years in aviation planning, and he holds a BSc in Business & Management from the University of Bradford.