Riding the 'Metaverse Express': the future of railway transportation in a virtual world
Luleå University of Technology professors Diego Galar and Uday Kumar explore the concept of the metaverse for railway asset management activities, including how the interaction between digital twins of rolling stock and infrastructure in the metaverse can improve the efficiency, safety and reliability of railway transportation.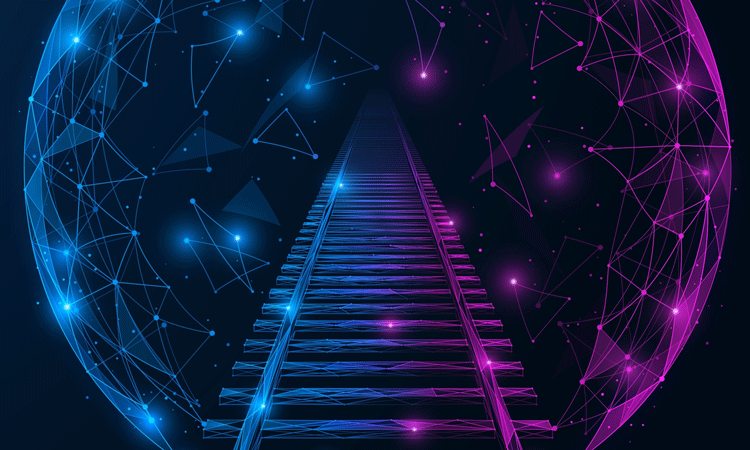 The concept
The roots of the metaverse as technology are in science fiction. The word comes from Neal Stephenson's novel Snow Crash. In the novel, the metaverse is an immersive world. When logged into it, the character Hiro is "not actually here at all" but in a computer-generated universe. This virtual world has much to offer to users, who are able to design, build and own virtual real estate and also engage in creative collaboration with other users. Stephenson wrote Snow Crash in 1992. At that time, it was science fiction, but now, his imagined world is increasingly technologically feasible.
With today's technology, users can enter a virtual world and interact with it in a highly immersive way. The combination of physical and digital worlds gives them a satisfying and enjoyable experience. A number of new services are delivered in the virtual world, such as support to multimodal environments. Mark Zuckerberg recently announced that Facebook would be rebranding as Meta, representing a commitment to its own metaverse. Meta wants users to have a feeling of presence, allowing them to feel as if they are physically present by enabling interaction with the environment and with other users. To enable this, Meta's vision includes giving users a selection of avatars (virtual representations for each individual) and a home space (and presumably other public spaces) to give them the ability to relax and to be entertained.
The first railway metaverse
Elements of the metaverse are entering other industries as well, including the railway industry. We could say that Facebook comprises the foundation of the emerging railway metaverse. Info logging 24/7 and federated learning are used in conjunction to set up social networks of railway assets to improve the performance and efficiency of the railway system. Info logging 24/7 is considered the "Facebook of assets" and refers to the the railway system assets. This data can include information on the performance and condition of assets, as well as environmental factors such as weather and traffic conditions. When multiple devices or assets collaboratively learn from these data without the need of a human, the social network is functioning.
In the context of railway assets, federated learning is used to train machine learning models on data collected from multiple trains, tracks and other assets. By training the models on data from multiple sources, the models can be more accurate and effective in predicting potential issues or optimising the operation of the assets. The social network can enable federated learning by allowing multiple assets to collaboratively train machine learning models. Each asset can train a local model on its own data, and then share the model with other assets in the network. The models can be combined and refined to create a global model that is more accurate and effective in predicting potential issues or optimising the operation of the assets.
This network been very successful for the management of rolling stock and for elements such as switches and crossing. However, it is a rudimentary version of the metaverse. As in Facebook, users interact with other users, but there is no immersive experience. Nevertheless, with the amount of data generated by railway systems and the multiple AI algorithms that can be used to analyse these data, we have all the ingredients we need to use the metaverse to solve problems.
Metaverse for railway asset management
Most of the existing and prospective metaverse applications target investment, marketing and social utility, but the railway has huge potential in many areas, from customer experience to operation and maintenance. Maintenance is an especially important area, as the use of the metaverse can trigger a dramatic increase in railway performance, minimising disruptions.
Many driver assistance systems and autonomous vehicles (AVs) have been developed, including in the railway sector. These systems are equipped with numerous sensors, such as accelerometers, odometers, lidars and radars, to obtain data about the vehicle and the environment around it. However, systems or sensing instrumentation might fail; therefore, a fault detection system is required to ensure autonomous trains operate correctly. To avoid potentially dangerous scenarios and disruptions, many technologies and methodologies, such as integrated vehicle health management (IVHM), have been developed to prevent and predict faults.
Even though IVHM collects high volumes of data from rolling stock, there are still some challenges. The systems are very robust, but the fault detection is carried out offline. This means that rolling stock manufacturers and operators create digital twins of their assets and feed these twins with data from the sensors deployed in the field.
A digital twin is a virtual representation of a physical asset, such as a train or a railway track. By creating a digital twin, engineers and operators can monitor the performance and condition of the asset in real‑time and use this information to optimise its operation and maintenance. The digital replica can perform certain maintenance analytics, for example, descriptive analytics (anomalies) or diagnostics (identification of potential failures). But it is not connected to the vast reality around the vehicle, and this lack of connection creates a problem for early detection and prediction of failures (predictive analytics).
Here's where the metaverse comes in. In the metaverse, digital twins of railway rolling stock and infrastructure will interact with each other through real-time data exchange and communication. These digital twins must be connected through sensors and communication technologies. The sensors on a train should collect data on its speed, location, vibration, track geometry or even pictures and transmit these data to the digital twin of the railway track. The digital twin of the track could then use these data to perform predictive analytics of track degradation, to identify missing elements such as fastenings or damaged slippers to adjust its maintenance schedule or to optimise train schedules. Similarly, the digital twin of the train should receive data from the digital twin of the track, such as information on track conditions or weather, and use these data to adjust its speed or route and comfort parameters. This real-time data exchange could improve the performance and safety of both the train and the track, reducing maintenance costs and downtime.
Overall, the interaction between digital twins of rolling stock and infrastructure in the metaverse can improve the efficiency, safety and reliability of railway transportation. It can enable real-time data exchange and communication, as well as virtual simulations and testing, to optimise the performance of the assets and reduce maintenance costs and downtime.
Beyond the metaverse and into the multiverse
The idea that there may be multiple universes is not new in either science or science fiction. Many physicists believe that the existence of multiple universes is the only way to explain the existence of any universe.
The next step in the development of the railway metaverse will be to move from predictive analytics (What is going to happen?) to prescriptive analytics (What should we do?). Thanks to the metaverse, we will foresee all potential scenarios and be able to select the optimum one. The metaverse will enable engineers and operators to simulate different scenarios and test the performance of their digital twins in a virtual environment. For example, they could simulate the impact of a change in train schedules or the effect of extreme weather conditions on the railway track. By testing these scenarios in a virtual environment, engineers and operators can optimise the performance and reliability of the rolling stock and infrastructure in the real world. This approach where the digital twin has multiple playgrounds and timelines to decide the optimum one in terms of degradation and performance constitutes the foundation of the metaverse turning into the multiverse.
Law and order in the metaverse
In the railway metaverse of tomorrow, avatars of humans (maintainers, operators and passengers) will interact with digital twins of railway assets, and the digital twins will interact in autonomous and unmanned way. The railway metaverse will be an immersive experience for users and workers; it will also be a virtual scenario where systems can be optimised to predict and prevent disruptions, sabotage, derailments, and other malfunctions of the railway network as a whole.
This interaction needs to be regulated, and there will be different systems of law and order depending on where we are within the virtual world. Some areas will be governed by specific rules and regulations set by the owners or creators of a particular virtual space. This means the interactions of twins or avatars will have clear rules to reproduce physical interactions.

Dr. Uday Kumar is Professor of Operation and Maintenance Engineering, Director of Luleå Railway Research Center and Scientific Director of the Strategic Area of Research and Innovation‑Sustainable Transport at Luleå University of Technology (LTU). He has previously worked as a professor of Offshore Technology at Stavanger University. Uday's research focuses on reliability and maintainability engineering, and he has published over 300 papers in international journals and made numerous keynotes and speeches at conferences. He has supervised over 25 PhD theses and is a member of the Swedish Royal Academy of Engineering Sciences.

Dr. Diego Galar is Full Professor of Condition Monitoring in the Division of Operation and Maintenance Engineering at Luleå University of Technology (LTU), where he focuses on railway maintenance and cyber-physical systems. He has coordinated several European projects related to Industry 4.0 and has authored over 500 publications in the field of maintenance and made numerous keynotes and speeches at conferences. He has also held positions at Tecnalia in Spain and Skovde University, and is currently a visiting professor at universities in Portugal, the USA, Chile, the UK, and China.