Luxembourg: Diversification and collaboration essential for success
Since its creation in October 2006, CFL cargo has focused development on its strategic position at the heart of Europe. In December of the same year, even before the liberalisation of the European rail freight market, CFL cargo moved beyond the borders of Luxembourg by launching a transport of coils between Florange in France and Bettembourg in Luxembourg. Today, CFL cargo trains run in all directions – north, south, east and west. The action radius of the young rail freight operator from Luxembourg currently extends from Antwerp all the way to Istanbul, from Stockholm to Perpignan and beyond.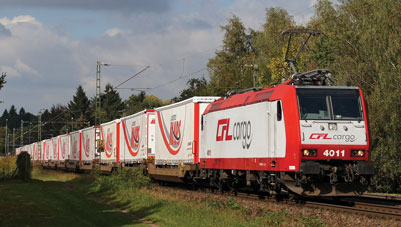 CFL cargo is specialised in the transportation of oversized loads
High-quality international resources
In collaboration with its subsidiaries CFL cargo Danmark, CFL cargo Deutschland, CFL cargo Sverige and CFL cargo France, as well as with sister-company CFL Multimodal, CFL cargo continuously strengthens its connections with the main industrial regions and the principal European ports.
In a European rail freight market still characterised by a lack of standardisation, a multisystem fleet and a multinational workforce represent a significant competitive advantage when operating cross-border trains involving several countries. In addition, if the optimal solution to a customer's transportation needs includes a local provider, CFL cargo partners up with other rail freight companies. CFL cargo's strength is its ability to provide a single point of contact for its customers for all countries involved and in all areas of rail freight: its dynamic team, in addition to its reliable and efficient locomotive and wagon fleet, enables the company to provide high-quality regional and international transport services.
Certifications
In compliance with the existing railroad safety regulations, CFL cargo developed a safety and quality management system in 2008. This SMS & QMS system was first certified ISO 9001:2008 in spring 2009. In the following years, the system was expanded to include the management of health and safety at work. Since April 2011, the SMS & QMS system has also been certified in compliance with the OHSAS 18001:2007 requirements. In order to maintain the validity of these certifications, CFL cargo submits to a yearly audit. 
Transportation 'à la carte'
Whether it is a ready-made solution or a custom-made door-to-door service offering – CFL cargo aims to provide the perfect match for each customer's transportation needs. CFL cargo thus offers a wide portfolio of services, close links with its customers and a high-performing planning process. In addition, the company holds key know-how in the area of oversize transports, which sets it apart from its competitors. CFL cargo's activities include:
International long distance rail freight transport
Regional rail freight trains and local feeder services
Shunting and marshalling yard operations
Industrial rail network operations and management of private rail sidings
Single wagon load services in cooperation with the Xrail Alliance
Workshop for freight wagon maintenance and repair
Services offered to other rail companies
Oversize load transportation.
Niche specialisation: oversize load transportation
CFL cargo's leadership in the area of oversize transport originates in its strong ties to the steel industry: the ArcelorMittal Grey mill in Differdange produces the longest steel beams in the world and, thanks to technological advances, they keep getting longer and longer. The company prides itself in its ability to continuously evolve its loading techniques in order to execute these special transports to the customer's full satisfaction.
CFL cargo's oversize load projects are not limited to steel products. Other examples of XXL transports are the exceptional transportation of 108m-long rails, secured with special fastenings onto sets of six wagons, and the spectacular transportation of windmill blades, which are between 45 and 49m-long and weigh approximately 10 tonnes each.
In general, rail has a competitive advantage over the road in the area of oversize transportation. Whereas road transport quickly reaches its limits, rail freight can more easily accommodate these special needs because of lesser restrictions and higher speeds, thus saving the customer a considerable amount of time and money.
Record transport in 2013
The most recent XXL transport took place in March 2013: 14 jumbo-sized beams of more than 60m, 21 special wagons, plus a locomotive brought a total load of approximately 790 tonnes onto the tracks. The careful planning of this extraordinary transport was the key success factor because beams of this length had never been transported by rail before. 
Three wagons per beam
The most challenging part was customising the railroad wagons to enable securing this XXL load. Each pair of jumbo beams was transported on groups of three wagons and secured by means of two custom-made pivoting, respectively pivoting and sliding, crosspieces. These ensured that the beams remained straight during transportation, while the wagons underneath were able to follow the curve of the railroad tracks.
Creating synergies to enlarge the portfolio
Given the limited size of the Luxembourg market, CFL can continue to grow only by providing pan-European rail freight services. Together with sister-company CFL Multimodal, a logistics provider offering complementary services to a wide customer base, CFL cargo permanently strives to extend its international activities.
The two CFL freight companies offer a wide variety of quality services covering the entire logistics chain: from customs clearance, over warehousing and distribution, to value-added logistics services and full-service transportation by road, rail, sea and air.
Adding combined train destinations
Recently added international train connections include: a rolling motorway shuttle between Bettembourg and Le Boulou in South France, near the Spanish border; a combined shuttle train to Luebeck, with Scandinavia, Poland, the Baltic countries and Russia as final destinations; and a trans-continental combined shuttle train between Luxembourg and Trieste continuing to Turkey.
By developing new destinations for its combined transport activity, CFL cargo and CFL Multimodal can meet the needs of international actors and contribute to the appeal of Luxembourg as a logistics hub, so as to boost economic activity at home and in the Greater Region.
The Luxembourg Government strongly supports the logistics and rail freight sectors with the multiple objectives of diversifying the national economy, improving the country's employment rate and promoting the modal transfer from road to rail, thus contributing to the reduction of CO2 emissions.
The government therefore launched an expansion project for the logistic Eurohub South in Bettembourg, where both companies are located. Investments of more than €250 million are planned over the next few years and will more than double the number of combined trains handled.
A reliable partner for a flexible market
Flexibility and reliability are key contributing factors to CFL cargo's international success. They enable the company to develop full-service door-to-door transport concepts adapted to the customers' particular needs and to provide a single point of contact for each project. In addition, the synergies between CFL cargo and CFL Multimodal in the area of combined rail freight will continue to strengthen the companies' position in the coming years, with the benefits of these developments to be fully passed on to the customers. 
Safety, Health, Quality & Environment Charter
The Safety, Health, Quality & Environment Charter of CFL cargo is an essential part of the company's goal to combine sustainable development with corporate social responsibility. The management of CFL cargo commits to continuously develop and promote the safety and health culture inside the company. The Safety, Health, Quality & Environment Charter applies to all CFL cargo employees, customers, service providers, suppliers, as well as everybody in direct, or indirect, contact with the activities of CFL cargo. 
Facts and figures
October 2006: Creation of CFL cargo S.A., CFL cargo Danmark Aps and CFL cargo Deutschland GmbH
December 2006: First international 'open access' freight train transporting coils between Florange and Bettembourg
February 2008: Creation of Ateliers de Pétange S.A.
August 2010: Creation of CFL Fret Services France
January 2012: Creation of CFL cargo Sverige AB
September 2012: First trans-continental combined shuttle train between Luxembourg and Turkey via Trieste
June 2013: CFL Fret Services France becomes CFL cargo France
CFL cargo today: 600 employees throughout Europe; more than six million tonnes of freight transported per year; 56km of tracks at the Bettembourg marshalling yard; and more than 60 freight locomotives and 4,000 freight wagons. 
Biography
Marc Polini started his career in Vevey (Switzerland) in 1987 as an engineer for international projects at Nestlé. After the implementation of a drink production and packaging line on an international scale, he became Project Manager in the areas of civil engineering and the installation of electrical and mechanical equipment. In 1991, Marc joined Ceramétal in Luxembourg in the role of Maintenance and Security Manager and in 1994 he switched to Data Documents as Production Planning Manager. In 1996, Marc joined Marwais International as Electrical and Mechanical Equipment Purchasing Manager in Europe and in the Middle East. In 1999, he joined EuroLuxCargo, predecessor of CFL cargo, as Head of the Commercial Department and Wagon Management. With the creation of CFL cargo in 2007, Marc assumed the role of Chief Commercial Officer. In 2010, he became CEO of the Wagon Workshop Ateliers de Pétange. On 1 January 2014, Marc took over the position of CEO of CFL cargo. Marc holds a degree in Mechanical Engineering from the Ecole Polytechnique de Lausanne ETHL.