Noise & Vibrations: Noise-Differentiated Track Access Charges
Railways have an almost negligible impact on climate and environment compared to other modes of transport. The only remaining environmental challenge for the European rail sector is noise – a side effect of railway operation. For Global Railway Review, Libor Lochman, Executive Director of The Community of European Railway and Infrastructure Companies (CER) and colleagues Ethem Pekin (Environment Economist) and Enno Wiebe (Senior Advisor for ERA and Research-Related Issues), explain that the sector has a long history of noise mitigation and is committed to continuing to make progress based on cost-effective solutions…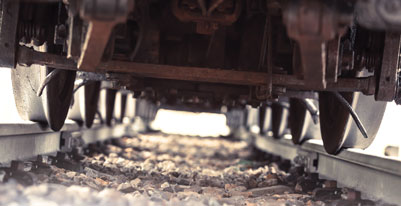 Measures taken to reduce noise are to be evaluated primarily on their contribution to actual noise reduction in a way that does not harm the competitiveness of the enterprises involved. A number of actors are actively promoting such measures, namely railway undertakings and rail infrastructure managers alongside wagon owners and keepers. Policy-makers should also play a vital role in this endeavour, ensuring an optimal and efficient general regulatory framework for the successful implementation of the noise reduction measures.
Rail noise mitigation
Rail noise can be addressed at two levels: noise reception (after noise has been emitted) and noise creation (the emission of noise at the source). In the last two decades, noise abatement walls, soundproof windows combined with ventilation systems and similar infrastructurerelated measures have been implemented to mitigate rail noise at reception level. Rolling stock-related measures, on the other hand, aim to eliminate the noise at the source. Since 2006, new and upgraded wagons must be equipped with composite brake blocks which reduce pass-by noise. The Technical Specification for Interoperability relating to rolling stock noise (Noise TSI), which will be published at the end of 2014, will ensure that all rolling stock complies with strict noise limits. As a result, the regular replacement of fleets would ensure that all railway vehicles including wagons will be low-noise shortly after 2031 assuming a rolling stock lifetime of 25-35 years.
To resolve the rail freight noise problem faster, freight wagons should be retrofitted with braking components that lower rolling noise. Retrofitting will reduce the roughness of the wheel running surface, thereby reducing rolling noise when the wagons are in motion and tackling the problem at its source. The economic assessments acknowledge this strategy as most beneficial.
Financial incentives for rail noise mitigation
Trying to put the highest effort into addressing the problem of reducing rail freight noise, the rail sector is facing huge costs to retrofit freight wagons before the end of their natural lifespans. Moreover, besides the retrofitting costs, the usage of composite brake blocks also causes higher operating and maintenance costs. This is likely going to result in significant negative impact on the competitiveness of environmentally-friendly railways compared to other modes of transport.
To avoid competitive disadvantages for rail transport, the transition has to be funded from outside the rail sector, at least up until noise costs are internalised in the other transport modes as well. Otherwise a shift of traffic from rail to road has to be expected and consequently the overall level of traffic noise will increase – such a reverse effect must be avoided! Incentives are therefore crucial to putting retrofitting on the fast track to completion.
The sector has always called for direct funding to guarantee a swift and clearly noticeable reduction of noise. The new funding scheme under the Connecting Europe Facility (CEF) for retrofitting freight wagons for noise reduction provides the basic financial contribution needed and supports the upgrades to be made over the coming years.
Noise-Differentiated Track Access Charges (NDTAC)
Track access charges are the main price signal affecting the competitiveness of services from railway undertakings as compared to those from other transport modes.
In the Recast Directive (2012/34/EU), a provision on the possible use of track access charges to account for environmental externalities was enhanced in order to develop an economic incentive to tackle rail freight noise. This type of measure is commonly referred to as Noise-Differentiated Track Access Charges (NDTAC). One of the main purposes of NDTAC should be to provide incentives for fast retrofitting through mandatory bonuses. In the longer-run, NDTAC might be used to internalise the noise externality through mandatory penalties.
The introduction of NDTAC is voluntary for each Member State. However, with the upcoming implementing act of the Commission, harmonised arrangements for NDTAC should be applicable to those Member States that have introduced or will in the future introduce infrastructure charging due to railway noise. Currently, NDTAC systems have been established in Germany, the Netherlands and Switzerland. Other countries such as Belgium, Italy and the Czech Republic are also examining NDTAC systems to consider their introduction in the future.
An efficient implementation of NDTAC must ensure that the administrative transaction costs are minimised. There is also a strict need to guarantee revenue neutrality for rail infrastructure managers and to avoid a negative impact on rail's competitiveness vis-à-vis the other transport modes. Concretely, this means that state funding must be made available to rail infrastructure managers, so that they can implement a reduction (bonus) of track access charges for silent (retrofitted) rolling stock without resorting to compensatory increases in the rest of their charging structure.
Competitiveness impacts of NDTAC on the rail sector
The Community of European Railway and Infrastructure Companies (CER) would like to underscore the need for equitable treatment between transport modes. This must fully apply to NDTAC systems that should neither result in the undue distortion of competition between railway undertakings nor affect the overall competitiveness of the rail sector. Internalisation of noise in rail should only be obligatory once it is obligatory for the road sector.
CER believes that the optimal policy for dealing with rail's noise externality would be a combination of the CEF funds and direct state funding, possibly complemented by NDTAC.
A distinction between NDTAC and retrofitting has to be made. In 2010, CER together with UIP, ERFA, UIRR and EIM advocated more efficient direct funding for wagon upgrades addressed directly to the wagon owners/keepers. In the case of direct funding, railway undertakings would not play any intermediary role and the administration costly system of NDTAC believed to incentivise retrofitting could be avoided. Since the railway undertakings are rarely keepers of all the wagons in their trains it is necessary to be clear and consistent with the concept and the actors in an NDTAC system.
Biography
Libor Lochman has been Executive Director of The Community of European Railway and Infrastructure Companies (CER) since 1 January 2012. Libor graduated at the Transport University in Zilina and has a doctorate in electronics from the West-Bohemian University Plzen. He has a strong background in Control-Command and signalling systems. Prior to his role as CER Deputy Executive Director and Lead of Technical Affairs (2007-2011), Libor acted as Director of the Railway Test Centre – a facility for testing European rolling stock, infrastructure and signalling components in Prague (2000-2005). Libor joined the Editorial Board of European Railway Review in January 2013.
Ethem Pekin has been Environment Economist of The Community of European Railway and Infrastructure Companies (CER) since 1 November 2013. Ethem studied at the Free University of Brussels and holds a Master in European Integration & Development and a Master after Master in Advanced Management Studies. Ethem has a PhD in Applied Economics. Prior to joining CER, Ethem worked as a Research Associate at the Free University of Brussels.
Enno Wiebe is working at The Community of European Railway and Infrastructure Companies (CER) as Senior Advisor for ERA and Research-Related Issues. He is dealing with the Fourth Railway Package's Technical Pillar and energy and infrastructure issues related to the Technical Specifications for Interoperability (TSIs). Enno is the CER representative in the European Rail Research Advisory Council (ERRAC). He is a Civil Engineer employed by Deutsche Bahn and seconded to CER.