High-speed Rail: Helping to shape the railways of tomorrow in Britain
In January 2006, when Greengauge 211 was launched, the Channel Tunnel Rail Link (HS1) in the UK was incomplete, and there was no expectation that it would be followed by further high-speed lines. For Global Railway Review, Jim Steer – Director of Greengauge 21 – the not-for-profit organisation established to research and develop the concept of a high-speed rail network as a national economic priority – explains that with colleague Director Julie Mills, the organisation set themselves the challenge of bringing the question of a national high-speed rail network into the domain of public debate.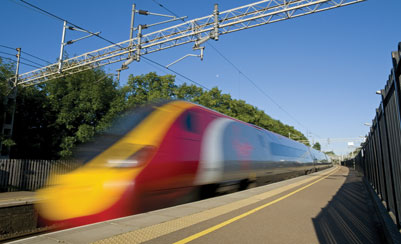 Eight-and-a-half-years later, with cross-party support for high-speed rail investment and the first phase of HS2 (High Speed 2) progressing through its Committee stage in Parliament, there are new challenges ahead, and Greengauge 21 is adapting to meet them. A new not-for-profit company has been established – the High Speed Rail Industry Leaders' Group2 – formed by a group of industry businesses and experts with the aim of building a centre of excellence and expertise on high speed rail in the UK.
Greengauge 21 itself has, in 2014, broadened its ambit. We continue to promote the debate around the need for a national high-speed network (and HS2 is a great start, but not the full story). But we also see many of the planning challenges ahead for the rail sector lying elsewhere – in upgrading and modernising the existing railway to meet continuing demand growth – 'shaping tomorrow's railway'. Indeed, many of the questions around HS2 surround its interface with the existing network, now that its route (for Phase 1 at least) is effectively defined.
The Greengauge 21 story can be traced through the succession of reports published on our website1, and we get a lot of positive feedback from those researching high-speed rail who use this as a resource base. By commissioning research and exploring the business case for high-speed rail, thinking from the start about the wider objectives for the nation rather than narrow areas of railway technicalities, we were able to spark politicians' and policy-makers' interest. Having argued for a national high-speed rail network, we posed the 'where to start' question, and published 'HS2: a Proposition – London, Heathrow, Birmingham and the North West' – in June 2007. But still no sign of a response at Government level. At the time, high speed rail was not seen as a priority; it solved a problem in the mid-2020s, when there were more pressing matters to address. It is notoriously difficult to engage political support for measures that bring results only in the longer-term.
The rest of this article is restricted to logged-in members. Login or subscribe free to read it.