Towards a step-change in new rolling stock certification for noise
Posted: 13 February 2015 | Nicolas Furio (UNIFE), Estelle Bongini (SNCF) and Ulf Orrenius (Bombardier) | No comments yet
Noise pollution is an important concern. At a European level the Environmental Noise Directive (END) requires noise mapping of large agglomerations and major routes and the development of Action Plans. It is estimated that 14 million people in Europe are exposed to levels of railway noise above 55 dB Lden, compared with 125 million people for road traffic1. In parallel, regulations controlling the noise emission from individual vehicles have been introduced. For the railway sector these were introduced from 2002 in the form of Technical Specifications for Interoperability (TSI) which limit the noise emission of new vehicles. The latest revision of the Technical Specification for Interoperability (TSI) Noise enters into force in January 2015, and Nicolas Furio, Head of Unit – Technical Affairs at UNIFE, Estelle Bongini, SNCF I&R Acoustics, Vibration and Diagnostics Research Group, and Ulf Orrenius, ACOUTRAIN Technical Leader (Bombardier), provide further information…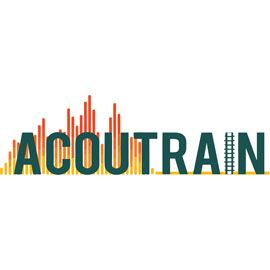 Although the TSI Noise is strategically important in ensuring that the railway remains an attractive means of transport in the future and in allowing the sector to grow, it also means restrictions and increased costs to individual stakeholders. The conformity assessment required in the TSI Noise is mainly based on field tests, which is often a very expensive and time consuming process. Noise measurements are required under pass-by, stationary and starting conditions as well as inside the driver's cab.
The ACOUTRAIN FP7 European Research project, coordinated by UNIFE – The European Rail Industry – aims to develop procedures and calculation tools to simplify the TSI Noise test procedures. From October 2011 to December 2014, the 15 ACOUTRAIN partners have cooperated for introducing virtual certification for noise with a reliable simulation approach.
Moreover, the ACOUTRAIN project has also contributed to the progress of other railway noise research areas such as…
The rest of this article is restricted to logged-in members. Login or subscribe free to read it.