OV SAAL project: Working on improving accessibility in the Netherlands
Posted: 13 February 2015 | Christian Caan, Koen Ingels, ProRail and Kitty I'Abee, OV SAAL | No comments yet
The OV SAAL project in the Netherlands aims to expand the railway system around Schiphol, Amsterdam, Almere and Lelystad, but not without serious challenges with respect to technique and accessibility. Christiaan Caan and Koen Ingels both Managers from construction alliances on behalf of ProRail, and OV SAAL's Senior Communications Consultant, Kitty l'Abee, provide further information about this huge project…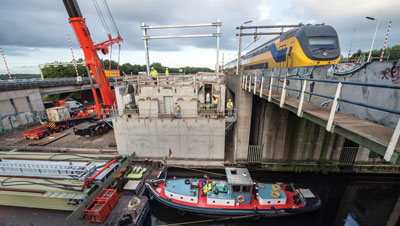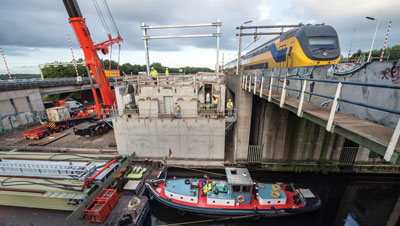 The OV SAAL project in the Netherlands aims to expand the railway system around Schiphol, Amsterdam, Almere and Lelystad, but not without serious challenges with respect to technique and accessibility. Christiaan Caan and Koen Ingels, both Managers from construction alliances on behalf of ProRail, and OV SAAL's Senior Communications Consultant, Kitty l'Abee, provide further information about this huge project.
Some people might have forgotten (or some people may just not know) that Flevopolder is a relatively 'new piece of land'. Its impoldering took place in the 1950s; the Amsterdam region outgrew its location and needed new space for building houses. Large areas were impoldered and cities, houses, motorways and railways were built.
Construction of the Afsluitdijk – a major causeway – was completed in 1932 and resulted in the separation between the North Sea and the Zuiderzee (a shallow bay). The Zuiderzee was from then re-named IJsselmeer. Subsequently, dykes were built which allowed the act of impoldering to start. From this, Eastern Flevoland was created in 1957, southern Flevoland in 1968 and the Province of Flevoland was founded in 1986. This resulted in greater possibilities for work, accommodation and recreation. This also meant there was a need for more transport.
The opening of the Flevolijn between Weesp and Lelystad connected Flevoland with the railway system in the west of the Netherlands in 1987. The Hanzelijn (a railway connection between Lelystad and Zwolle) also connected the 'new land' with the north of the Netherlands by railway in 2012.
The distance between Almere (Southern Flevoland) and Amsterdam is about 35km. Amsterdam did not stop growing either. The growth of Amsterdam does not only mean there are more houses; the metropolis of Amsterdam is of great economic interest to the Netherlands overall. More than half a million people travel daily from and to the metropolis region of Amsterdam. The number of households will increase in this region by about 270,000 until the year 2040. Particularly in these times it is also important to have an economic top position and even more so to maintain this.