The Rail Delivery Group: Developing strategies and proposing solutions
Posted: 4 June 2015 | Matthew Hannaway and Mike Pollard, Network Rail | No comments yet
Network Rail in the UK has been working with the Rail Delivery Group (RDG) to tackle the cost of contingency on railway projects. Network Rail's Matthew Hannaway, Head of Project Risk and Value Management and Mike Pollard, Head of Collaborative Working, explain further…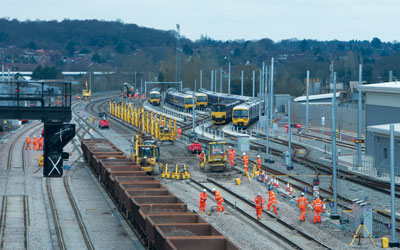 The Rail Delivery Group (RDG) has identified a number of opportunities to improve project outcomes and realise industry-wide benefits. A benchmarking study demonstrated that railway projects cost between 20-30% more than similar construction works by the UK Highway Agency and similar railways in Europe.
The causes of this included different access provisions, applicable safety standards and planning permission processes, but a significant amount of this difference (5-10%) was due to a combination of interparty behaviours not found in collaborative projects. The RDG Asset, Programme and Supply Chain Management (APSCM) Group has established a work stream to improve the identification and management of risk and contingency through better collaboration among industry stakeholders, including Network Rail, Train Operating Companies (TOCs), Freight Operating Companies (FOCs) and Suppliers. The ultimate goal is to reduce the cost of contingency across the rail industry and improve the value it delivers…
The rest of this article is restricted to logged-in members. Login or subscribe free to read it.