Ensuring safety in the Fehmarnbelt Fixed Link rail and road tunnel
Posted: 1 October 2015 | Johnny Restrup-Sørensen, Contract Director for Railway at Femern A/S | No comments yet
Safety for end-users is an integral part of any project, not least the project of building the 18.2km-long Fehmarnbelt Fixed Link between Fehmarn in Germany and Lolland in Denmark. It encompasses every aspect of the tunnel project. Apart from ensuring that all specific railway and general safety demands are met, there is also the challenge of adhering to high German, Danish and EU safety standards. Johnny Restrup-Sørensen, Contract Director for Railway at Femern A/S, explains how the demands actually help to achieve the goal of building a modern and very safe tunnel…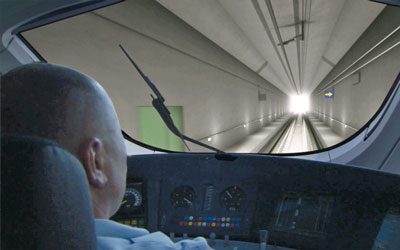 The fixed link will be the largest immersed combined rail and road tunnel in the world. It will also be among the world's most modern and safe tunnels. Safety is always a high priority issue in railway systems and it's well-known that rail is considered one of the most safe modes of transportation. Hence it is evident that safety is also an extremely important factor in such a long subsea railway link.
Safety has been incorporated into the project in detail – from the very first drawings when the treaty on the fixed link was signed by Denmark and Germany in 2008 – and up to the present day where bids for the tunnel from international consortia are being evaluated by the client, Femern A/S.
Safety influences all aspects of the tunnel from civil works requirements to the descent and curvature of the tunnel, emergency power supply, emergency exits, ventilation, fire extinguishing equip – ment, signalling systems, lighting, tunnel surveillance as well as rescue plans and safety personnel.
All relevant safety standards and regulations are met. This means complying with EU, Danish and German standards and regulations. These are apart from national standards and regulations, namely the EU Common Safety Methods (CSM), the National Reference Value (NRV), the EU Interoperability and safety directive, EU Eurocodes and the EU Tunnel Safety Directive.
The rest of this article is restricted to logged-in members. Login or subscribe free to read it.