Developing a sustainable Spanish high-speed rail network
On 29 September 2015, after the completion of a new section of high-speed line to the North of Spain, between the cities of Valladolid and Leon, Adif achieved another milestone by expanding Spain's high-speed rail network by 166 new kilometres. Adif's President, Gonzalo Ferre Moltó, provides more details about the new line section plus Adif's overall strategy to develop a sustainable approach to high-speed rail deployment…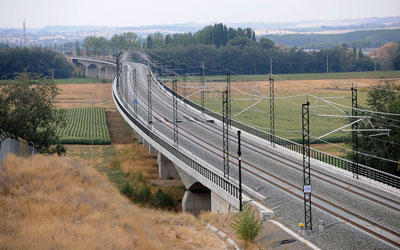 Adif now manages 3,150km of high-speed rail lines, both standard and Iberian gauge, confirming Spain's remarkable position in design, construction and management of high-speed railways.
The new line section has been designed for speeds up to 350km/h, with double standard gauge track and 25 kV 50 HZ electrification. Furthermore, Adif had to build 48 viaducts to complete the new section which will improve rail connections from Madrid to both Leon and Palencia, and shorten journey times by up to 30% on the 346km-long trip between Madrid and Leon.
Other northern regions and cities such as Asturias, Cantabria, Burgos and the Basque Country will also benefit from this new section thanks to the Spanish state-of-the-art changeover system, which allows variable gauge trains to switch from the high-speed line to conventional sections, after passing through these facilities.
In this sense, the new section includes up to three changeover facilities allowing shorter travel connections to Oviedo (30 minutes quicker) or Santander (22 minutes quicker).
The journey time will be further reduced to just 1 hour 45 minutes within a few months, when the ERTMS system is completely deployed, (currently only on the Madrid–Valladolid section, commissioned in December 2007).
The new infrastructure represents a major technical achievement, performed under the supervision of Adif's specialists who have been working in the enhancement process of the Spanish rail network over the last 25 years. During these years, we have gradually adopted new technical solutions that ensure high quality of services at lower costs. The result of this new strategy will allow us to put into service this year 1,000 new kilometres of network with an adjusted investment.
In financial terms, we are moving towards a more efficient scheme to support our railways in a more sustainable way.
 To undertake these investments we have used different sources of funding. In recent months, Adif High-Speed ​​has launched bonds amounting to billions of Euros each. In addition, we proceeded to sell assets that were not necessary for the development of the railway business. 
For instance, Adif invested more than €1,600 million to develop the 166km of new infrastructure between Valladolid and Leon, which will be extended to the French border and Asturias in the coming years. These works were co-financed by the European Union.
Developing a sustainable approach to high-speed deployment
One of the key drivers of Adif's strategy is to complete a sustainable high-speed network that meets our main challenges in citizen mobility needs.
I want to emphasise that in Spain we have an excellent network of highways and roads, in addition to airports, in almost all provincial capitals competing with the railroad. It is also necessary to remember that Spain has a low population density.
To overcome these challenges, what we really want is improved travel times by rail to compete with other modes of transport, mainly road. Our railway network transports approximately 459 million passengers every year; the short-term goal is to double the number of high-speed rail passengers in Spain.
In Spain, we move 1,750 million travellers each year on public transport. Of this number, more than 1,150 million are by bus. It is in this segment where the train should look for growth. In my point-of-view, high-speed rail is a brand new and competitive mode of transport; it can reduce travel times of between 25% and 30% compared to travelling the same route by car. The time reduction is equivalent to close the gap to the point that high-speed can also function as a commuter service to populations up to 200km in distance, in the same time it takes to get from the suburbs to the city centre. Therefore, our first goal should be to attract more passengers to this service. For now, the data begins to be in the right direction: 2014 saw 30 million travellers using high-speed trains. Adif, alongside government institutions and the industry, is undoubtedly one of the key players in this success. We are the company in charge of the supervision of the design and construction, as well as the management of these rail infrastructures that have helped transform our country.  In just 20 years, Spain has created one of the main rail networks in the world and has spawned an industry and a knowledge that is allowing companies working in the railway sector to compete in emerging projects around the world.  Adif has also changed its model of participation in international projects as a way to capitalise the vast knowledge we have accumulated over the years.  We understand that our mission is not to devote resources to get involved in international projects that sometimes carry a high risk, but we have accumulated knowledge and skills to advise any consortium or company seeking to develop railroad projects anywhere in the world. By way of conclusion, I would like to state that Adif is implementing a sustainable strategy to foster the railway business in our country through three basic pillars: to develop a sustainable high-speed network; to optimise a conventional network; and to improve customer service. This statement reminds us once again that our challenge cannot be other than to attract more travellers to rail from others transport modes. 
Biography
Gonzalo Ferre Moltó is President of Adif – the Spanish Railway Infrastructure Manager. He has been Secretary General of Treasury, General Manager of State's Highways and President of the National Currency and Stamp Manufacturer. He was also Chief Executive of Itínere and Deputy Director General of the President of Group SYV, plus Chief Executive Officer of South America's Highways in Grupo Abertis. Up until its appointment he occupied the position of General Secretary of Infrastructures in the Ministry of Public Works.