Developing a sustainable Spanish high-speed rail network
Posted: 9 December 2015 | Gonzalo Ferre Moltó, President, Adif | No comments yet
On 29 September 2015, after the completion of a new section of high-speed line to the North of Spain, between the cities of Valladolid and Leon, Adif achieved another milestone by expanding Spain's high-speed rail network by 166 new kilometres. Adif's President, Gonzalo Ferre Moltó, provides more details about the new line section plus Adif's overall strategy to develop a sustainable approach to high-speed rail deployment…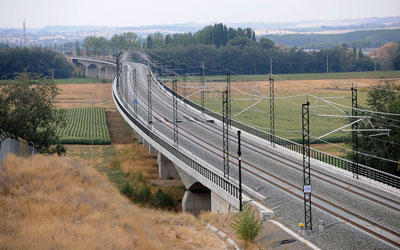 Adif now manages 3,150km of high-speed rail lines, both standard and Iberian gauge, confirming Spain's remarkable position in design, construction and management of high-speed railways.
The new line section has been designed for speeds up to 350km/h, with double standard gauge track and 25 kV 50 HZ electrification. Furthermore, Adif had to build 48 viaducts to complete the new section which will improve rail connections from Madrid to both Leon and Palencia, and shorten journey times by up to 30% on the 346km-long trip between Madrid and Leon.
Other northern regions and cities such as Asturias, Cantabria, Burgos and the Basque Country will also benefit from this new section thanks to the Spanish state-of-the-art changeover system, which allows variable gauge trains to switch from the high-speed line to conventional sections, after passing through these facilities.
In this sense, the new section includes up to three changeover facilities allowing shorter travel connections to Oviedo (30 minutes quicker) or Santander (22 minutes quicker).
The journey time will be further reduced to just 1 hour 45 minutes within a few months, when the ERTMS system is completely deployed, (currently only on the Madrid–Valladolid section, commissioned in December 2007).
The new infrastructure represents a major technical achievement, performed under the supervision of Adif's specialists who have been working in the enhancement process of the Spanish rail network over the last 25 years. During these years, we have gradually adopted new technical solutions that ensure high quality of services at lower costs. The result of this new strategy will allow us to put into service this year 1,000 new kilometres of network with an adjusted investment…
The rest of this article is restricted to logged-in members. Login or subscribe free to read it.