GTR – a railway franchise formed to transform passenger services
Govia Thameslink Railway (GTR) is now Britain's biggest rail franchise – carrying 237 million passenger journeys a year and earning the Department for Transport (DfT) £1.3 billion in annual passenger revenue. Operating over 3,200 services every weekday, plus managing 236 stations and including 6,800 staff, the business oversees four different networks of Southern, Gatwick Express, Thameslink and Great Northern. So why have GTR been given the keys to this super new franchise? Chief Executive Officer, Charles Horton, explains…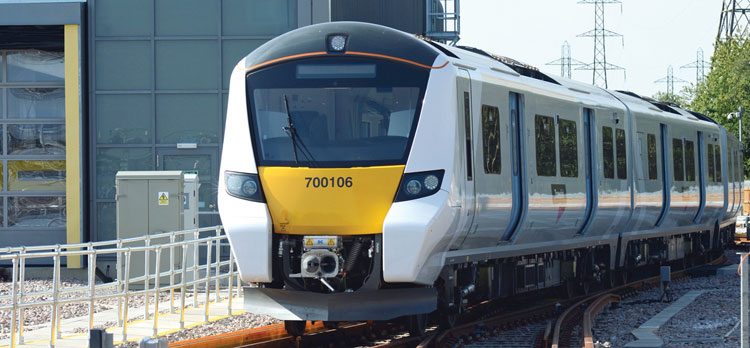 The Siemens-built Class 700 Desiro City.
Put simply, it's to unlock billions of pounds of investment that will transform passengers' journeys. Because the story of GTR is a story of delivery; and it's something that any CEO would give his right arm to oversee.
Our seven-year franchise is going to deliver four new train fleets, new services, a step-change in capacity, better stations, better staffing and improved timetables.
The Thameslink Programme
At the heart of all this is our joint delivery with Network Rail of the government-sponsored £6.5 billion Thameslink Programme which, by 2018, will have linked together towns in Sussex and Kent, plus along the East Coast Mainline into the Thameslink route, offering direct cross-London journeys with the type of benefits such as Cambridge to Gatwick in just 1 hour 40 minutes – that's 30 minutes quicker than today's trip by train and Tube.
Not the 'normal' franchise
The franchise is an unusual one. We receive fare income from passengers as usual but then pass this to the DfT, whereas most other UK passenger rail franchises keep this income and account for it as their revenue. We instead receive regular cash payments from the government for operating the franchise and for bearing the risks and liabilities that this responsibility entails. We can also earn additional payments from DfT if we ensure that the Thameslink Programme meets its key milestone dates; however, we can lose this income if we don't deliver the programme on time with industry partners.
Added to this, are a number of measures that reflect passengers' everyday experiences. We are audited regularly for the station and on-train environment and these scores, together with our National Rail Passenger Survey results, are used to adjust up and down the payments we receive for operating the franchise. Broadly speaking, the 'penalties' are about twice the rate of the 'bonuses'.
To say that is challenging is an understatement, but what this all means is that passengers are put firmly at the centre of our business because it is their satisfaction that helps drive our bottom line.
The rolling stock
And it is such an exciting franchise to be involved in. We have already delivered a new fleet of 29 Class 387 Bombardier-built trains on to the Bedford to Brighton route – the first of those arrived only three months after we started the franchise – and another 27 units of a second variant will follow for Gatwick Express in 2016. These have air-conditioning, two-by-two seating, the latest in automated on-board service information and excellent facilities for people with disabilities.
We've spoken to stakeholders and put out for tender the specification for a new fleet of 150 new carriages to replace the 313s that operate our Great Northern inner suburban route.
Then we also have our new Class 700 Thameslink trains. These Siemens-built units have been purpose-built to operate the extended Thameslink network that we create with Network Rail in 2018. They are bright, spacious, lightweight and designed to cater for the metro and long-distance market – the leisure traveller, the business people, our airports and, of course, our commuters.
At the time of writing this article, we have two of the Class 700 trains in a gleaming new depot, purpose-built for the new 115-strong fleet, at Three Bridges (a second is being constructed at Hornsey). There are no intermediate cab ends, for the trains are fixed in length – 55 with 12 carriages and 60 with eight – and there are wide open gangways between each coach. So when I stood on the empty unit for our official launch of the depot with the Secretary of State for Transport, I was truly amazed at the sense of space afforded by 240m of uninterrupted interior.
These trains, the first of which enter service in spring 2016, are the future, for they will help accommodate the massive increase in passengers the UK has experienced in the past decade, especially in the South East. They are not only fitted with wider doors, large vestibules and wide aisles to speed boarding, they are smart enough to tell passengers which way to walk to find more space elsewhere in the train. They are being fitted with technology that will allow us to use automatic train operation for the first time on a mainline railway, between London St Pancras and London Blackfriars and that will allow us to bring onto the Thameslink route services from Peterborough and Cambridge on the East Coast Mainline, creating a stunning frequency of up to 24 trains per hour across London.
Enhanced services and timetables
This is where the GTR franchise and all that it is designed to deliver really pays dividends for London and the economy. Our enhanced north-south cross-London service will complement the east-west service of Crossrail, which will boast similar frequencies and create new services from across the South East to Heathrow with just one change from a Thameslink train at Farringdon. It will relieve congestion on the Tube and it will ease congestion.
So much work is going into this £6.5 billion Thameslink Programme to make all this happen in 2018 and we have been playing a big part in that with our industry partners. We have designed and consulted on a new off-peak timetable for the Brighton Mainline that comes into effect in December 2015. By combining Southern and Thameslink into one franchise, we can create a timetable that not only paves the way for the future 2018 expanded Thameslink network, but also evens out services where previously Thameslink and Southern services 'chased' one another, competing for the same customers and creating short headways and creating the risk of delays.
A plan to improve performance
As I've mentioned punctuality and our efforts to remove delays, I will take a moment to discuss the significant challenges we have faced in terms of performance. Quite frankly, performance is not where we want it and we are determined to make it better. My Chief Operating Officer and her team have set up an alliance with Network Rail and devised a performance improvement plan. This looks at the performance of signalling, power supplies and other Network Rail assets. But it also ensures that we develop timetables which are error-free and not set up to fail; it has overseen changes to the Brighton Mainline timetable, introduced to improve performance after the loss of one of the approach tracks into London Bridge for the improvement work there, and the performance of new infrastructure back in January. It also sets out how GTR has launched the UK's largest driver recruitment and training programme to address driver shortages caused, in part, by the huge amount of training required for new routes and new rolling stock. In our first year, we have doubled the number of trainers and tripled our number of courses. On Thameslink and Great Northern alone, we have brought in 63 qualified drivers since January and have over 160 more in training.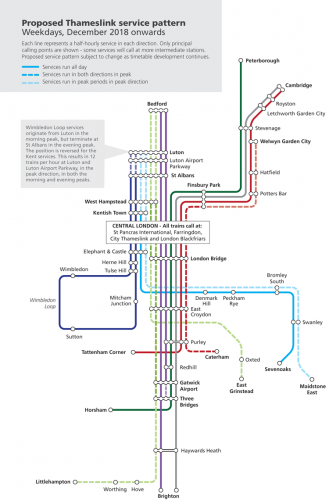 Passenger Service Directors
This first year has been a busy one for many other reasons as we have introduced the improvements we promised when we were awarded the franchise. To begin with, we set about creating the structure I wanted to make GTR a success. We may be the biggest franchise in the UK but we need to stay in touch with the communities we serve, so we have kept the individual brands of Southern, Gatwick Express, Great Northern and Thameslink and appointed five Passenger Service Directors – route MDs if you like – and Southern has two: one for the mainline and one for the Metro services. They are there to make sure our services meet our passengers' local needs, and that we act on their concerns. They are responsible for the day-to-day operation of the route, including their station staff, station facilities, trains and drivers.
Providing passenger information
To bring passengers better information, we launched our redesigned Great Northern and Thameslink website in June to give passengers better real-time information. All our information now comes from one source, meaning that whether you're viewing it on our station screens, websites or apps, it will be consistent, accurate and up-to-the-minute. We have also given our staff 600 iPads, with more to come, so they can tell passengers the latest information at the touch of a button, plus our Twitter team is now live 24/7, brining passengers updates to their service and answering questions.
Ticketing
And to give passengers better ways of paying for their journeys, we've extended Southern's smartcard 'the key'. Southern was the first train company in the UK to introduce a ticket smartcard and it can now be used on Thameslink and Great Northern services as well for season tickets. In 2016, we will be loading up many more products and the intention is to offer two fabulous concepts: pay-as-you-go with the simplicity of a pre-loaded card that guarantees the best fare wherever you travel on our network, and flexible ticketing which will benefit part-time workers.
More staff and more training
Modernising the way people buy their tickets through new technology goes hand-in-hand with making changes to the way we interact with our passengers. This year we have honoured our commitment to introduce all-day staffing at 25 more stations. This means that there will always be a member of staff available at these places when we have services running.
And our plans involve even more investment in our people. We're delivering 20,000 days of customer service training across the life of the franchise. We have completed a pilot for our new One Step Ahead programme and initial feedback has been very positive from the 200 staff who took part. As you'd expect, the programme focuses on what our passengers and the business expect of our staff, but it adopts a very different approach from what has been used before. It moves away from the 'sheep dip' approach to a combination of on-the-job coaching, classroom and e-learning. The courses are tailored according to the needs of train brand and the individual. The e-learning is particularly new and will be accessed either on staff iPads or office PCs. Every single member of our 3,500-strong customer-facing team, their managers and supervisors will receive this training, starting in early-2016. The course leads to a B-Tec in Customer Service.
Passenger engagement
By having better trained staff, we have more motivated staff. But how do we engage better with our passengers? Well, this year we launched our online passenger panel which gives its 1,000-plus members the opportunity to take part in online surveys and, in future, web chats. And then we have our two Customer Cabinets – around 12 people on each, one for the north and one for the south of the franchise. Each one brings together staff and passengers, offering a unique forum where views can be shared and practical ideas for improvement can be put before senior managers. Members of the Cabinets have the opportunity to give advice and recommendations on customer strategy and business planning and there is a budget for self-generated projects.
Improvements happening right now
We'll be interested to hear what our panels and Cabinets think about the new changes that we're bringing in. Some people think that none of it will be delivered until the Thameslink Programme completes in December 2018, but there are improvements happening right now. In December 2015, we have a new half hourly overnight service from London to Luton Airport Parkway to make it much easier for early morning flight check-in, and over on the Great Northern route, we are creating a seven-day-a-week service into Moorgate in the heart of the City, satisfying the demands of passengers and stakeholders alike.
So, there is a lot happening and a lot to do. I'm lucky because I have the right people behind me with the right plans and investment to make it happen. So watch this space – with our industry partners, we are transforming our passengers' services for the better.
Biography
Charles Horton is the Chief Executive Officer of Govia Thameslink Railway Ltd, the company responsible for running services on Thameslink, Great Northern, Southern and Gatwick Express. He has extensive management experience gained at London Underground, Connex and with his current employer, Govia. He has held Board level appointments with these companies and also worked in operations, change management, human resources and investment planning. Charles has a BA (Hons) and MBA. He is an ATOC Board Member, a Fellow and former Deputy Chair of the Institution of Railway Operators, a Chartered Fellow of the Institute of Logistics and Transport, plus a Fellow of the Royal Society of Arts. He is a Board Member of RSSB and for nine years he was also a Member of the Management Committee of CIRAS, the rail industry's confidential safety reporting system. Charles is the Vice Chairman and a Trustee Board Member of Roffey Park Institute, the internationally recognised management development organisation.
WATCH NOW
To watch a short video clip of the Siemens-built Class 700 Desiro City train on test, please go to www.europeanrailwayreview.com/desiro