Delivering the Digital Railway
Jerry England is Group Digital Railway Director at Network Rail where he leads the rail industry programme seeking to accelerate the digital enablement of rail transport. Here he explains that to modernise the UK's railway network, creating a national strategy for digital capacity is needed which will lead to more trains, better connections, and greater convenience…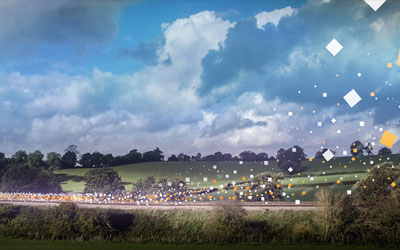 Britain has always looked to the railway to keep its economy moving. Today, Great Britain has the safest and fastest growing railway in Europe. It carries twice as many passengers as it did just 20 years ago, making it the second most intensively used railway in Europe. Despite this growth, the cost of running the network's infrastructure has been cut by 40% in the past decade.
This is a strong record that the railway professionals who plan, build, operate and maintain the railway can be proud of. To build on this success, the government is investing a record amount – over £100 billion – on improvements that range from longer platforms and new stations to major new routes such as Crossrail and High Speed 2.
There's no question that this unprecedented investment is needed. The economic success of our cities depends on their ability to connect more people to jobs, and more goods to market, than ever before. Only rail can meet this challenge and with nearly half of Europe's declared congested infrastructure located in the UK, the case for new investment has never been stronger.
Like many countries, the strategic challenge for the UK is that we can never create all of the capacity the country needs through conventional construction-based enhancements alone. The legal, financial and logistical challenges would be far too great, especially as the network needs extra capacity in exactly the places where it is hardest to deliver it in practice.
Britain, like many modern railways, can only deliver and fund the extra space on the tracks it needs by complementing conventional upgrades with digital innovation that makes the infrastructure we already have radically more effective.
Modernising our railway
There is a fundamental barrier to a more productive and cost-effective railway: the constraints imposed by signalling and traffic management designed for a pre-digital age. These mean that even well-targeted investments can deliver a sub-optimal return in both cost and performance.
Until the end of the last century, the most effective way to keep trains separated safely from each other was to divide tracks into fixed sections ('blocks') and only allow a train to enter a block once the preceding train vacated it through the use of signals.
The test of time has proved this method to be safe, simple and effective, but these benefits are also accompanied by significant drawbacks.
First, trains that have the potential to run closer together cannot do so. Equally, they have to obey rules designed to meet the needs of all other trains that share the same track, so they can rarely run at their optimum speed. The result is a network that is significantly underutilised.
Second, conventional signalling extends the cost and timeframe of major upgrades. Today's signalling is a highly complex engineering challenge that must be 'tailor made' to the unique characteristics of a local area. Despite the high cost of the asset management legacy they create, conventional signals are still responsible for nearly half of all the primary delays attributed to infrastructure.
Third, a network based on traditional signalling and control systems lacks the capacity and agility needed to allow the network to recover quickly when things go wrong. As a result, it is common for disruption to spread far beyond where it started, and to affect passengers throughout the course of a day.
Creating a national strategy for digital capacity
In every major transport sector, digital innovation is addressing these kinds of obstacles by unlocking new capacity from existing infrastructure.
Modern air traffic control has enabled substantial increases in passenger numbers without the need for extra runways. When capacity started to reach its maximum at London's Heathrow airport in the 1980s, it was digital traffic management that allowed it to grow again by 60%. Only now does the country have to make choices about the location of its next major runway.
On our roads, innovative projects to implement 'smart' motorways that manage traffic flows dynamically are reducing journey times by 25% and accidents by 50%.
Rail has a critical part to play in this age of 'digital capacity'.
Like other EU Member States, the UK is developing its strategy to harness three key digital technologies that are increasingly becoming tried and tested:
European Train Control System (ETCS): This provides digital signalling to open, interoperable standards that is easier than conventional signalling to deploy and which enables more trains to run safely on the track
Traffic Management (TM): Whereas ETCS allows more trains on the track, TM maximises network performance by allowing these trains to run together as effectively as possible – maximising the throughput that existing track can support
Automatic Train Operation (ATO): In-cab digital decision support tools give drivers the information they need at the right time to boost performance and safeguard safety.
We know from the success of major signalling upgrades on the London Underground that new digital solutions can deliver a dramatic increase in capacity and reliability. But evidence is now growing that the case for deploying similar technologies on a national scale is overwhelming.
Analysis has identified that a decision to deploy ETCS Level 2 and Traffic Management on one of the UK's busiest routes would deliver over 30,000 more seats at peak times, five years earlier than current plans. It would meet expected demand at far less for a service that achieved a reduction in delay minutes of over 10%. This is a powerful case for change.
Crucially, analysis also suggests that the benefits of the extra capacity unlocked by a digital railway are valuable to every type of route, from busy commuter lines to quiet rural routes. That's because extra space on the tracks can be used to meet local priorities, whether they be for:
More trains where they are needed most, for example, in metropolitan regions
Better connections, where there is a need for more choice about services, stops and speeds, for example, to encourage economic growth between our Northern cities or to improve connections for key freight routes
Greater reliability and a reduction in the impact of delays when problems do occur.
With fewer heavy assets to build and maintain, a digitally-enabled network can be operated at less cost.
So the question for the UK isn't whether our railway should harness digital innovation to deliver more trains, better connections and greater convenience. Instead, it's about how we deliver this transformation in a way that maximises its benefit and whether we achieve it in this generation or the next.
Making it happen
Historically, the UK's rail industry endorsed a strategy to replace traditional signals at a point of life-expiry with ETCS nationally on a timescale that extends over 50 years.
This plan might be successful in replacing key assets as their risk of failure increases over time. But our analysis suggests that it would be too slow and narrowly focussed to maximise value for money or to meet the country's growing demand for passenger and freight capacity fast enough.
The UK's Digital Railway1 programme is working with partners across the rail industry to identify a better way forward. This partnership has identified key principles that are crucial to a successful transition to a digital railway which is cost-effective, affordable and achievable.
To be effective, the timescale for an ambitious digital strategy needs to minimise the gap between the cost of investment on one hand, and the economic benefit it delivers on the other, whilst managing the risks that arise with new technology carefully.
That's why we are proposing a national roll-out of technology that doubles the pace of digital modernisation whilst being carefully targeted to allow key elements to be tested and validated. The result will be a package of proven methods for digital modernisation that can be applied at scale.  
Collaboration is also vital. Signalling and traffic management touches every part of the railway – from driver training, to cab fitment, cyber security and the way the network itself is operated. So it's crucial that change is managed in an integrated way that avoids the cost and complexity of a network that's fragmented between different systems. We're working with partners across the rail industry to understand the impact of changes on people, processes, technology, policy and commercial structures and will consult widely on the best deployment schedule to manage this change effectively.
Of course, nowhere is this need for partnership more important than in the collaboration with the supply chain that will be involved in making the vision of a digital railway a reality.
Momentum for digital modernisation is growing and we can look forward to the first ETCS- enabled trains operating on major routes by the end of this decade, and to digital Traffic Management taking effect in the first a national network of Rail Operating Centres.
Supporting the digital workforce
Whilst the scale of our digital ambition is significant, the fact is that digital technology is already transforming the way we run the railway. In Network Rail, for example, engineers now organise and prioritise their workload digitally using mobile devices. With the history of different assets at their fingertips, they've complete over two million jobs digitally, saving over 30,000 hours of administration work. Throughout the organisation, digital tools are helping us work more effectively, for example, by managing assets based on their actual condition rather than bureaucratic or time-based rules.
So our digital journey has already started, and we look forward to collaborating with the rail industry across Europe to seize its potential.
Reference
Biography
Jerry England joined Network Rail in October 2007 and has undertaken a number of engineering and asset management roles prior to assuming his current role as Group Digital Railway Director in 2012. Prior to joining Network Rail, Jerry was Major Projects Director with the Highways Agency and Chief Operating Officer for Thames Water. Jerry has spent 20 years in the oil and gas industry and is a chartered chemical engineer.