Building passenger rail: the answer to congestion in Canada…
We are at critical point in Canada with respect to the mobility of the population. Road congestion in and out of urban centres is growing and there is no relief in sight. Airports are reaching capacity. And, in times of inclement weather, road travel remains unreliable. With limited investment options for road infrastructure, passenger rail is becoming for many the only affordable and efficient way to increase people's mobility in Canada. The good news is that rail travel is affordable, productive and environmentally responsible. Its growth and development can also be financially viable. In addition, its versatility means that trains can easily adapt to market demand by allowing for larger or smaller numbers of passengers by simply adding or removing train cars…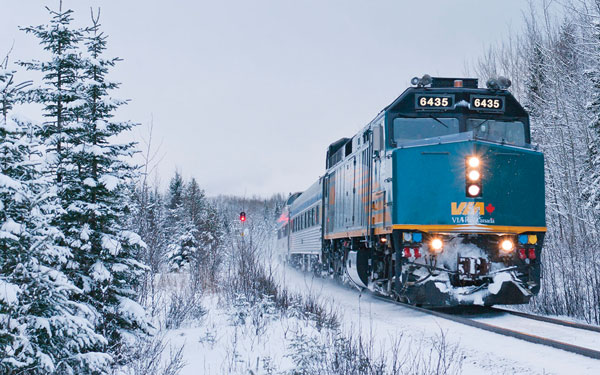 Shared infrastructure
Since the national railway was completed in 1885, passenger and freight trains have shared the same infrastructure; an infrastructure that is owned and operated by the freight companies. In 1977, the Canadian government formed VIA Rail, specifically to take over the passenger rail side of the business for Canada's largest freight railways Canadian National and Canadian Pacific. Despite the very different needs of passenger and freight trains, the infrastructure remained shared, and continued to be operated by the freight companies.
Nearly 40 years later, the Canadian economy has grown, along with the freight rail industry. Because of the high volume of freight trains and the fact that VIA Rail trains run mainly on freight-owned infra – structure, VIA Rail trip times are longer than they need to be, the number of trains we can run is limited and our punctuality is beyond our control and often unacceptable to travellers. Despite these challenges, more and more people are choosing to take the train. Recently, VIA Rail has seen its revenue and passenger base grow for the first time in years, and this is certainly attributable to the many improvements we have made to accommodate our clients' needs and to our renowned customer service, but the increase in road congestion in and out of urban centres is likely to also be a factor. However, this growth is extremely low compared to the market potential.
As the need for mobility of the population increases, passenger rail is on the verge of a renaissance in Canada. Regional passenger rail operators serving Canada's two largest metropolitan areas of Montreal (Quebec) and Toronto (Ontario) have experienced double-digit growth over the last five years, while VIA Rail lost 10% of its passengers over the same period up until this year. Given the increasing need for more transportation options coupled with the saturated highways, the timing is perfect for a high-frequency inter-city passenger rail project designed to safely move more people, more often, at faster speeds.
The dedicated rail project
The current cohabitation between freight and passenger rail is neither sustainable nor desirable. It is an inefficient use of infrastructure, and a hindrance to both rail industries.
The freight industry is vital to Canada's economy. Hence its productivity and efficiency must not be impeded so that it may continue to enhance Canada's supply chain. Consequently, removing passenger services from freight railway infrastructure is in the best interest of both rail systems and of the Canadian economy as a whole.
In the United States, investment in express trains has proven that, even in North America, the solution to affordable, sustainable and efficient inter-city mobility is through passenger rail on a dedicated infrastructure. Though not yet operating on an entirely dedicated railway, Amtrak's Acela Express, from Boston to Washington (with 14 intermediary stops), is still able run at the higher speeds that a dedicated rail would support. The Acela service offers the three qualities passengers look for when making their transport choice: reliability, frequency and shorter trip times. With this, the Acela Express is capturing an increasing share of the car market between New York and Washington.
VIA Rail has developed a plan to build a dedicated passenger rail infrastructure, at a minimum, within the busiest Toronto–Ottawa–Montréal (T-O-M) routes (at a cost of $3 billion, or $4 billion if we include electrification of the railway). This plan would eliminate the challenges of sharing tracks with freight trains, it would offer an environmentally responsible solution to congestion, plus it would stimulate the Canadian economy. The dedicated rail line would be built using both acquired and new infrastructure and would be completed in four years, plus it would use a new fleet of VIA Rail trains, running at conventional speed of up to 177km/h compared to its current average of 100km/h due to its use of congested freight infrastructure. In this new environment, passenger trains would not have to concede the right-of-way to freight trains. The project would also meet the needs of the passenger by supplying a reliable and fast service with departures that can be tailored to market demand. Conservative projections for this project show a 300% increase in ridership and an eventual 5.5 million fewer cars on the road per year. As importantly, it transforms a deficit-making, subsidy-dependent service into a profit-making, self-funded business.
Along with the Acela Express, many other projects of this nature in other cities around the world have already proven successful. Investment in passenger rail, both inter-city and regional, is at an all-time high. Passenger rail is being recognised for its potential to move great numbers of people, quickly, and with less impact on the environment than any other inter-city transport option.
Dedicated rail along the most-populated economic and knowledge corridor is the right project – and at the right time for Canada.
Biography
Prior to his appointment as President and Chief Executive Officer of VIA Rail Canada, Yves Desjardins-Siciliano was the Corporation's Chief Corporate and Legal Officer and Corporate Secretary. An experienced lawyer and seasoned executive, he is a member of the Quebec Bar Association and holds a law degree (LL.B.) from l'Université de Montréal, plus he completed Graduate Studies in Law (GSD) at McGill University. Yves also has a designation from the Institute of Corporate Directors (ICD.D). With proven experience, he has held several positions in the past in legal, regulatory and government relations, business and corporate development, marketing communications and finance. In Montreal and Toronto, Yves worked for private and publicly held companies, in the information technology, telecommunications, marketing and entertainment industries. Past President of the Canadian Bar Association, Quebec Division, Yves was also Chief of Staff to the Federal Minister of Labour and Minister of State for Transport.
European Railway Review's next international instalment will focus on developments in South Africa, written by Jerzy Wieniewski, UIC's Regional Coordinator for South Africa. Make sure you receive Issue 2 2016 published in March 2016 by becoming a subscriber today – visit www.europeanrailwayreview.com