Germany: Bahn-storming
The countdown is under way to 20-23 September 2016 when the global rail industry flocks to Berlin Exhibition Grounds for mega trade-fair InnoTrans. Also in the German capital, a clock is ticking on a very similar timescale: and the man hoping for an on-time arrival is Derek Ladewig, founder of Locomore, an eye-catching enterprise using crowd-funding to launch a Berlin–Stuttgart train service the same month. The venture has been described as the 'world's first crowdfunded train' – Global Railway Review's Ian Hall was keen to find out more, and what Deutsche Bahn thinks about market competition…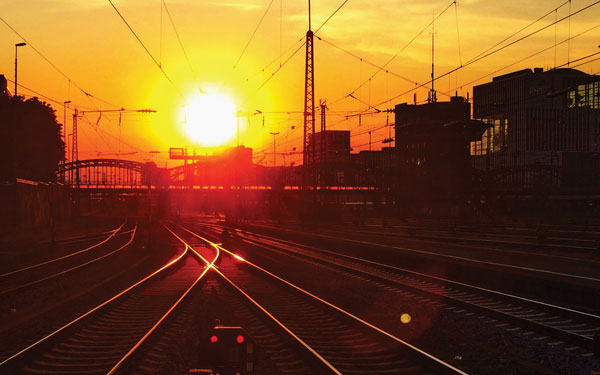 Locomore – seeking to take advantage of the fact that Germany's railways have 'open access' – has been almost a decade in gestation yet remains a mere embryo, of course. The national rail operator is Deutsche Bahn (DB), the leviathan that straddles arms such as DB Netz (infrastructure), DB Fernverkehr (long-distance), DB Regio (short-distance) and DB Schenker (logistics).
DB faces challenges galore and the possibility of at-least-partial privatisation seems to ebb and flow with Germany's economic and political tides.
Deutsche Bahn under pressure
Just under three months ago DB announced a major overhaul – its biggest since Germany's famous 'Bahnreform' of 1994 – including plans to invest €55 billion over the next five years.
This followed an announcement in July 2015 of a 'six-point restructuring programme to make the group fit for the future' including corporate cutbacks.
From fierce competition over longer distances from coaches/ buses (a particular bugbear for DB), to the nascent threat of nimble private operators offering cheaper fares over cherry-picked journeys (Locomore's game-plan, albeit initially just a single route), is feeling the heat. Last year the firm described digitalisation as 'the biggest challenge in DB's history'.
It is two decades since the 16 German states (or Länder) were given powers to tender for the provision of public transport, so private firms could bid against DB, but the extent of tendering since varies (and the S-Bahn networks in major cities are seen as tricky to offer up).
Headlines have been made recently when National Express won S-Bahn contracts in Nürnberg to run for 12 years from 2018, much to DB's chagrin; and it was announced in November 2015 that the UK's Go-Ahead Group is to enter Germany's rail sector in 2019, after winning two contracts in Baden-Wurttemberg south-west Germany.
Berlin-based politics and transport blogger Jon Worth describes the operation of regional services within Germany as DB's "absolute cash-cow" that it is "desperate to hold on to".
Jon adds: "DB's strategy has been 'as we lose tenders in Germany we're going to win more outside Germany'."
European Railway Review spoke to DB about some of the challenges it faces, including the greater involvement of private operators. Espousing the virtues of market liberalisation while your own organisation remains state-owned is a tricky one, but Achim Stauß, Deputy Spokesperson, told us that competition "encourages us to improve continuously".
Achim said: "For now, we have market-share in regional rail passenger services of 70%. To keep existing contracts and also to win future competitions, we reduce our costs at competitive levels and stabilise revenues."
Achim continues: "In order to succeed amid competition our offers simply need to be better than those of our competitors – which they are not always. One of the most important factors of success is the quality of personal co-operation on the ground. It ensures that we understand needs and expectations well enough and thus adjust our products and services."
Freight in focus
Freight is seen as an area where DB faces particular challenges. Jon observes: "Rivals to DB on freight – Polish, Swiss, Italian and even other German companies – seem to have creamed off all the nice stuff (the profitable container routes, shipping of petro-chemicals, and so on)."
DB's Achim says: "DB Schenker Rail is the leading company in European rail freight. We offer our customers first-class transport solutions throughout Europe, in line with our claim: first choice in European rail. A team of 32,000 employees in 15 countries makes us the most international railway company in the world. Customers perceive the European network of DB Schenker Rail as a unique selling point that we consistently expand."
Achim continues: "We want to grow profitably and thus create the prerequisites for investments in new cars and locomotives. Our goal is to achieve market-share of 30% of rail freight in Europe in 2020 (from 25% in 2013)".
Achim goes on to make a broader point: "Considering globalisation, all companies have to increase their flexibility to maintain their market position. That is why we want to be the leading integrated provider of transportation and logistics services, thereby bringing economic success, environmental protection and responsibility for employees and society until 2020." 
Taxing times
A further threat to DB is fierce competition over longer journeys with buses and, with this in mind, DB is particularly irked by having to shoulder what it perceives to be an unfairly large tax bill.
Achim says: "DB has to bear high costs for the intended 'energy transition'. For example, the charges resulting from the German Renewable Energy Act tripled between 2013 and 2015 to €160 million. DB also pays €120 million electricity tax and €60 million for emission trading per year – none of the inter-city bus services, lorries, freight ships nor air-traffic are affected by that."
Achim continues: "Every year, DB pays €40 million to passengers for delays caused by acts of nature – airplanes or inter-city bus services do not have to pay compensation in such cases. Additionally, DB has to modify trains for €230 million to meet noise restrictions by 2020."
He also says that tolls on lorries are being cut, meaning a 'turnover risk' for DB Schenker Rail of 'between €80 million and €100 million'.
He concludes: "Altogether, the most eco-friendly of all means of transport is charged the most for the energy transition."
Degrees of separation
So, what may the future hold? Germany's Monopolies Commission's Chairman, Prof Daniel Zimmer, warned in July 2015 that "policymakers have to be more active in advancing competition on the railway markets. A majority of travellers would benefit from functioning competition". His Commission concluded: 'The only way to establish undistorted competition is to completely separate the infrastructure and transport units of Deutsche Bahn'.
Asked by European Railway Review to respond, DB's Achim says: "Separation of company units is not crucial to establish undistorted competition. For example, in Spain the separation of infrastructure and transport did not create competition."
He continues: "What is needed for competition is consistent market openings and effective, independent regulation. The existing legal framework in Germany is entirely sufficient. In fact, Deutsche Bahn already ensures legal, organisational and accounting separation of infrastructure and transport. Also, the competition-relevant functions of the infrastructure – such as the allocation of train routes, rate-fixing for routes and timetabling – are separate from vehicle operation. This integrated structure does not prevent the development of competition. This is impressively confirmed by competitors' steadily growing market-share on Germany's rail network."
'Stagnating development'
However, industry observers seem to largely concur with what the Monopolies Commission described in summer 2015 as Germany's railway's 'stagnating development'.
"Privatisation – at least of DB's core Regio and Fernverkehr arms – looks highly unlikely in the short-term," opines Jon. "With the appointment of [Angela] Merkel-confidant Ronald Pofalla to the Deutsche Bahn board, relations between government and the rail firm are closer than they have been for some time."
As his crowdfunded train looks to shake things up a little – albeit initially over just one route – Locomore's founder is of a similar mind to Jon with regard to DB's future. Derek says: "I'm not sure people really want to change it. My guess is that it looks like it will stay as it is. But the financial side will be under pressure – perhaps this will be the start of deeper pressure on the whole sector."
With Locomore's first train planned on the very same month that the global rail industry heads to Berlin, European Railway Review wonders aloud whether Derek hopes to be a happy man come the arrival of InnoTrans.
He's certainly looking forward to the fair: "For people based in Berlin the whole [train] world comes to town – you can get to the show in 15 minutes on the S-Bahn and meet everyone you'd like to meet!".
But will his crowdfunded challenger brand have a presence? "I'm not sure yet – we'll be very busy at this time," he says, with Locomore's early-September launch naturally the top of his priorities. 
Deutsche Bahn's largest current and future investments
Infrastructure
DB's investment plan provides €55 billion up to and including 2020 – €20 billion from DB's own cashflow.
€50 billion will be invested in Germany, €40 billion of which in infrastructure. Those investments that are mainly funded by the German Federal Government will be used for maintaining existing infrastructure as well as for new and expansion construction projects.
DB is investing €6 billion (of the overall €55 billion) in new trains and improved services. In addition, DB invests €3 billion in regional rail passenger transport and €1.2 billion in rail freight transport. For the international business, DB invests €3 billion in DB Arriva and €1.4 billion in DB Schenker Logistics.
German Unity Transport Project 8: High-speed line Nuremberg–Erfurt–Halle/Leipzig–Berlin
Soon, DB will connect Berlin and Munich in less than four hours. Trains will then become a real alternative to travelling by car or plane.
By 2017 most of the work on the longest construction site in Germany, German Unity Transport Project 8 (VDE 8), will be completed. High-speed trains can travel on the double-track upgraded and new lines Nuremberg–Erfurt–Leipzig/Halle–Berlin at up to 300km/h. The €10 billion project was approved by the German Federal Government in 1991 to improve the transport connection between East and West and between North and South. Freight trains will also travel on the route. The line will open many opportunities for implementing state-of-the-art transport concepts.
When service began on the upgraded line (VDE 8.3) in 2006, the journey time between Leipzig/Halle and Berlin was already halved to about one hour. The new line, Erfurt–Leipzig/Halle (VDE 8.2), opened in December 2015 and enables fast journeys between East and West; cutting about half an hour off the journey time between Dresden and Frankfurt. The upgraded and new line Nuremberg–Erfurt (VDE 8.1) through the Thuringian Forest will shorten the journey time between southern and eastern major cities significantly – by up to 1 hour and 40 minutes.
Investments in stations and new lines: Stuttgart 21
DB is investing in the construction and modernisation of stations and new lines. The project 'Stuttgart 21' will see the capital of Baden-Württemberg getting a modern through-station. With investment of €6.5 billion, Stuttgart will be connected to the countryside as well as to the airport. The project also includes the construction of a new line between Wendlingen and Ulm.
The new Stuttgart through-station will be able cope with increasing passenger demand and ensure fast, convenient connections. Construction started in 2010 and opening is scheduled for 2021.
New trains
By 2030 DB's long-distance range will be expanded by 25%. The backbone of the largest customer initiative in the history of DB is the newest member of the high-speed fleet: ICE 4.
In the initial phase, more than 100 ICE 4-type trains have been ordered for approximately €5.3 billion, and beginning in 2017 they will replace the ICE 1 and ICE 2 vehicles. When needed, DB can access further ICE 4-type trains at a later juncture.
Digitalisation
The Internet and mobile devices are taking the market by storm and DB considers digitalisation to be an opportunity.
With its group-wide digitalisation campaign, DB is working on more than 150 projects related to this topic in all areas, from passenger transport to freight transport and logistics to infrastructure, operations and IT.
Source: Deutsche Bahn for European Railway Review