Life at both ends of the 'Chunnel'
Video: Follow the daily work of two Eurotunnel employees who help provide a vital link for those travelling to and from France and Europe.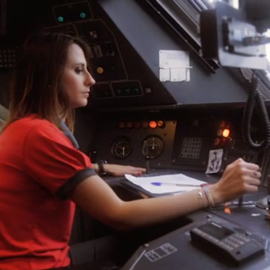 Video: Follow the daily work of two Eurotunnel employees who help provide a vital link for those travelling to and from the UK, France and Europe.
A fundamental part of modern-day international travel, the Eurotunnel Group employs approximately 4,000 people in both sides of the Channel to enable the running of services from Folkestone to Calais. Part of this daily operation is a number of personalities key to ensuring a smooth service, easy experience and efficient travel. For the first time, Eurotunnel has profiled some of these personalities to shine a light on their importance to such a high profile cross-channel brand. New video profiles feature a 'day in the life' of employees Vince and Mandy from both sides of the channel. Highlighting the faces behind the brand who help support the workings of this international link.
Behind the scenes footage of two Eurotunnel workers
"Working for Eurotunnel is like one big community, in our team there is 4 of us who are English and 8 of us who are French. We're all looking after each other on both sides of the channel, we are all one team." – Vince Bradshaw, Réalisateur de travaux within the maintenance division.
Mr. Bradshaw has worked at Eurotunnel for 23 years, explains how his job is always moving forward as demand for commercial services is constantly increasing. He believes 'it has bought Europe and France, closer to the UK.'
Mandy, a driver for Eurotunnel Le Shuttle has 10 years of experience and is a crucial part of the daily service: "No two days are the same, and one of the best parts of my job is the responsibility and daily variety. I'm not sure I'd be able to experience so much in another job doing what I do."
The tunnel saw its first shuttle carry a car in 1994, and since then has employed 13,000 engineers, workers and technicians to construct and preserve the tunnels. Eurotunnel holds the concession until 2086 for the Channel Tunnel and promises 'investment for the future, placing social responsibility at the heart of its strategy'.
Although it is sometimes difficult to visualise the scale of the project, the super structure is unique in both engineering and efficiency. Conjointly, the work of the men and women who operate and serve it daily helps to realise such a shared vision.