Track Systems: A breakthrough in failsafe track switching
Posted: 25 July 2016 | Professor Roger Dixon, Head of the Control Systems Research Group at Loughborough University, and Senior Project Engineer, Sam Bemment | No comments yet
It is no secret that railway track switches – which have worked the same way for over 200 years – face stubborn reliability issues and costly maintenance bills. The signalling, detection and locking systems built into and around switches can slow things down and significantly reduce network capacity. Furthermore, when there is a problem, a switch failure stops the trains. As railway networks continue to expand and carry more passengers and freight, significant investment is required in order to cope with increased demand, and building new track is always a difficult option. Yet there could be a different way forward that enhances safety, reduces maintenance and improves capacity, as Professor Roger Dixon, Head of the Control Systems Research Group at Loughborough University, and Senior Project Engineer, Sam Bemment, explain…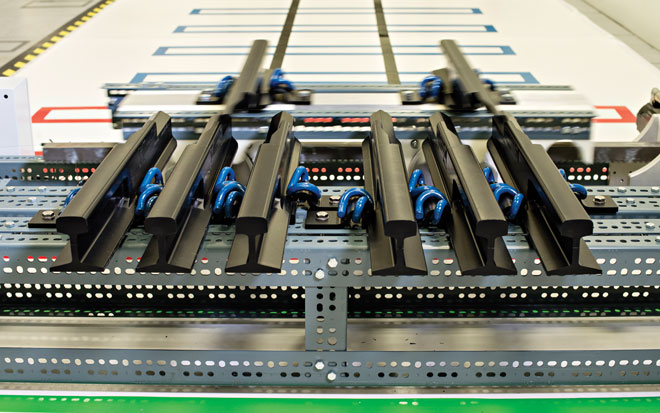 When our Control Systems Research Group was asked by RSSB in 2010 to look at ways of improving capacity on existing lines, we found that a significant constraint on capacity and system reliability was the track switch. We spoke to operators, maintainers and designers and began to understand the limits of the existing switching technology. We asked them what performance they would want if our team at Loughborough University could redesign the switch from scratch.
With this in mind, what would be on your ideal track switching wish list? Instantaneous switching? Zero costs? No failures?
These are just some of the points we have addressed with our new approach to this age-old problem – a revolutionary points mechanism known as REPOINT1 . Designed to meet current and future rail standards, including compatibility with the European Rail Traffic Management System (ERTMS), REPOINT allows, for the first time, multi-channel redundancy of actuation, locking and detection for track switches.
Using safety concepts derived from aerospace and the nuclear industries, the lift and drop motion provides a locking mechanism with virtually no friction losses. This mechanism is unique because it allows for several points machines/actuators to act on the same points, which means the remaining ones can operate the points safely in the event of one of the points failing. This is exactly the approach taken by the propulsion and flight control systems on a modern aircraft – because aircraft do not have the luxury of just stopping for a fix when something critical fails. As a result, trains can continue to run without delays, meaning instant maintenance is not needed. REPOINT delivers fault tolerance through multiplex redundancy and when maintenance is required it has a single Line Replaceable Unit construction, which can be replaced in minutes. As a result of these innovations REPOINT has won industry-wide recognition.
The rest of this article is restricted to logged-in members. Login or subscribe free to read it.