LIVE: EC's Violeta Bulc and German minister Dobrindt launch InnoTrans 2016
BERLIN: EU Transport Commissioner and German Federal Minister of Transport and Digital Infrastructure launch InnoTrans, the enormous transport technology trade gathering…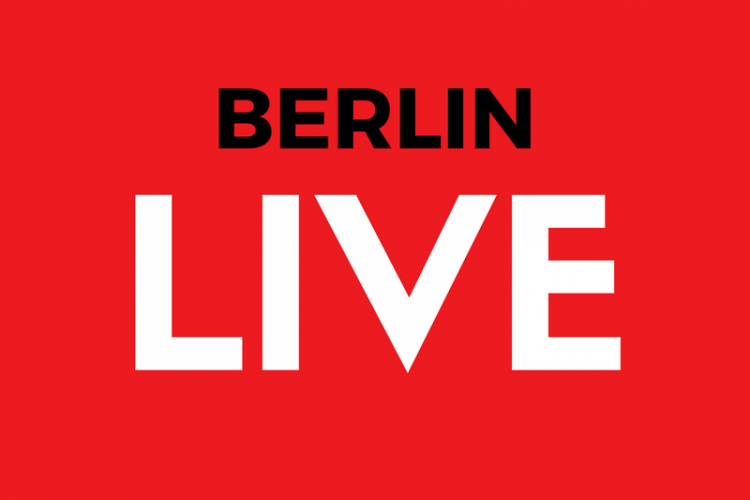 BERLIN: EU Transport Commissioner Violeta Bulc and Germany's Federal Minister of Transport and Digital Infrastructure, Alexander Dobrindt, today launched InnoTrans, the enormous transport technology trade gathering in Berlin.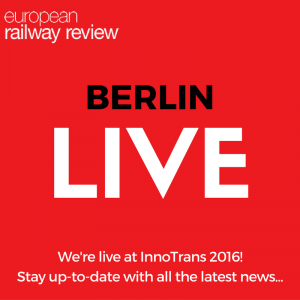 More than 1,000 senior figures from the global sector convened on the Palais am Funkturm for the opening ceremony, with the challenges and opportunities created by 'digital' high on the agenda. This year's event carries the slogan 'Mobility 4.0'.
In her speech Bulc extolled the benefits of European harmonisation for the rail industry, including the European Rail Traffic Management System (ERTMS).
She said: "I want to stress one particular area of technology where we already have a great story to tell: ERTMS. Without ERTMS, we have no inter-operability. We will soon propose a revised European deployment plan for ERTMS for adoption by the end of the year.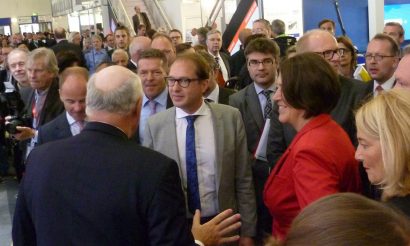 "Others also clearly think it's a good idea: Saudi Arabia, Turkey, Australia, South Korea have not hesitated to implement ERTMS. Now we [Europe] must implement it fully as well."
She also referenced the signing of the new Memorandum of Understanding on ERTMS deployment that took place in the hour before InnoTrans's opening ceremony. 
Exhorting rail business to have faith in the sector's prospects, she said: "I hear relative pessimism about your ability to compete, both with different modes of transport and also internationally."
But the thread of her speech was focused on highlighting EU initiatives, such asShift2Rail, which she described as another "important European project". She urged more progress on 'integrated through ticketing': "Digital technology can facilitate that. Please, let's move forward on that, let's work on that."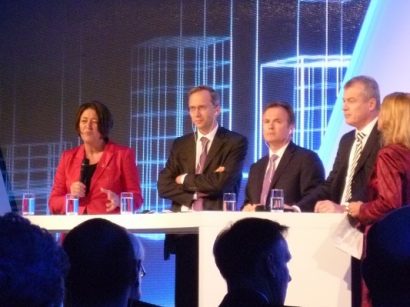 She went on to say: "I have already discussed this with my colleagues in the [European] Commission and we would like to launch as soon as possible single ticketing for Erasmus students [the long-running EU student exchange programme]. Just to create the pilot case where we can learn from each other. Students will really appreciate this."
She concluded by outlining EU funds that are being spent within the rail sector, including recent announcements related to the European Fund for Strategic Investments (EFSI).
Bulc's opening address was followed by a speech from Dobrindt, with the high-profile duo later going on to tour stands at the trade fair.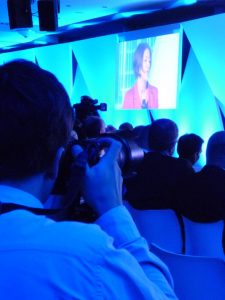 At the opening ceremony Dobrindt told the audience: "We are about to step into a historically new, innovative age of digitisation, data and connectivity. At InnoTrans the industry will impressively show that it can live up to this claim.
"The overall climate is better than it has ever been and politically the path ahead has been set out: we are investing, modernising, and the digital transition is under way. We are laying the foundations to ensure that rail transport maintains its role as a leading innovative force and successfully enters the next phase, 'Mobility 4.0' and the 'digital age of rail transport'."
In respect of how the rail sector can better use data, Dobrindt referenced Deutsche Bahn, saying it was first to commit to "feed their data" into a 'Mobility Cloud'.
The speeches were followed by two panel discussions involving rail business executives: Dr Rüdiger Grube, CEO of Deutsche Bahn; Yves Desjardins-Siciliano, President and CEO of VIA Rail Canada; Jürgen Fenske, President of the Association of German Transport Companies; Laurent Troger, President of Bombardier Transportation; Dr Jochen Eickholt, CEO of the Division Mobility of Siemens; and Henri Poupart-Lafarge, President of Alstom Transport.
This is the 11th edition of InnoTrans, which takes place every two years in Berlin. The event runs until 23 September.