Poland's modern Express InterCity Premium trains
PKP InterCity has invested in purchasing 20 modern high-speed Pendolino trains to improve passenger services. For Global Railway Review, Marek Chraniuk, President of the Board at PKP InterCity, gives a technical overview of the new fleet as well as their on-board features specifically designed to provide passengers with a premium level of travelling comfort.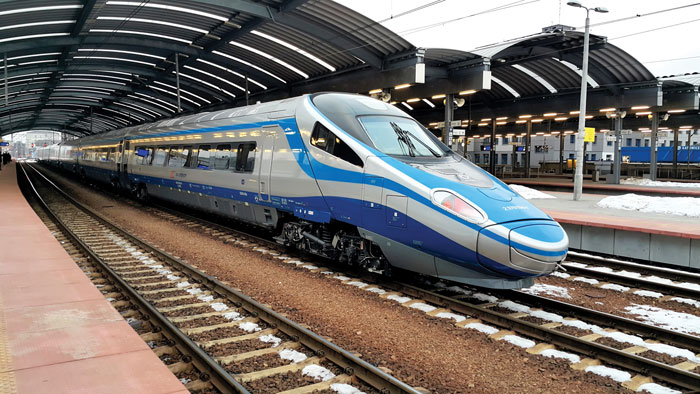 Express InterCity Premium trains (EIP), also called Pendolino trains, offer a totally new dimension and standard of travel in Poland. These new Pendolinos manufactured by Alstom in the Italian city of Savigliano are the fastest and most comfortable trains among PKP's (Polish Railways) InterCity rolling stock fleet. Every day 20 trains connect the north to the south of Poland. EIP trains link Warsaw with Gdańsk, Gdynia, Kraków, Katowice, Gliwice, Bielsko-Biała, Wrocław and Rzeszów. In spring 2016 the service was extended: the train that previously travelled to Wrocław now continues to Jelenia Góra; as of 29 April 2016 the train to Gdynia now goes to Kołobrzeg; and since mid-December 2016 EIP services have been running to Bochnia.
The introduction of modern trains has resulted in shorter journey times between major cities of the country. Thanks to the arrival of Pendolino trains, it is now possible to offer passengers attractive travel times. Today the journey time from the capital to Wrocław is approximately 3 hours and 30 minutes, whereas, prior to December 2014 – before Pendolino trains were put into service – the journey took more than five hours.
The journey from Warsaw to Katowice takes 2 hours and 13 minutes, reaches Kraków in 2 hours and 14 minutes, and Gdańsk in 2 hours and 39 minutes. The journey from the south to the north of Poland takes approximately 5 hours and 30 minutes. Owing to further modernisation being carried out by the railway infrastructure manager, these times are set to be reduced even more.
The seven-carriage Pendolino trains have been fitted with their own deployed drive mechanisms. The length of these trains is 187.4m, with the maximum body width of 2.8m and the maximum height (above rail head) of 4.1m. Under normal operating conditions the weight of the train is approximately 395.5 tonnes. The power of such trains is 5,500kW, and they can reach maximum speeds of 250km/h. PKP InterCity was the first passenger rail operator in Central Europe whose trains could reach speeds of 200km/h. PKP's InterCity Pendolino also holds the speed record on Polish tracks. During tests conducted in the autumn of 2013, a Pendolino achieved the speed of 293km/h.
The introduction of Pendolino modern trains has resulted in a positive change to the quality of travel – not only improved journey times, but greater passenger comfort too. Pendolino uses technologically advanced solutions that make travel by train comfortable and safe. New solutions such as bogie sound insulation and shock absorbers have helped reduce noise levels inside the train. In addition, the special design of the roof has reduced the level of sound reaching the interior through the ceiling. Each carriage is equipped with two modules for heating, ventilation and air-conditioning, providing passengers with thermal comfort during their journey. To ensure a high level of operating safety, the train has an innovative streamlined front design that features an aerodynamic 'nose' equipped with special components that absorb impact energy in the event of a collision.
To ensure the personal safety of passengers, the train also features a monitoring system. Each carriage has a number of cameras that digitally records images and the train 'manager's carriage' features a screen for viewing the recordings. Each section of the train includes at least two alarm intercoms that can be reached quickly and are visible from anywhere within the train for utilisation in emergency situations to notify train attendants and call for assistance.
All Pendolino trains have been equipped with first aid equipment and defibrillators. Since July 2016 these modern devices can be found in specially marked boxes on-board carriage number two of all Pendolinos. The defibrillator is simple to use and supports and instructs the person giving first aid during the entire rescue operation.
Express InterCity Premium trains have a total of 402 seats – 45 in First Class and 357 in Second Class. Passengers can enjoy ergonomic, reclining seats, side tables, excellent lighting and electrical outlets at every seat. The trains also feature special luggage racks in the corridors and at the end of each compartment, as well as places for four bikes. Conventional information boards have been replaced with electronic displays that post messages including information about the journey and, in addition, feature a modern passenger information system.
The new trains offer a high level of comfort for those with reduced mobility and families with small children. Facilities for wheelchair users are located in the third carriage and entry to this section of the train is via exterior doors that are equipped with lifts for easy entry and exit. On-board there are two wheelchair spaces and a specially adapted toilet; emergency/safety buttons can be found in both areas for alerting train staff if needed. The same section of carriage is also where passengers can find the buffet area and the train staff room. Additionally, trains in the InterCity Premium Express category include special facilities for the blind and visually impaired. Seats in the carriages are marked in Braille and information about the next stations is announced over a PA system.
Pendolinos are also convenient for families travelling with small children; the second carriage of each train features three dedicated compartments – each with four seats. Next to these are spaces to house large luggage and a pram, and amenities for changing nappies can be found in the largest toilet (in carriage number three).
The trains include a buffet car served by WARS – the company responsible for catering on-board Polish trains since 1948. Every Express InterCity Premium passenger receives refreshments, which are included in the price of their ticket. In First Class this includes two beverages (a choice of hot or cold) and a snack. This package also includes a daily newspaper and a freshen-up tissue. Second Class passengers receive one (hot or cold) beverage.
In April 2016 PKP InterCity launched 'Quiet Section'. This new facility – found in the seventh carriage of the Pendolino trains – is an area for those who want to relax or work while travelling. PKP InterCity is the first train operator in Poland to test such a facility.
PKP InterCity's acquisition of 20 modern Pendolino trains was accompanied by a project to build the necessary technical infrastructure. Its High-Speed Train Service Centre, which services Pendolino trains, consists of a large workshop; railway infrastructure and an overhead contact system; offices and staff welfare facilities; as well as an automatic washing station for carriages. These facilities, covering over 12,000m2 are located on Kozia Górka Street – adjacent to the operator's largest train station in Warsaw's Grochów district. Currently, the Pendolino's manufacturer is responsible for providing a full range of maintenance services including warranty repairs, inspections and the cleaning and washing of carriages.
So far over seven million passengers have travelled on-board Pendolino trains, which together have travelled more than 10 million kilometres. That equates to more than 21,000 trips – or the equivalent of one Pendolino circling the Earth 250 times!
Biography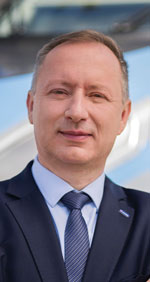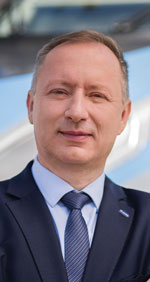 Marek Chraniuk has worked for Polish State Railways for 24 years and since 2006 as part of PKP Intercity. Over the years Marek has been employed at almost every level within the company's hierarchy, starting from a Train Dispatcher then onto more managerial positions. His area of expertise is the development of transport and price plan offers. Among other things he has cooperated with the Ministry of Infrastructure and Development in the implementation of contracts on organisation and funding passenger rail transportation including international transport. He is a graduate from the Faculty of Transportation at Radom Technical University. He also completed postgraduate studies in Management and Marketing at the University of Szczecin and postgraduate studies in Project Management at the Leon Koźmiński University.