ÖBB Railjet – technology that moves
Railjet is the most modern high-speed train in ÖBB's fleet and connects the whole of Austria with Germany, Switzerland, Hungary and the Czech Republic (and from 2018 with Italy as well) at up to 230km/h on a regular schedule. Here ÖBB's Head of High-Speed and Long-Distance Services, Kurt Bauer, explains that passengers travel at the highest levels of comfort and can also take advantage of a new and improved Wi-Fi system including service and infotainment offerings on all Railjets equipped with Railnet.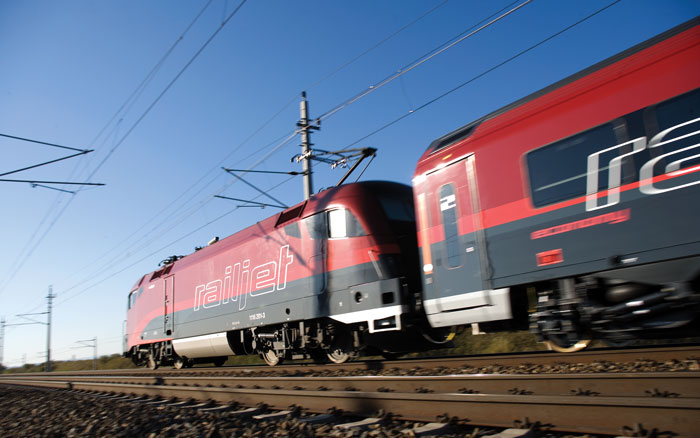 The Railjet consists of short-coupled Siemens Viaggio Comfort wagons and Siemens ES64U2 (1116) or Siemens ES64U4 (1216) locomotives. Thus, the Railjet ranks among the fastest trains hauled by locomotives in the world. According to TSI, the Railjet ranks among TSI class II high-speed trains. Furthermore, every train features up to four country-specific train protection systems as well as ETCS.
The best from the world of locomotive-hauled trains and traction units
Contrary to other railway companies, ÖBB does not rely on electric multiple units for its high-speed connections, but on locomotive-hauled push-pull trains. That means the locomotive pushes or pulls the trainset. They can therefore be pulled by existing locomotives. This concept allows for the quick replacement of a traction unit in the event of failure or required maintenance. The trainset thus remains in service and continues to be available. A Railjet consists of several wagons connected to one another by means of a centre rod coupling and featuring normal screw couplings at the ends. Owing to the rigid coupling between the wagons, the wagons could be equipped with wider, pressure-tight gangway connections.
Railjet thus combines the characteristics of multiple units with those of normal locomotive-hauled trains. In the workshop the trainset can be shortened or extended by individual wagons and adapted to traffic volumes on individual routes in a better way. However, ÖBB relies on the advantages of combining with conventional passenger carriages. In times of high traffic volumes, Railjets are coupled with ordinary passenger coaches and can therefore – contrary to motor train sets – be adapted to demand. Routes with particularly high passenger volumes are served with tandem Railjet sets. Despite its classic push-pull train technology, their interior offers the same comfort as motor train sets without having gangway doors between the wagons.
Highest levels of comfort
Railjets convince by means of their premium equipment together with a well-designed service concept with an Austrian flair. On journeys heading towards Austria, highquality catering in the restaurant car gives interindividual customer needs. The most luxurious is Business Class, which features spacious single leather seats with a novel seat arrangement that offers a high degree of privacy. First Class with its typical features of Central European first class offers customers the additional option of having food and beverages served directly to their seat. Economy Class is the premium alternative to the conventional second class. Both Economy and First Class offer a quiet area where talking on the phone, for instance, is prohibited.
Railjet features two places for wheelchairs and a toilet for passengers with impaired mobility travelling in First Class. Wheelchair users board the train via a lift attached to the vehicle. At ÖBB passengers who accompany wheelchair users and wheelchair users themselves always travel First Class and thus enjoy at-seat service, which can be requested by means of a service call button. The access doors feature high-contrast labelling and tactile controls as well as an acoustic door finding sound. Three folding seats for guide dogs in Economy Class complete the offer for passengers with impaired mobility on Railjet trains.
From spring 2017 all Railjets will feature at least five bicycle parking spaces. The sets purchased most recently even allow for the carriage of seven bicycles. The family car, which is equipped with a children's cinema and two pushchair parking spaces, is particularly popular with children and their parents. The open car features noise-insulating partition walls made from glass to keep the noise level at the most pleasant level possible.
Good for the environment
Railjet is one of the most environmentally-friendly means of transport in Austria. It produces extremely low amounts of pollution and is thus as modern and ecological as possible. Its energy efficiency improved further by being equipped with power-saving LED lighting, as well as passenger compartment air-conditioning controlled on the basis of occupation rates.
Design creates added value
The Austrian high-speed train's design follows aspects of aesthetics as well as communication: even from the outside, Railjet's shape, colour scheme and lines represent dynamism and speed.
Internally, high-quality materials such as leather, wood, glass and steel characterise the Railjet interior and create an atmosphere that is as cosy as it is safe and luxurious. Railjet's design concept has been developed for a long product life cycle and thus exhibits a subtle and clear design language.
Railnet – world class connectivity
All ÖBB Railjet passengers benefit from Railnet – a new on-board entertainment portal – allowing them to access information about the train and the journey as well as more than 120 ORF (Austrian Broadcasting Corporation) on-demand shows. On-board Wi-Fi – which is free for all passengers – provides a powerful connection enabling passengers to watch films and TV series in premium quality. This makes Railjet trains not just a comfortable but also an entertaining way to travel. Together with its partners, ÖBB, as one of the first railway companies, offered live TV coverage on selected trains: 66 hours of football matches were shown live during EURO 2016 on its trains.
To allow for the implementation of these new services, all ÖBB Railjet trains needed to be equipped with new servers, routers and antennas. Additionally, ÖBB, in close cooperation with partners, has developed a new technology that, on one hand allows for live event coverage on the train and, on the other, provides interruption-free Austrian Television (ORF) video on demand in breathtaking quality.
This technical solution enables automated synchronisation and storage of video on demand content from the ORF's TVthek library on a designated local buffer memory located on the respective Railjet train. Directly on the train, content is thus transferred from this cache to the users' devices and thus, independent of a connection to external servers, used as required. In order to allow for trouble-free access to live streams, streaming buffers are also installed on Railjet trains. Although these experience a time lag of approximately five minutes this does make it possible to compensate for route sections with bad reception, for instance tunnels.
From a rolling stock brand to a new train category
Railjet's unique features call for the introduction of an entirely new category of trains. On the one hand, Railjet represents the vehicle itself, but additionally the name embodies a category of trains positioned above the European brands Intercity or Eurocity, instead playing in the same league as the European high-speed trains such as the French TGV and the German ICE. In Germany, for example, ticketnational passengers an indication of the culinary delicacies that await them in Austria. Railjet offers three classes tailored to category A, which is required for all ICE services, also applies to travel on Railjet. In all countries Railjet rank in train category RJ. The Czech Railways České dráhy (ČD) were so convinced by the overall concept that they ordered seven sets for their premium Prague–Vienna–Graz connection. Since December 2014 this line is operated exclusively with Railjet trains at two-hour intervals.
Railjet – Austria's answer to international high-speed railway transport
Railjet is ÖBB's most successful product: No matter where this train is used, it yields a significant rise in passenger numbers. This is yet another reason why ÖBB have purchased nine new Railjets for its long-distance routes, and are in the process of extending its fleet to 60 sets.
The nine new Railjets will also offer the same three comfort classes (Business, First and Economy Class) – the new Railjets having been upgraded with regard to certain details: for example, Economy Class have been upgraded to offer adjustable seats and footrests. The new trains now come with a bicycle compartment as standard and all Railjets are equipped with an on-board restaurant.
As such, the Intercity sets running at regular intervals between Vienna and Salzburg have been gradually replaced by Railjets up until the timetable changed on 11 December 2016.
In total, ÖBB is investing €145 million in the new premium trains. With this acquisition ÖBB have invested more than €2 billion in the modernisation of its fleet and in increased comfort for its passengers in the last 10 years.
In summary, ÖBB have bet on the right horse in the form of the Railjet trains. Rising customer demands and high levels of customer satisfaction, as well as the vehicles' flexibility in daily service, are living proof of that.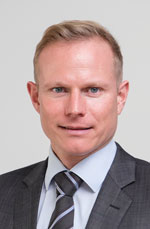 After graduating from the University of Innsbruck with a degree in International Business in 2000, Kurt Bauer started his career as a Consultant at Accenture in Frankfurt am Main. After being awarded a MSc in Transport from the Imperial College in 2004, he specialised in the field of Travel and Transportation during the course of several consultant jobs. In 2011 he joined Deutsche Bahn. In his role as Senior Project Manager he was responsible for strategic projects in passenger transport and as a Department Manager at DB Fernverkehr AG he was in charge of the further development of the firm's planning and scheduling processes. In 2015 Kurt returned to his homeland and has been in charge of ÖBB-Personenverkehr AG's high-speed and long-distance train services since November 2015.