Bringing high-speed rail to America
Amidst America's transportation problems, high-speed rail is finally under construction in Califor nia with other projects around the country advancing through study and planning stages. President and CEO of the US High Speed Rail Association (USHSR), Andy Kunz , explains to Global Railway Review that this progress could signal a shift from America's car culture to rail.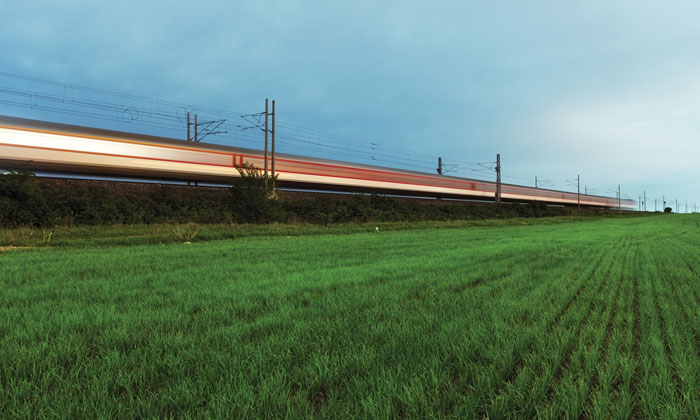 The US High Speed Rail Association (USHSR) was formed in 2009 with the purpose of bringing a national high-speed rail vision to America. We were inspired into action at the UIC Conference in Amsterdam in 2008, which showcased the European high-speed rail system that had evolved into a vast network linking nations and transforming lives. We knew the time was right to help bring high-speed rail to America.
The first step was creating a national vision map showing a 21st century, 17,000 mile national high-speed rail system built in logical phases for completion by 2030. This began the long dialog about the value of rail in America. The goal of USHSR has always been to build widespread public, business, and political support for a major investment in our national high-speed rail network. We build support through a series of national events, workshops, policy papers, advocacy work, memberships, media articles, videos, publicity, social media, and more.
After decades of work, high-speed rail is finally under construction in America. This is big news considering the many obstacles that exist at every turn. Right now, more than 100 miles of state-of-the-art highspeed rail is under construction in California – the backbone of the 800 mile system that will connect the state's cities like never before. Hundreds more miles of new track is currently going through the environmental process to prepare additional phases for construction.
High-speed rail is desperately needed in regions across America. The nation's transportation system is in trouble with major congestion, safety, energy, and climate problems all reaching critical levels simultaneously – requiring urgent investment and a new direction. Congestion alone costs America $155 billion every year ($124 billion in wasted time and fuel stuck in traffic, plus $31 billion lost from flight delays). Additional cost in lives is enormous with more than 40,000 people killed every year on American roads, and millions more seriously injured.
America's transportation system is the most inefficient in the world (and the most polluting) using 25% of the world's daily energy to run it, while representing only 5% of the world's population. This adds up to enormous waste as most Americans move around in large single occupant vehicles that are stuck in traffic half the time, day-after-day. Americans consume 20 million barrels of oil every day, 70% of it for transportation. We import two-thirds of the oil we use from other nations, creating a huge annual trade deficit, and requiring major military expense to secure the flow of oil back to America.
Clearly there are many compelling reasons to change transportation policy and focus in America, and the question continues to come up – why doesn't America have high-speed rail yet? The answer is a lack of leadership, and powerful special interests working against it. Currently, Congress is not showing leadership on high-speed rail (or providing federal funding). 
President Obama was the first real champion to launch the national high-speed rail programme, and secure the initial pot of money to begin the projects. It was the combined leadership of President Obama and California Governor Brown coming together at the right time that got the nation's first high-speed rail system under construction in California. We look forward to working with President Trump to ramp up additional investment in the nation's infrastructure, and accelerating high-speed rail across America.
Getting high-speed rail built in America is a difficult challenge because of powerful interests in the energy and transportation industries working behind the scenes to influence federal and state transportation policy – preventing or delaying rail investment. This influence is exercised through direct political influence, national advertising campaigns, funding think tanks and constant negative messaging, social media, and more.
Despite all the negative influence and lack of federal leadership, rail is advancing faster than ever in America due to public demand – even without major investment. Driving peaked several years ago, while rail ridership has been rising ever since. Record local ballot initiatives are passing to fund rail at the local level, especially in places that have the worst congestion such as Los Angeles, which passed a record $120 billion. The people are clearly voting to tax themselves to invest in rail.
An entire generation of young Americans have rejected the car culture, preferring to live in walkable, vibrant cities and towns served by rail and bicycles, known as Transit Oriented Development (TOD). These places are now competitive with the suburbs as the most desirable places to live because they offer a more vibrant and relaxing lifestyle. They also offer a lot less of the daily pain of 'endless congestion' that comes with the suburbs and the car culture.
Congestion on America's highways has reached unbearable levels where it routinely takes people hours to go short distances. Since rail is not an option right now for most Americans, the only other alternative is flying. But it has also become a major hassle to fly anywhere – with delays and cancellations routine, and passenger comforts and personal space eliminated.
High-speed rail is the first new form of transport to come along in America that can change all this by transforming the entire travel experience. After decades of resistance, America is now on the verge of a paradigm shift from the car culture to the rail and TOD culture. While this is normal city living in Europe, for America this is pretty radical considering that more than 70% of Americans live in suburbs and get around daily by car.
Luckily, California is leading the nation on a new course of 21st century rail transportation. As mentioned previously, getting the first high-speed rail into construction was an incredible feat of political will and leadership in the 'auto nation' that America has become. Now that California is well underway, this will encourage other states to follow suit so they too can share in the benefits high-speed rail delivers.
There are three other major high-speed rail projects in the works right now, in addition to California, and a new investment-grade ridership study that was just released for potential high-speed rail ridership between Las Vegas and Los Angeles. This includes the Xpress West project as part of the larger rail line. The study released by the High Desert Corridor Joint Powers Authority revealed more than $1 billion in potential revenue from high-speed rail operations in the heavily travelled corridor. The study has already raised the interest of international investors in the project.
The other two high-speed rail projects advancing include the Texas Central project that will connect Dallas and Houston with 200mph trains. This project has been advancing through the planning, route studies, and environmental approvals, and could begin construction as early as this year. Also moving along are upgrades to the Northeast Corridor that include a number of phases. A new fleet of high-speed trains from Alstom have been ordered to replace the aging Acela fleet. Replacing the New Jersey/New York tunnels is moving to high priority, as is a major renovation and expansion of DC's Union Station, and several other stations. Additional phases include upgrading other tunnels and bridges, and eventually the entire corridor to accommodate 220mph trains between DC, New York City and Boston.
As new rail projects come on line, we expect the entire national programme to continue accelerating in pace as more-and-more cities and regions connect in to the benefits rail delivers.
Biography
Andy Kunz holds a Bachelor of Fine Arts degree and a Master of Architecture in Town Design from the University of Miami. A long time high-speed rail advocate, Andy brings 30 years of successful business experience to the US High Speed Rail Association (USHSR) and provides senior leadership and an ambitious vision for sustainable transportation in America. Andy is a national award-winning designer with a background in community design, urban planning, and sustainability and has designed a wide variety of projects including a number of new towns and transit-oriented developments. Andy has served as an expert in a number of forums and speaks extensively at leading worldwide conferences and events on transportation and planning topics. More than 100 miles of state-of-the-art high-speed rail is under construction in