The extensive innovations in railway digitalisation and how best to utilise and demonstrate them
Graham Ellis discusses railway digitalisation, driverless trains, the utilisation of data and how to demonstrate advances in rail technology.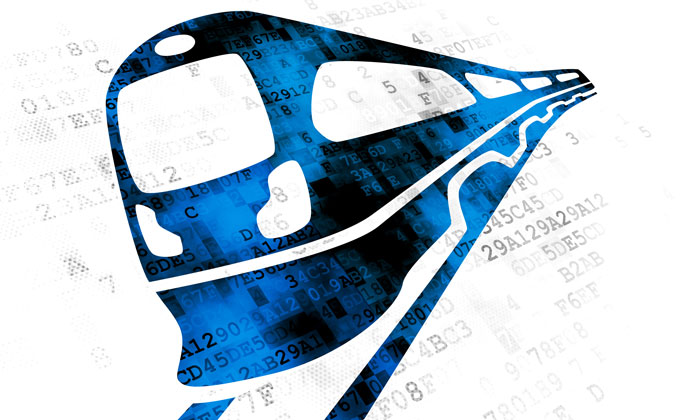 Global Railway Review's regular blogger, Graham Ellis, has recently realised just how far-reaching railway digitalisation will become. Here he discusses the possibility of driverless trains, the utilisation of data and the various ways the industry can effectively demonstrate advances in rail technology.
Until recently I had not realised how extensive the digitalisation of heavy rail will become. I initially thought that it would simply reach to manual trackside signals that would be converted to computer-controlled multi-aspect lights managed from regional control rooms, along with improved radio communications between train drivers and those control rooms, and a meshing of all that data into passenger notifications on stations. How wrong I was!
Apparently my idea of digitalisation is just the tip of the iceberg; in fact just about everything on or around the trains themselves is planned to be digitalised. For instance, data from sensors on trains could monitor just about anything you can manage on a train car and possibly even the driver's state of attentiveness. This could ultimately lead to Artificial Intelligence (AI) being deployed on the railways with the possibility of driverless trains. That will cure the staff problems that railways across Europe seem to be beset with. The timescale is currently unclear but technology is advancing so fast that this might come to fruition within the next 10-20 years.
One limitation to being able to utilise the data generated on-board trains is that it has to be transmitted from the train to somewhere that it can be analysed. This isn't a problem when you are on a regional stopping service as the data can be downloaded at the stopping station and then sent via an internet connection but what happens when you have a high-speed train doing 300km/hr?
Currently, data is transmitted from the train to trackside receivers using the GSM-R radio based system but this is due to be ceased in 2030. Most suppliers are already reducing the support for this system in favour of current 4G mobile phone systems and are looking forward to 5G solutions that are capable of handling bigger data much faster. However, what is likely to happen is that the data being generated is likely to be split into two data caches; the first is the safety critical data such as speed which will be generated by the driver/machine interface unit, the train interface unit and the IRU or data black box unit which needs to be transmitted in real time, via a 5G mobile phone signal.
The second data cache is the non-critical data that can be downloaded either at intermediate station stops via a wide local area network and so does not take up much bandwidth on the 5G network. Basically this amount of data does not slow down the operation of the critical data transfer and will allow data to be transmitted in compressed packets as 'bursts' of data to the trackside receivers even when travelling at high speeds.
Some of this digitalisation development work is already being undertaken in the Shift2Rail project, which I heard about from Carlo Borghini, Executive Director at Shift2Rail. This is the first European rail initiative to seek focused research and innovation (R&I) and solutions by accelerating the integration of new technologies into innovative rail products. R&I carried out under this Horizon 2020 initiative will develop the necessary technology to complete the Single European Railway Area (SERA).
System approach
Demonstration activities are a priority at Shift2Rail, as they enable the rail sector to visualise and concretely test the transformations that are being introduced. They also enable a more appropriate quantification of the impact of new technology and help provide a first estimate of the anticipated potential for sector improvement.
In addition, key flagship demonstrations enhance the potential of the sector and revitalises the industry by attracting the next generation of top graduates. It is vital that over the next decade the industry demonstrates a tangible step change in railway digitalisation technology which is visible to the public and generates interest in the railway.
Furthermore, the development of collaborative demonstrators will foster internal industry communication and collaboration. Shift2Rail will also promote the realisation of Integrated Technology Demonstrators (ITDs), which will combine the testing of different solutions in a single demonstrator, thereby achieving economies of scale for the project development. This will allow a more collaborative system approach towards innovation. It will also help early-stage identification of possible compatibility issues in the integration of different solutions.
The demonstration of technical achievements, up to TRL 7, will be based on the threefold architecture presented in the figure below: Technology Demonstrators (TDs), ITDs and System Platform Demonstrators (SPDs).
Technology Demonstrators (TDs)
TDs will focus on the development or adoption of innovative technologies and models within the rail subsystems identified in the IPs. They will pave the way for progress in key areas such as traction, automatic train operation and intelligent diagnosis and maintenance systems, while seeking inspiration from innovative technologies, materials and methods in other sectors. The innovations developed may consist of software and/or hardware systems.
Before being combined into ITDs, each TD will be tested in one or more prototype (differentiated if different business segments are addressed) to assess the individual performance of the technologies developed. Where possible, compliance with the technical requirements of the product being developed will be demonstrated.
Integrated Technology Demonstrators (ITDs)
ITDs will allow for the testing of components and subsystems already verified and validated within the TDs within virtual or physical railway environments, for demonstrating the innovation potential of the components in different subsystems and systems. Functional and operational specifications and technical interfaces across the various TDs will be taken into account.
ITDs will also enable the analysis of compliance with the regulatory requirements; the validation of technologies will be followed up with a controlled approach to future authorisation and certification work.
System Platform Demonstrations (SPDs)
Ultimately, Shift2Rail will carry out proof and analysis of rail systems, design and functions on fully representative innovative railway configurations in an integrated environment, simulating real operational conditions.
To simulate and test the interaction and impact of the various systems in different rail market segments, demonstration platforms are proposed that will cover high-speed/mainline passenger rail, regional passenger rail, urban/suburban passenger rail and rail freight. The choice of demonstration platforms is geared to the most appropriate market opportunities, to ensure the best and most rapid exploitation of the results.
There is clearly a lot already being done within the digitalisation but who knows what we will see over the next few years, watch this space.