New investment highs in existing Swedish rail infrastructure
The increase of rail transport in Sweden has been positive for a long time on an aggregate level and the development has been the strongest in passenger traffic. Since the early-1990s train travel has doubled whereas the corresponding rate of increase in car travellers has been 10-15%. Railway infrastructure developments and investments in new traffic systems have been decisive factors in this growth. Maintenance and re investments, however, have not kept pace with traffic trends and the shortcomings in the rail system are becoming increasingly apparent. Björn Westerberg, CEO of ASTOC – the Association of Swedish Train Operating Companies – details current work and future plans for Sweden's rail investments.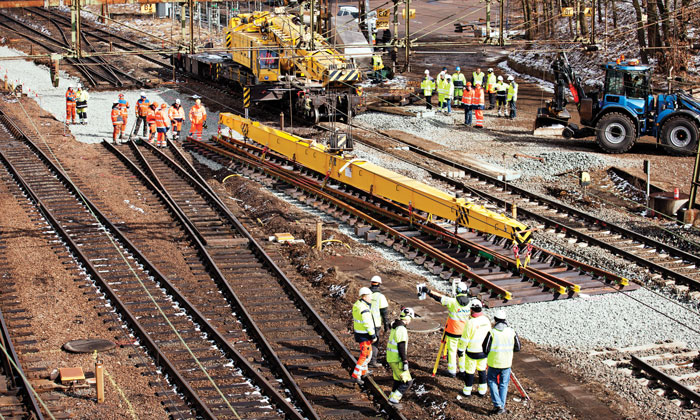 Efforts to achieve the environmental goals of reducing greenhouse gas (GHG) emissions are about to fail if we do not act now. Sweden's climate target for the transport sector by 2050 means that the net emissions of greenhouse gases must decrease to a level close to zero. Energy efficient vehicles and an increased proportion of renewable fuels can dampen or even reverse the negative trend, but this still won't be enough. There is an urgent need for us to radically change our entire approach to transport and planning. However, today's transport system lacks the prerequisites needed to enable a greater shift towards sustainable transport. Capacity shortages in both the road and the rail systems lead to delays, congestion and increased costs. The Government Agency for Transport Analysis concluded in its annual follow-up of the transport policy goals that the transport system does not in any way reach its long-term sustainability goal.
Should Swedish railways be compared to a product cycle, we have now reached the 'maturation phase' or 'peak'. Development has been in a growth phase for a long time, but capacity and quality problems are now threatening continued growth. For a period of time railways can survive going hand-in-hand with road use, but demand for new and more efficient transport solutions will inevitably increase, meaning railways risk losing market share. To avoid stagnation, or even decline, the expansion of next-generation railways should have already begun. 
The worn infrastructure reduces both confidence and profitability and may speed up a downturn. In order to seriously step into a new growth phase following a short decline, infrastructure must be re-developed. In the short-term, a certain margin may be created through more efficient utilisation of existing infrastructure. Several actions have been discussed (and questioned), including such technical solutions as track access charging, administrative instruments and minor remodelling that, for example, enable the railway system to handle longer and heavier trains. However, to achieve a cracking effect in development, extensive and thoughtful developments are required. The national rail network must be expanded to meet future demands for a sustainable and competitive transport system.
Sweden boasts one of the most liberalised railway markets in Europe and the European Commission assumes the Swedish deregulated system as a role model for its railway policy. The next step in implementing a sustainable vision for Swedish society requires the establishment of a sustainable, rapid, and efficient transport system. The sector is ready to join forces with the government in its efforts toward the next 'National Plan 2018–2029' to create a new phase of growth for the railways. With the right measures and means we could double freight traffic and triple passenger services by 2050!
The government's infrastructure bill was adopted in December 2016 and the government's directives on the drafting of the National Plan for the Swedish Transport Administration was issued in March 2017. Accordingly, the Swedish Transport Administration will now carry out a directive analysis and a dialogue on a national and regional level followed by an outline of priorities. The draft National Plan will be established in the coming months and a main report will be submitted to the government in August 2016. Following a consultation procedure the 'National Plan 2018–2029' will be adopted in early-2018.
The starting point for the National Plan is the assumption that transport will increase, imposing an increase in operation and maintenance, which in turn places considerable demands on investments.
The government's transport policy goals are based on the following aims:
Conversion to a fossil-free welfare country
Keeping all of Sweden together
The need for increased construction of housing
Improvement of business conditions
Reaching the lowest unemployment rate in the EU.
The government objective is that Sweden will be built strong and sustainable for the future and the government will invest an additional SEK 100 billion during the plan period compared to that of previous plans. The competitiveness of Swedish industry will be increased by the following improvements:
Reliable work commuting and reliable freight transport
Improved accessibility for goods
Transfer of goods from road to rail and sea transport
Dialogue between the Nordic countries regarding border crossings.
An important climate goal is that emissions from domestic transport must be reduced by 70% by 2030. The government is focussing on rail infrastructure upgrades, an increase in maintenance investment by 47%, and on the development and improvement of freight conditions. A freight strategy is expected in 2017 and the Infrastructure Minister has suggested the creation of a dialogue forum given that they are keen to keep a close dialogue with the industry.
The National Plan 2018–2029 will be the most ambitious action plan to date with the largest financial 12-year framework so far. Planning is taking place at a time of major changes, where the differences between city and country is polarised. Strong urbanisation is under way and new technology and digitalisation create both opportunities and challenges. The Swedish Transport Administration considers that the rail system has reached its ceiling and that new capacity is required – not least for the benefit of freight transport for the mining, forestry and manufacturing industry.
Climate and accessibility are high on the list of priorities in the work on future infrastructure. The transfer from road to rail and sea transport is among the most important element in conjunction with energy-efficient vehicles and the use of fossil fuels. The government along with the Swedish Transport Administration has confirmed that the project enabling longer and heavier trains has high priority and includes a number of packages for action. ASTOC and the sector has contributed input to the National Plan in several instances and we have some concerns.
The upcoming National Plan for the transport system has been labelled as a historic investment in infrastructure. However, for the planning process to proceed with the National Plan, the Transport Administration worked from the current situation and just extrapolated forward in time. The plan therefore lacks clear policies for how rail will be a catalyst in creating our future society. There is a risk that the future railway in Sweden will not be able to deliver the traffic volumes that society will demand.
Viewed from the freight perspective, the proposed National Plan is a good starting point. However, from now on we must prioritise speed in execution. We can no longer afford 'NATO' ('No Action, Talking Only'). Increased funding for the railway is a good thing, but at the system level, the proposed allocations will not be sufficient to improve the railway. The vulnerability of the railway system is significant and may lead to non-robust transport, which inhibits growth and risks transfer of transport to the roads. Ongoing industrial investments will mean that demand for transport will increase. This development must be matched with better infrastructure that is able to handle increased transport volumes. As the manufacturing industry is also a driver of service production and creates employment and growth, restoring the system should be a top priority.
We must also take into account the international links. Transport volumes do not stop at borders. The government must fulfil the TEN-T plans, expand cooperation with other countries, and coordinate the Nordic transport plans. Sweden is an export dependent country, and cross-border transport corridors are important for the country.
Maintenance has to be carried out systematically over longer periods of time. It must not be impeded by annoyance in annual budgets. Rapidly allocated funds are not likely to be used in an optimal way. We believe that there is a critical need for a long-term national maintenance plan. 
A faster decision-making scheme and good governance by the Swedish Transport Administration is needed, so that the right things are rectified at the right time. There is scope for a specific investment buffer for particular market needs. Funds should be allocated to a particular market buffer where the Swedish Transport Administration is mandated to decide on resources for market-driven infrastructure adaptations. Such needs could suddenly emerge due to structural changes, restructuring of logistical flows in business and bottlenecks in the transport system. Such an investment buffer would create increased flexibility in the use of resources and thus increase benefit to the public.
There must be a coordination of sector taxes and (track access) charges and fees. Inadequate coordination of taxes and charges risks unintentionally lowering the sector's competitiveness. The decisions are made in separate pipes, with no aggregate view and in relation to the railways' competitiveness.
In recent years, social development in Sweden has led to increased commuting between and within the major regions, as well as a vital growing export industry and increased goods flow in many parts of the country. The services industry has resulted in increased demand for skilled labour, acceptable conditions for work, study, culture and other needs for a well-educated workforce. Region enlargement is mainly a labour market issue and development towards larger regions is driven by efforts to increase competitiveness and create growth. Accessibility to the labour market, labour and education is crucial. Currently, the trend towards major labour market regions is slowing due to capacity restrictions on the railways and major roads. Infrastructure development has to be viewed from this perspective and not as an individual cost allocation in the national budget. How well a region, nation, or all of Europe's infrastructure can be integrated into the building of communities, and the long-term planning work of both private and public interests, determines what social benefits can be created. The next step in our social development requires sustainable, fast, comfortable and well-functioning transport solutions. Investment in high-speed railways is a prerequisite.
A relevant question to ask is whether the capacity of delivery of the construction companies will be sufficient for the huge investments that await. It is a given requirement of the train operators that the capacity is available and that the road works are carried out without major traffic disruptions.
ASTOC has identified the prioritised infrastructure initiatives requierd for operators and developed a 10-point list for rail freight transport improvements towards 2050. We also need to act on the economic challenges and improve the competitiveness of freight railways, as well as push the arguments for a pause in the ERTMS rollout.
Even given these large prospects, in the short-term we must still focus on increasing the quality of railways in terms of the infrastructure, improved punctuality, improved traffic information, more efficient and faster maintenance operations and abstaining from implementing the next generation signalling system until it is fully developed.
We also need to increase the competitiveness of the railway by avoiding competition restrictions and cost increases (increased track access charges), balancing competition from truck traffic, and enhancing the image of the railway as well as establishing improved organisation of the sector.
In conclusion, in terms of capacity, we need to improve rail infrastructure where the need is greatest, removing bottlenecks, ensuring efficient logistics chains for industry, as well as building the new high-speed lines with a focus on end-point travel. Digitalisation will affect us more than we think and give rise to a new view on mobility and the importance of thinking online and embracing the sharing economy.
It is time to future-proof Sweden! 
Biography
Björn Westerberg is the CEO of ASTOC – the Association of Swedish Train Operating Companies. Previously, Björn was Head of Strategy at SJ AB. Björn is a former partner at a technology strategy advisory firm and has also held senior management positions at a listed IT professional service firm. Björn holds business degrees from Stanford University and the Stockholm School of Economics.