Seizing the opportunities of digitalisation
Digitalisation has long been making inroads into all business segments at Deutsche Bahn (DB)1. The DB Group is tackling a range of cutting-edge fields, including digital customer platforms, Work 4.0 and automatic train operation. Manuel Gerres, who is responsible for new digital business models at Deutsche Bahn, explains the opportunities of digitalisation and what role having the right partners plays.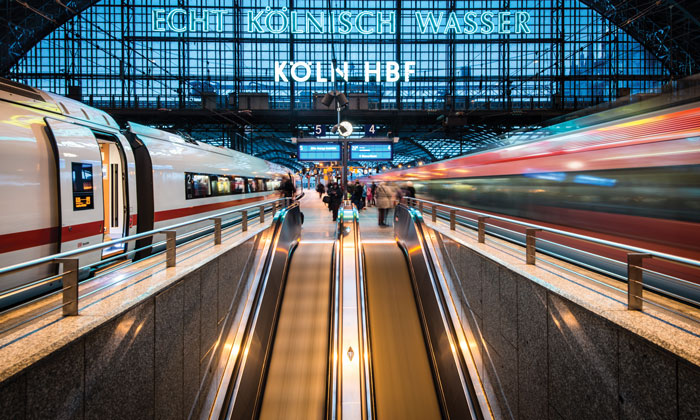 Deutsche Bahn is advancing digitalisation in three areas. First, it is using apps and other digital platforms at the interface with customers to make it as convenient as possible for them to access products and services. The aim is to show all routes from A to B digitally to offer the right solution to every customer – commuters, business travellers and vacationers, as well as industrial customers needing to transport their freight. Instead of being informed only once, customers receive dynamic information throughout their journey or along the entire transport route. This approach is crucial.
Second, front-line and administrative processes are being digitalised to make workflows faster and more reliable, making DB's products even more customer-friendly. Deutsche Bahn will invest around €1 billion in digitalisation projects alone by 2018.
The third field is DB's collaboration with in-house and external startups to develop new data-driven business models. Deutsche Bahn Digital Ventures GmbH (DB Digital Ventures), a company established in November 2016, is laying the groundwork by systematically promoting and investing in start-ups. This is a strategic step for DB. It allows DB not only to invest in digitalising its core business, rail, it also makes it possible to invest more heavily in new digital business models in mobility and logistics. DB Digital Ventures aims to step up partnerships with start-ups and simplify the acquisition of equity interests in companies. Some €100 million in additional venture capital has been set aside for investment between now and 2019. Another of DB's objectives is to encourage in-house entrepreneurship. Deutsche Bahn employees have the chance to realise their own business ideas within an ideal framework as an entrepreneur.
The rest of this article is restricted to logged-in members. Login or subscribe free to read it.