Door testing under arctic conditions
Doors and movable door steps are perceived as the most failure-prone systems in rail vehicles. Here Gabriel Haller, Technical Director and Executive Manager of Rail Tec Arsenal, explains the importance of testing these components – especially under winter conditions – to ensure all-round reliability of rail vehicles, which in turn helps to increase passenger comfort and operational performance.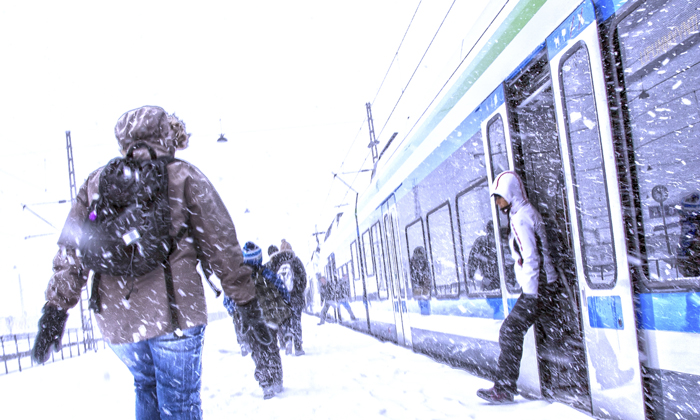 Entrance doors with a notice reading 'out of order', 'please use other door' and doors that keep opening and closing due to a malfunction, cause inconvenience to passengers and may also prevent the train from leaving the station on time. For this reason the monitoring and control equipment for doors and movable door steps must meet extremely high reliability and safety standards. Winter conditions pose additional challenges in this context, as low temperatures, snow, ice and grit may affect the proper functioning of safety equipment such as obstacle and anti-crushing detection systems.
Functional tests under standardised environmental conditions
Specific standards already exist for many rail vehicle components and systems. For example, the standard EN 14752 'Railway applications – Body side entrance systems for rolling stock' contains detailed test procedures for doors and door steps. The functions tested include obstacle and anti-crushing detection, withdrawal forces for trapped objects, drag detection or movable step obstacle detection. The functional tests specified in this standard are, however, carried out under normal climatic conditions and thus do not take winter conditions into account. This gap was closed in 2016 by the new Technical Report (CEN/TR 16251:2016 02 'Railway applications – Environmental conditions – Design guidance for rolling stock'), which contains design recommendations and test procedures for rail vehicles and components under defined operating and environmental conditions, including low temperature, snow and ice.
Table 1 lists the systems and components included in CEN/TR 16251 along with the relevant climatic test conditions. The table also contains additional test conditions and systems/components which have not (yet) been included.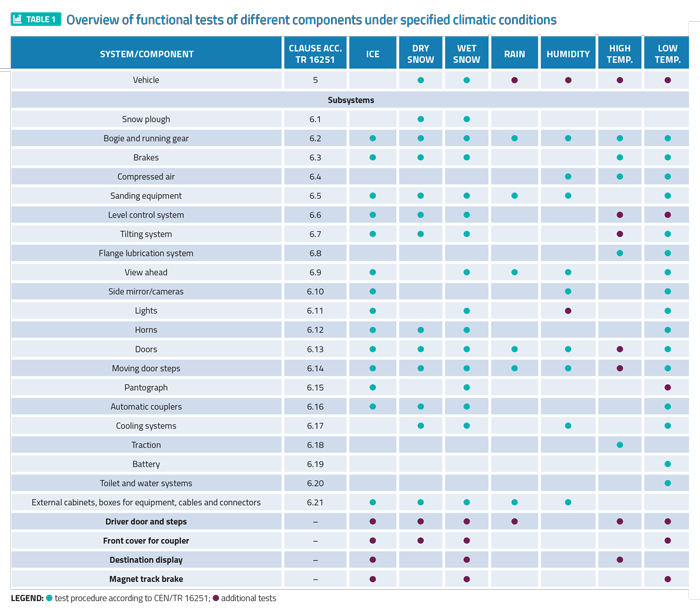 Doors and moving steps
Doors and steps are perceived by passengers as the most failure-prone system in rail vehicles and malfunction of these components is thus one of the most frequent problems reported by railway operators. The problems are often aggravated in winter, when ice, snow and grit accumulate in the door area and affect the proper functioning of automatic doors and movable steps. The Vienna Climatic Wind Tunnel operated by Rail Tec Arsenal (RTA) is equipped with a powerful wind turbine, as well as spray and sprinkler installations and snow nozzles to test these components and systems under reproducible and standardised winter conditions. A range of tests can be carried out according to EN 14752 under the climatic conditions specified in CEN/TR 16251.
Ice build-up on doors
The icing tests on doors are carried out at ambient temperatures of -20°C to simulate a vehicle that has been parked overnight. The passenger areas are cold and the air conditioning unit is switched off. Freezing rain is simulated by covering the vehicle doors with an ice layer of approximately 2mm using a manual sprinkler and allowing the layer to harden for 10 minutes. The following pass criteria should be achieved:
 The doors open and close completely
The entrapment protection device detects the
test piece and the door reverses, or the test
piece can be withdrawn with a force ≤ 150 N
The emergency unlocking system is
fully functional
No snow (water, ice) ingress behind the door.
Wet snow on moving steps
This test simulates regular service and is carried out with the passenger areas in regulated mode. A normal drive cycle is simulated by applying a wet snow layer of approximately 2cm to the extended step using mobile snow nozzles. The snow layer is compacted by foot and the step is subsequently retracted. The vehicle is then switched to driving mode, which causes the snow on the step and step enclosure to cool down and turn to ice. This effect can be further enhanced by alternating climate tests, where the vehicle is moved to a warmer environment (+10°C) to simulate partial thawing during a station stop. The following pass criteria
should be achieved:
The step extends and retracts completely
The step detects obstacles and reverses; peak
force on contact is below 300 N
The step does not move when the door is
fully opened.
Reliability throughout the year
The functional tests on doors and steps aforementioned are only some examples of the comprehensive set of standardised tests carried out at RTA's Vienna Climatic Wind Tunnel. Detailed test procedures are available for different components and systems, which also include a detailed description of the test conditions and the assessment methods used. The test procedures are continuously being further developed in line with feedback from regular service operation.
The high degree of comparability achieved through climatic wind tunnel testing is an important step towards future standardisation of functional tests on rail vehicles. When carried out under reproducible and standardised climatic conditions, these tests reduce the risk of malfunctions in service and increase the reliability of rail vehicles throughout the year. This both increases passenger comfort and saves time and money for railway operators and rail vehicle manufacturers.
Biography
Gabriel Haller is the Technical Director and Executive Manager of Rail Tec Arsenal, the operating company of the Climatic Wind Tunnel in Vienna. Gabriel started as a Project Engineer in the old climatic testing station in Vienna 28 years ago and lead the technical specification and planning of the 'new' Climatic Wind Tunnel specially designed for testing rail vehicles and trains under all climatic conditions.