The world of Dellner
Dellner is a Swedish company with more than 75 years of experience in the rail industry. Here Gabriel Hornemann, Global Sales and Marketing Director of Dellner Service, explains the company's structure and how it has expanded over recent years.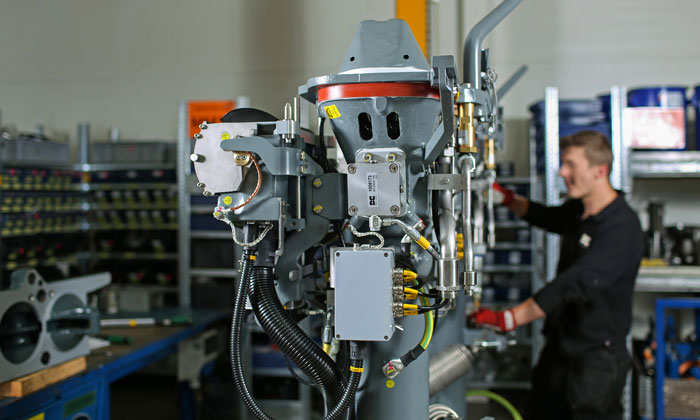 DELLNER serves all of the world's leading train manufacturers and rail operators by providing durable, reliable and innovative products and services. The company offers full Train Connection Systems including couplers, gangways, hatches, dampers, and crash management systems, complemented by superior aftersales care and support. Our headquarters are located in Sweden with a global network of subsidiaries, branches and agents in 16 countries. In Europe Dellner has subsidiaries in Germany, Poland, France, United Kingdom and Italy.
Italy
Since 2011 Dellner Italy has been located in Turin and serves the Italian as well as the Spanish markets. Our service workshop at this location is 900m2 and accommodates Dellner's trained professional Service Staff who are ready to serve our Italian and Spanish customers on site. With the in-time overhauls we can prolong a product's lifetime and secure the travellers' safety. By being close to our customers we can ensure a short downtime of the rolling stock and our repair service can be carried out either in the workshop or on the client's side. We keep spare parts on stock for high availability and in reliable quality. Our Service Technicians have broad experience of Train Connection Systems and provide technical advice as well as training programmes for our customers' personnel. We service all couplers and gangway types, OEM and non-OEM and work with manufacturers such as Alstom, Hitachi, Ansaldobreda, Titagarh, Bombardier and CAF as well as operators including Trentino Trasporti, Trenitalia, Trenord, ANM, Metro Genova, ATAC and EAV.
Scandinavia
The Dellner workshop for Scandinavia is located at Dellner's head office in Vika, Sweden. From here we can provide service to all our Nordic-based customers. The workshop is very modern and follows the 5S principles. With our Dellner Service car we can support our customers wherever they need us. Moreover, we have a container workshop that enables us to work on site with the customer for flexible support. In this way Dellner can offer a new level of service for both complete overhauls and general repair work, at the customer's work site. Our mobile workshop allows us to carry out such work with a shorter turnaround time, and make a 24 hour On Site Service a reality. In today's demand for high train availability we consider that this service provides our customers with such capability.
Eastern and Central Europe
In 2017 Dellner celebrates 20 years of working in Poland. It all started with the establishment of a small production factory in Gdynia in 1997. The beginnings of Dellner Poland were connected with couplers modernisations at Polish National Railway (PKP). Today, 20 years later, it could be said that Dellner Poland has been involved in the modernisation of all couplers for EN57-type trains.
In 2012 Dellner became the first coupler manufacturer to move its production to Poland, thus lowering costs and gaining access to a broader availability of excellent education and skills. At the same time, the first service centre was formed. Over the years both operations developed to become Centres of Excellence serving as standards for the many other Dellner locations established since then throughout the world. Today the management of our production in Poland is increasingly consulting and supervising the set-ups in other parts of the globe.
Due to its developed competence in manufacturing, process management and logistics, our Gdynia operation has attracted other central functions. Today engineering groups, project management and sales engineering form an important part of the global organisation.
Dellner Poland works with many of the main train manufacturers, operators and maintainers in the Polish and other CEE markets. Our couplers are in service on trains produced by Newag (Impuls 2), Pesa (Elf 2), Alstom, Skoda and MetroWagonMash. Moreover, our modernised and refurbished couplers are in successful service for many Polish operators, as well as, for example, Metro Moscow or Metro Budapest.
Poland Dellner not only serves all other Central Eastern European markets but has also taken responsibility of the Russian operation. Since 2017 Dellner has established an office in Russia with the aim to broaden the good market penetration in that area and specifically exploit the vast experience in winterisation of couplers and driver cabins.
Biography
GABRIEL HORNEMANN has been Global Sales and Marketing Director of Dellner Service since 2012. Gabriel is a Member of 'Fachgruppe Service, Verband der Bahnindustrie in Deutschland (VDB) e.V.'