Better safety precautions at level crossings in Austria
There are approximately 3,300 level crossings in the ÖBB network, with the number falling every year. In addition to investments in underpasses, overpasses, traffic lights and barrier systems, ÖBB-Infrastruktur is focusing on awareness-raising measures to prevent dangerous situations from initially arising, discusses Herbert Ofner…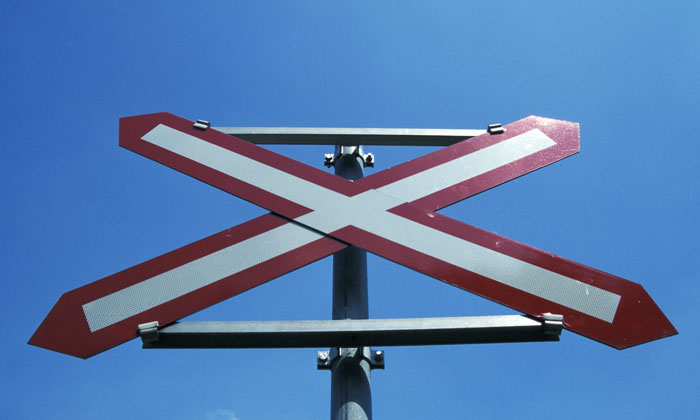 Measures for increased safety at level crossings are of great importance for ÖBB-Infrastruktur. Annual investments amount to €25 million, with funds provided by the Federal Government, Austrian Federal Railways (ÖBB), the federal states and local authorities. Since 2000, the number of level crossings has been almost halved (from around 6,200 to approximately 3,300). As in recent years, this number will have decreased further by the end of 2018. In 2017, around 50 level crossings throughout Austria were closed or replaced by bridges and underpasses.
Although safety measures around level crossings are improving, there were still 66 accidents – six of which were fatal – on the ÖBB network across Austria in 2017. In 2008, there were 108 accidents and 19 deaths, meaning that the number of fatal injuries has fallen by two thirds in the last 10 years. However, the most frequent cause of accidents is carelessness and distraction. Moreover, habits enhance carelessness, meaning locals using level crossings every day are particularly at risk.
In addition to reducing the number of level crossings, we are therefore focusing on technical and, above all, awareness-raising measures to increase road users' attention at level crossings. Examples of these include:
Distinctive road markings, in cooperation with the highways agency (e.g. research project RÜTTLEX

1

)
Variable traffic signs before level crossings without technological safeguards
Carriageway lights before level crossings with traffic lights as an additional optical 'barrier': As soon as a train approaches, the lights are activated.
Red light monitoring of level crossings, in cooperation with the executive, is also an efficient method for increasing traffic safety. Systems are currently installed at 60 locations throughout Austria.
Sensitisation through awareness-raising measures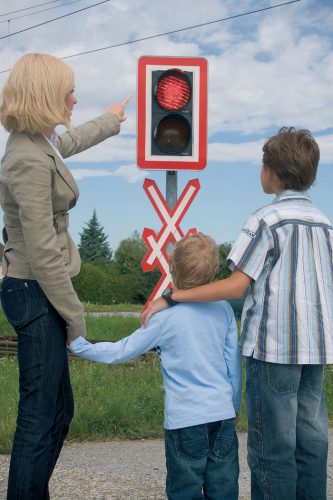 Through awareness-raising measures and campaigns, we want to show road users how dangerous level crossings are if rules are not adhered to. We primarily address young road users – through direct dialogue with schools, posters at railway stations and campaigns on the internet and social media. Of course, the media are important partners for raising awareness across all communication channels, such as print, the internet and cinema spots.
Every year, at the start of school in the autumn, a campaign is launched specifically aimed at pupils and young adults. Unfortunately, young people often put their lives at risk as a result of inconsiderate action and misunderstood tests of courage. ÖBB-Infrastruktur therefore relies on increased education. This year's safety campaign is called "Take care of yourself". At its heart is the message "Your guardian angel is not always there for you". This means: You are personally responsible for your own life, take care of yourself! It is a question of the right way to deal with level crossings, amongst other things. The four most important safety messages are:
Watch out for red lights and/or approaching trains at level crossings
Crossing the tracks in a prohibited place is life-threatening
Railway stations are not playgrounds: wait on the platform behind the safety line
Traction current is high voltage – there is already danger to life in the vicinity.
At the heart of the campaign there is a website2 which includes lots of tips and information on raising awareness about level crossings, for example: "Look and listen carefully at all level crossings" and "No level crossing comes as a surprise: Traffic signs will alert you in good time".
Another link leads to an emotionally designed short video3, which shows the fatal consequences of carelessness at a level crossing.
The subject "Your guardian angel is not always there for you. Take care of yourself" focuses on the correct behaviour at level crossings. It shows a guardian angel juggling with maximum concentration on a slackline – and therefore "unfortunately has no time" to pursue his actual purpose. These subjects also hang in the form of posters at railway stations.
Adult road users are naturally an important target group in the efforts to further reduce the number of accidents at level crossings. For International Level Crossing Awareness Day (ILCAD), ÖBB-Infrastruktur has produced various videos that dramatically illustrate the consequences of incorrect behaviour at level crossings (a video of a crash and a video comparing the braking performance of train and a car)4.
Taking the driver's perspective
The "Taking the driver's perspective" initiative is to sensitise driving school instructors – important multipliers – to the issue of correct behaviour at level crossings. Within the framework of a cooperation between ÖBB-Infrastruktur and the umbrella organisation of driving schools of the Austrian Federal Chamber of Commerce, driving instructors have the opportunity to take part in special train rides on routes with a high density of level crossings, with the possibility to stand next to the train driver and see things from his perspective. This means they experience a car crossing inattentively and the locomotive driver having neither the opportunity to avoid it nor to brake in time.
What to do if you are blocked in by the barrier?
If drivers comply with road traffic regulations, dangerous situations will not occur at crossings secured with barriers. However, if car drivers are blocked in, there is only one thing to do: accelerate and break through the barrier. ÖBB-Infrastruktur produced a video on this special situation and the correct thing to do together with5 partners such as the ÖAMTC (Austrian Automobile Club), the KfV (Board or Trustees for Road Safety) and the Federal Ministry of Transport.
In 2017, a study addressed this scenario and 43 per cent replied correctly with "drive through the barrier". This illustrates how we are on the right track with our communication measures, but also how there is still a lot more work to be done.
Conclusion
ÖBB-Infrastruktur has been pursuing the path of reducing the number of accidents for many years and the mix of measures consisting of abandoning railway crossings and technical and awareness-raising measures will be continued. The number of injured and fatally injured people has fallen sharply in the last 10 years but every victim is one too many. We will therefore continue to do everything in our power to further reduce the number of accidents in the future.
References
http://infrastruktur.oebb.at/de/unternehmen/sicherheit-ist-unser-thema/aufklaerung-und-kampagnen/eisenbahnkreuzungen
Biography

Herbert Ofner is working at the ÖBB-Infrastruktur for the business unit 'market management and communication' and is, amongst others, responsible for communication and campaigns concerning safety. He started his career at the Austrian Railways (ÖBB) in 2007 at the ÖBB-Holding AG as spokesperson for Vienna Region and rail infrastructure.