Interview Spotlight: Neal Wright, Business Development Manager at GAI-Tronics
GAI-Tronics – a division of Hubbell Ltd – provides systems, products and services that improve on-board and trackside communications for the railway industry. Neal Wright, Business Development Manager, talks about GAI-Tronics' strategic development plans and gives greater insight into what they can off er the rail industry.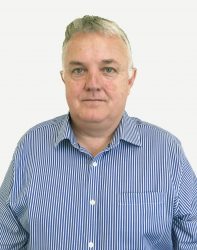 What are the main aims for GAI-Tronics and are you a global player in the rail sector?
Our main aim is to get our products into more European rail markets, as we already have a strong foothold in the UK rail market. We are also very interested in pushing forward on our Train Comms products – that have not previously been actively promoted – and seeing them utilised in new rolling stock, rather than just refurbished rolling stock.
What solutions can GAI-Tronics offer the rail industry when it comes to making level crossings safer?
GAI-Tronics provide a variety of products that assist in making level crossings safer. Often these products are designed and built to include bespoke elements to suit our customer's needs, such as specific aesthetic features and functions. We currently supply three main types of phones that can be used at level crossings. Where there is an AHB crossing (Automatic Half Barrier), we off er PETS (Public Emergency Telephone System) or KETS (Kestral Emergency Telephone System) telephones, and now also a VoIP illuminated crossing. For UWCs (User Worked Crossings) we have our solar powered GSM-R phone, which is a completely standalone phone offering wireless communications for either permanent or temporary installations. At GAI-Tronics our expertise lies in creating innovative, ruggedised communication solutions that our customers can rely on to work in any environment, regardless of the conditions.
How does your experience in the rail industry assist in your role at GAI-Tronics, and what motivates you? My 14 years' experience working for Transport for London (TfL) in various roles has enabled me to have a greater understanding of what is required in the rail industry, as well as what they require from their suppliers. I know that there are many processes in place to ensure that Health and Safety are paramount for both customers and staff . I can identify the processes that people must follow to perform critical activities around the railway. Having worked in the industry for many years, customers can communicate with me directly, without having to worry about using esoteric language that perhaps someone outside of the industry wouldn't understand.
What makes GAITronics stand out from your competitors?
Primarily, I think GAI-Tronics' experience and diversity are what separates us from the competition. The company was founded in 1946 and since that time we have seen products change, our company chan ge and indeed the world around us. But whatever the challenges we have faced, we have always found ways to adapt to these new environments and develop products and services that not only meet, but also exceed the expectations of our customers. The range of companies and sectors we service has also grown over the years. We treat every order as its own unique project and being able to understand the specifi c needs of our customers is crucial to delivering solutions people can rely on. We've come across almost every problem imaginable over the years and we haven't been beaten yet. As part of a larger group of brands that all fall under the Hubbell umbrella, we also have the benefit of being able to share knowledge and sometimes products from our sister companies. This means we can often supply complete solutions, even if part of the project falls outside of the GAI-Tronics product range.
Related topics
Related organisations
Related people