Digital solutions for rail freight of the future
VTG AG is launching a new digital service. In future, customers will be able to access location and event data to make maintenance and logistics processes faster, smoother and more efficient. The underlying telematics system will be rolled-out over the next four years, bringing connectivity to the company's entire European wagon fleet. Niko Davids, Head of Innovations and Improvement at VTG Rail Europe GmbH, provides more information.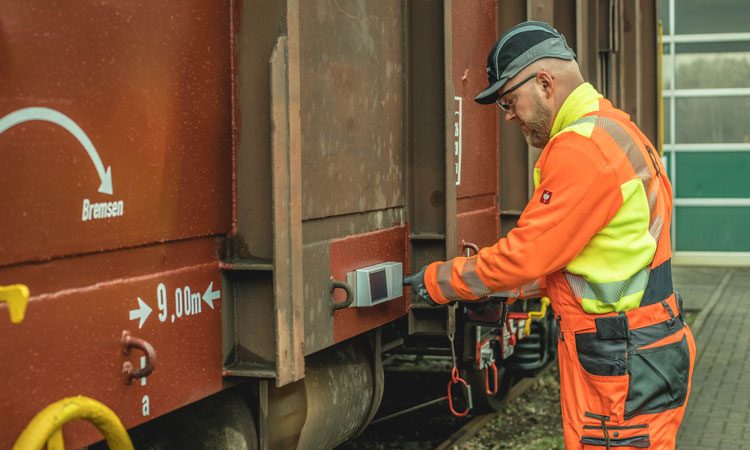 Keeping goods flowing smoothly is absolutely vital in today's globalised world and as transport volumes continue to increase, rail logistics solutions are clearly one of the ways forward. Compared to road haulage, rail transport cuts CO2 emissions per tonne/kilometre by 80%. A single goods train can carry a volume equivalent to 30 or 40 lorry loads. VTG, the market leader in European wagon hire, wants to strengthen rail as the backbone of smart, sustainable logistics solutions, making it more attractive and competitive than other modes of freight transport. Considering digitalisation as the key to attaining this vision, it is proceeding to equip its entire European fleet with telematics technology, making it the first company in the industry to introduce digital goods wagons across the board. Being committed to the concept behind its claim 'make rail digital – make rail easy', VTG is looking not only at boosting their own market position, but also helping to drive digitalisation across the whole industry.
VTG Connect: big data and smart functions for enhanced efficiency
The new VTG Connect service links the customer, wagon and load together to deliver a series of functions that optimise logistics processes. A telematics box – the VTG Connector – gives users real-time access to information beamed from the wagons. By tracking the current position of their wagons at any time, they can monitor and predict arrival times and possible delays with great accuracy. Data can be supplied at any specified time intervals along the entire route. A feature known as geofencing allows customers to define individual geographical zones – national borders or port areas, for example. Users are
alerted the moment a wagon enters or leaves one of these zones. A series of other alert functions also supply immediate information if certain events, such as shock impacts or protracted standing times, occur.
Customers access all this information via VTG's online portal. Interfaces even allow it to be ported to customers' own systems. All data is transmitted in encrypted form before being evaluated and processed at a German data centre in compliance with the strictest security standards. The data can also be
aggregated in clear, intuitive dashboards. Customers can thus use the analysis of roundtrip itineraries, intensity of use and mileage data to optimise their wagon scheduling and improve productivity, as well as slashing idle and round-trip times. At the same time, VTG Connect prepares the ground for predictive
maintenance: Exact mileage data for each wagon can in future be factored into the planning of maintenance intervals, resulting in maximum availability and ensuring that rolling stock only goes off track when it is absolutely necessary.
VTG Connector: a lot of information in a little box
Over the next four years, the Hamburg-based company will fit the VTG Connector on every one of its wagons in Europe, and this hardware will open the door to the new digital service. Developed in cooperation with Nexiot AG, the compact box measures just 30⋅9⋅5cm and is certified in accordance with the IP67 standard. This means it is dust-proof and resistant to damage from temporary submersion in water. The VTG Connector operates at temperatures from -40 to +85°C. At lower temperatures its function is temporarily restricted but the device remains undamaged. On-board impact and shock sensors record shocks in the range of +16g to -16g. An additional sensor reads the ambient temperature. The box can be fitted quickly and safely to the wagon's l-beam.
Frequent transmission for more accurate positioning – thanks to energy harvesting
A solar cell lets the VTG Connector operate independently, harvesting sufficient energy to charge a powerful built-in lithium-ion battery. The GPS receiver can
capture and send positioning data far more frequently as a result. Conventional devices typically note their position approximately once an hour, collect this information and then transmit it at intervals of between one and eight hours. Not so the VTG Connector, which can send data at 10-minute intervals. If the solar cell is dirty or defective, the battery can still run at a slightly reduced transmission frequency for 12 months – enough to cover Scandinavia's dark winter season – leaving more than enough time to plan and perform repairs. At temperatures below -20°C, the battery charging technology is temporarily deactivated. Since the box transmits its battery status together with the other data it sends, operators can keep track of its status at all times. Smart algorithms minimise energy consumption and enable VTG Connector to adapt perfectly to the given environmental conditions.
Satellite and wireless links for the VTG Connector
The VTG Connector gathers position data not only via GPS, but also from GLONASS and Galileo. Compatibility with these satellite systems makes it ideally suited to every positioning requirement. If no signals are available from any of these systems, the box uses the known locations of cell towers to calculate an approximate position based on the rail infrastructure. In this case, the level of accuracy depends on the distances between cell towers. The VTG Connect service includes a data flat rate for all European countries covering transmission based on the GSM standard. The VTG Connector establishes wireless links to external devices or sensors using the 2.4 GHz WPAN IEEE 802.15.4 frequency band. In future, this wireless technology will also enable other modules to be hooked up to the VTG Connector. An external sensor to monitor the temperature of freight loads would be one conceivable example. Another would be switches for locks and seals. The 2.4 GHz WPAN IEEE 802.15.4 wireless standard was defined by telematics suppliers in the context of the Industry Platform Telematics and Sensors in Rail Freight Transport (the German acronym is ITSS) as the standard for communication between sensors and telematics devices. VTG is involved in developing this platform. The benefit? The standard allows different vendors' sensors to communicate seamlessly with each other. That in turn allows approved sensors to be retrofitted or replaced at any time. While rolling out the VTG Connector, VTG also plans to affix QR code labels and NFC chips to every wagon in its European fleet, making it easy to uniquely identify wagons in the field. This feature could then be used to develop customer-specific apps for smartphones and tablets, for example.
No-gaps coverage is critical if the full benefits of this service are to be realised, so cost-effectiveness was a core focus of development work on VTG Connect. The standard version with all basic functions can now be provided at an extremely low cost. For customers who want to add other functions, the service can be expanded to meet specific individual requirements. Sensors to measure the fill level of wagons or determine their precise weights are only two of the many conceivable applications.
VTG Connect – the future of rail logistics
VTG's new digital service lays the foundation for the digitalisation of rail logistics. In close consultation with customers, the company will continually adapt its offerings in line with concrete use cases to ensure that each user derives the maximum benefit. Given that demand for transport information is set to increase exponentially in the medium term, cost-effective sensor solutions will necessarily be the focus of ongoing development work. First, however, the data must be
incorporated in customers' logistics processes in a meaningful way. Looking further ahead, the key will be enabling users to access and utilise the information currently stored in different systems and databases by the wagon owners and the customers. The ability to achieve this would add genuine value. Aware of this, VTG is working with an array of partners to develop smart solutions – including augmented reality applications that could set the points for new workflows in future. It is also designing a prototype touch table whose advanced, touch-controlled visualisation features will make it far easier to review rail logistics situations on a routine basis. VTG Connect is the cornerstone on which a series of further innovations can be built. It takes the whole industry one step closer to the mobility of tomorrow. Because the future of rail is digital.
Dr. Niko Davids is currently Head of Innovations and Improvement at VTG Rail Europe GmbH. After graduating from Hamburg University of Technology as an
industrial engineer, he joined VTG in 2007 as Executive Assistant. Later, he was Project Lead for HIRE21, an internal programme for transforming processes and modernising IT infrastructure, and headed VTG's in-house production consultancy.
Issue
Related topics
Related regions