Looking ahead to InnoTrans 2018: An interview with Ben Möbius, Managing Director of the German Railway Industry Association (VDB)
With the railway industry starting to look forward to InnoTrans 2018, Global Railway Review spoke to Ben Möbius, Managing Director of the German Railway Industry Association (VDB) about his involvement at the trade fair and the innovations he looks forward to witnessing.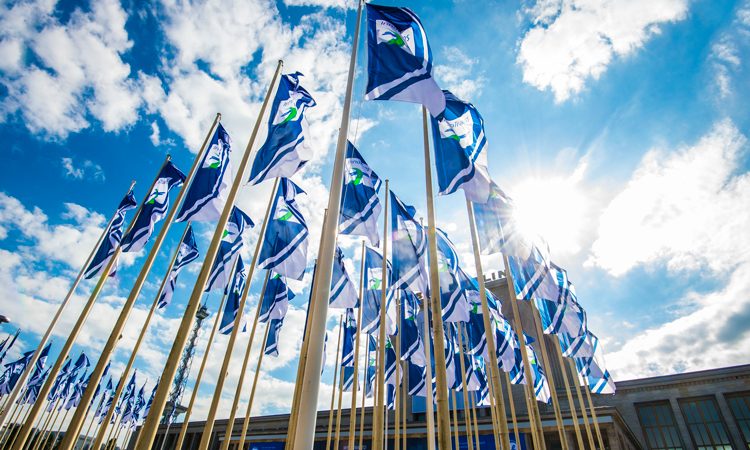 Credit: InnoTrans
What are you most interested in seeing at InnoTrans 2018?
I am excited to journey to the future of mobility! InnoTrans displays a wide global range of state-of-the-art railway technology. From digitalisation to alternative drives, innovative designs and futuristic prototypes – the most fascinating creations and concepts of our sector will be in one place. I am also looking forward to the expert panels: The InnoTrans Convention offers exclusive insights into technical, economic and political developments of the railway industry. Furthermore, InnoTrans provides an ideal forum to enter dialogue with politicians. I am also looking forward to our school and student events: It is always thrilling to work with the next generation, to inspire excitement and interest in the rail supply industry in Germany. InnoTrans is all about the future: Future technologies, future political and economic settings, future employees. That is what I am most interested to discover.
What is your main reason for attending the event this year?
InnoTrans is the place to be. This year the most fascinating innovations from the railway industry will be under the spotlight. Today, mankind faces massive challenges regarding mobility such as climate change, local pollution and ever-growing megacities. I think the German railway industry is really the vanguard of sustainable mobility. Alternative drives and digitalisation 'made in Germany' take rail transport – both for passengers and freight – to a new level: Catenary-free electric mobility, battery solutions, hydrogen fuel cell drives, further electrification, intelligent digital systems for more energy efficiency, digital predictive maintenance, new materials, additive manufacturing, artificial intelligence, digital silent logistics. This year at InnoTrans we will see zero-emissions transport – the German railway industry delivers unrivalled solutions for both global and local clean mobility.
What has been your most memorable InnoTrans moment in previous years?
There have been quite a few but it always amazes me how the event brings the whole diversity of the railway industry together in one spot: The whole panorama – obviously technologically but by the same token so many outstanding personalities. There are so many inspiring conversations and insightful discussions – rail is about individuals from all around the world, who make things happen. InnoTrans is truly an international fair and an international campus.
What would you like to see more of at future InnoTrans events?
Perhaps a more upbeat and more vociferous leitmotif. Our message is clear: Environmental protection and smart mobility concepts are certainly not boring, nor do they have to be implemented through restrictions. This year's exhibition demonstrates a renewed passion and fascination for climate-friendly, clean, smart and interconnected mobility. We have good reason to say: Digital rail makes the world a better place. We might wave the flag a bit more at InnoTrans.
What advice would you have for first-time InnoTrans attendees?
Carpe diem. Pinpointing just a few attractions is quite hard. Particularly interesting in my opinion is of course the outside area of the fair. It is always great to get up close with the trains of tomorrow. First-time InnoTrans attendees should take time to look into the diverse areas of the industry. Rolling stock, infrastructure and services are represented not only by sector giants but also by small- and medium-sized companies – the hidden champions of our industry. I would advise everyone to get in contact with the international visitors and exhibitors. And of course, to visit the VDB booth!
What do you think InnoTrans will look like in 10 years?
To perhaps become the leading international fair of inventors and explorers, devoted specifically to more climate- and customer-friendly mobility. In 10 years' time, today's pioneering work will bear fruit. Rail transport will be the preferred mode of transport: Emission-free, comfortable and inclusive. I would like to see the continuation of 'Rail 4.0' which is all of these things and sustainable and exciting. In 10 years' time I hope to see the manufacturers of automatic driving, digital entertainment and communication, zero-delay, zero-accidents – especially in metropoles around the globe. InnoTrans in 10 years will certainly be disruptively different from today. Nevertheless, I believe, it will to some extent remain what it is today: A global stage for innovation creating a better quality of life for people.
Biography

Ben Möbius has been the Managing Director of the German Railway Industry Association (VDB) since May 2015. He studied political science and history in Hamburg, Bamberg and Cambridge. After having worked as a journalist for the Hamburger Abendblatt and F.A.Z., Ben started his career in the Federation of German Industries (BDI) in 2001 as the Personal Assistant to, and Speechwriter for, the former BDI President, Dr. Michael Rogowski. Following this, Ben's BDI positions included: Officer for European Affairs; Head of Office of the BDI President and the BDI Executive Board; Head of the Department for European Affairs; Head of the Department responsible for mobility, infrastructure, telecommunications and digital economy; Managing Director of the Traffic Committee of the BDI and the Committee for Digital Economy, Telecommunications and Media. Ben is a member of a number of advisory bodies and committees including the Scientific Institute for Infrastructure and Communication Services; the trade fairs InnoTrans and Transport Logistics; plus member of the Board of Editors for some technical industry magazines.