Can rail digitalisation open highly lucrative non-farebox revenue streams?
Ian Reynolds, Managing Director of KBH On-Train Media, believes improvements in on-board connectivity have the potential to revolutionise rail travel as we know it, and open up highly lucrative new revenue streams for the industry and the economy as a whole.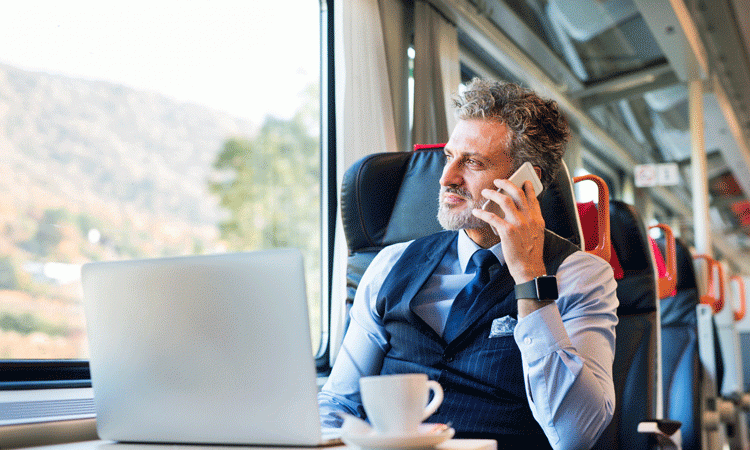 To borrow the words of the most recent Ofcom Communications Market Report, we've been living in a state of digital dependency for the last decade. The study demonstrates how 10 years of technological revolution has transformed our behaviour. Many of us can hardly imagine life without the internet, and we find it highly frustrating when we're unable to connect; nowhere illustrates this better than the rail commute.
According to Ofcom's findings, 35 per cent of commuters agreed that the internet was essential to their journeys, enabling them to complete tasks in their professional lives. Consistent and reliable connectivity while travelling by train is therefore becoming increasingly important. Lack of connectivity could not only undermine our experiences as passengers, but also delay train operators' ability to take advantage of the potential provided by emerging new digital opportunities, which will, in turn, further improve the passenger experience.
Over the past few years, the sector has stepped up its commitment to digitisation – phrases such as 'Smart Travel', 'The Digital Railway' and 'Railway 4.0' are becoming part of everyday rail travel language and expectations.
The opportunities of digitisation are clear: E-ticketing increases efficiencies; data and analytics can lead to faster decision-making; and live updates on digital information displays improve the ease of passengers' journeys. At the same time, Wi-Fi provides practical connectivity benefits alongside services which positively enhance the on-board experience, such as entertainment portals which offer entertainment and current affairs content during the journey.
These improvements – particularly upgrades in on-board connectivity – have the potential to revolutionise rail travel as we know it, open highly lucrative new non-farebox revenue streams for the industry, and potentially benefit the whole economy.
A unique environment
Approximately 1.7 billion passenger journeys were made by rail in 2016-2017; the highest recorded figure since the 1950s. As such, the opportunities for brands to connect with consumers across the rail network are considerable.
To revert back to Ofcom's recent report, seven in 10  commuters own a smartphone and 62 per cent of all time spent on the internet is via mobile devices. Similarly, KBH On-Train Media's own recent research discovered that mobile is the go-to-device for 88 per cent of rail commuters who use them for a range of personal and professional tasks.
This trend is set to accelerate with the current rate of expansion of high-speed on-board Wi-Fi services across the network. The government is forecasting that almost 100 per cent of train travellers will have access to Wi-Fi services by 2020 and speeds of around one gigabit per second (GBps) will be achievable for rail commuters by 2025. With the average journey taking 40 minutes, commuters have plenty of time to spend money – and often do, in increasing amounts.
All this means that the commute is a truly unique environment, not only presenting TOCs and advertisers with growing opportunities to reach consumers across multiple touchpoints – online and 'offline', through on-train media such as Traincards – but also driving big benefits for the wider economy through e- and m-commerce.
New non-farebox revenue streams
With increased connectivity, a range of prospects for additional 'non-farebox' revenue start to emerge for the rail sector. For example, TOCs will have the ability to access first-party data gathered from passengers when they sign up to free Wi-Fi services. Rail operators are then able to utilise this rich information to offer value-added services that enhance a passenger's experience. Examples of this could be welcoming them back to a station; putting the right information in front of them at various stages of their journey, particularly highlighting any changes necessary for their usual route; and ensuring that they are up-to-date with offers directly relevant to them.
The implementation of free Wi-Fi will also develop how brands communicate with passengers through new advertising channels. It's already possible to target specific audiences while they are on the move, taking information including location, behaviour, lifestyle and context to build a detailed picture and serving contextual messages as a result. This increased message relevance resonates better with consumers, encouraging further brand investigation and purchase.
In addition to this, some train operators are bringing the concept of in-flight entertainment to their commuters, with the previously-mentioned 'infotainment' systems for passengers. Passengers stream video content including regular news and weather updates to their own devices, and advertisers can make the most of their attention by serving video advertising around this content, or providing sponsored or branded content, as part of the value exchange to passengers who get to watch a free programme or movie.
It's not all about digital
Clearly, improving on-board connectivity could lead to much greater investment from advertisers, particularly as media consumption habits continue to shift towards online content.
However, alongside this, traditional on-train ads play a key role in influencing consumer behaviour too, reaching 7.1 million affluent, connected and influential rail users every four weeks. Advertisers are increasingly planning campaigns featuring both 'real world' on-train platforms and online content to reach consumers at a range of relevant touchpoints for the most effective holistic campaigns.
Given this, it's important to balance the continuing growth in digital advertising opportunities with the strengths of 'traditional OOH' on rail – message frequency is important to effective advertising, as is 'dwell time' for driving consideration and prompting consumers into action. Maximising the commercial opportunity of rail relies on the government maintaining its commitment to the improvement of on-board Wi-Fi. All the signals suggest this investment is set to continue.
It's a complex journey but with the successful implementation of the current connectivity strategies, a completely new on-train experience awaits – one that will benefit advertisers, TOCs, media owners and passengers alike.
Biography

Ian Reynolds began his career in the mid-90s in press, before moving agency-side as a media planner at AW Media. He moved into out-of-home with stints firstly at Clear Channel, then JCDecaux. Ian joined KBH On-Train Media at the start of 2005 as Sales Director, becoming Managing Director in 2006. Since the start of 2015, Ian's role has encompassed KBH Connected (previously KBH Digital) and Union Street. KBH Connected gives advertisers access to on-train consumers through train operating company digital assets including entertainment portals, consumer-facing websites and Wi-Fi. Union Street is a digital advertising management platform which maximises target audience access and inventory value for advertisers.
Related topics
Related organisations