Hope for the best but plan for the worst
London Overground Rail Operations Limited (LOROL) operates the Overground service in London on behalf of Transport for London (TfL), running five different fleet types. As LOROL's Fleet Engineering and Asset Manager Martin Beable explains, winter preparation is vital, especially for an operator with a diverse portfolio of rolling stock, and that learning from lessons of previous winters have established core principles that LOROL follows.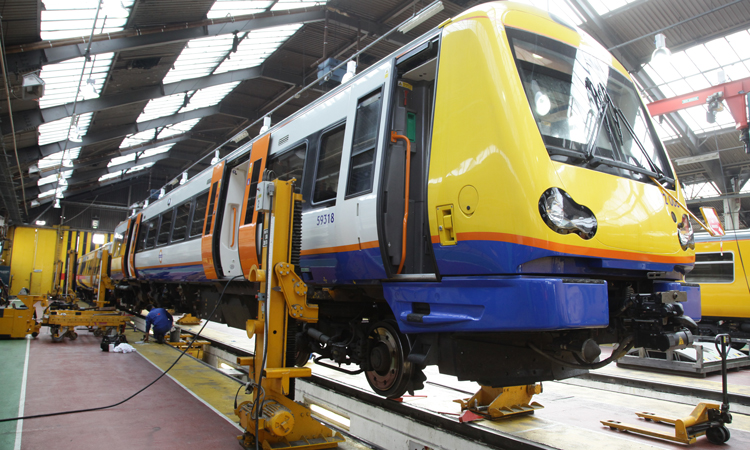 LOROL operates five different fleet types and each has to go through its winter preparation checks
The American travel writer, Paul Theroux once wrote that 'winter is a season of recovery and preparation'. Despite embarking on one of the most famous railway journeys ever consigned to the written word, this sentence proves that Mr Theroux's relationship with the railway has never extended to running one.
Winter presents challenges across all transport modes, none more so than ours – and preparation in the preceding seasons is the key. With a diverse portfolio of rolling stock, routes, and operating patterns throughout the railway, there is no 'one size fits all' solution to prepare for low temperatures, ice and snow. Even within individual train operating companies the approach varies dependant on a number of factors.
LOROL operates five different fleet types, consisting of AC, DC and dual voltage EMUs alongside Class 172 DMUs, with fleet ages ranging from six years to 35 years old. As a metro service in and around London, top speeds are restrained, but the duty cycle is high – with in excess of 20,000 door operations per day across the fleet. The winter mitigations we practice vary hugely between fleets and routes and build on the many years of lessons learned and – in the case of the newer fleets – lessons incorporated in vehicle design.
Core principles
There are two key tenets of good winter preparedness. Firstly, it is an iterative process which should be refined year-on-year, learning from previous experience and the best-practice of others. Secondly, and most importantly, we as an industry should never rest on the laurels of a successfully navigated winter. The moment we do, the results will make the front pages when our next record winter arrives.
From a fleet management perspective, winter planning can be effectively divided into three forms of mitigation. In order of preference they are:
Technical design solutions on trains to improve their ability to cope with winter weather
Changes to maintenance activities and processes, such as:

Additional routine activities carried out specifically during winter (ideally 'bolted on' to existing exams)
Discrete activities carried out when the temperature reaches a certain level or there is snowfall

A change to operating practices.
The appropriate mitigation(s) to any winter-related problem will depend upon case-specific information, ranging from the severity of the problem to the remaining life of the fleet. One thing, however, is always true – the most effective solutions are tailored to the individual operation and weaknesses of the fleet.
Traction and couplers
The LOROL core fleet is Bombardier-built Class 378 units. Introduced from 2009 onwards, this mixed DC-only and dual voltage fleet has been designed to cope with low temperatures, limiting the requirement for significant changes to maintenance processes or operation in service. The fleet have an 'Ice Mode' which compensates for expected supply spikes due to arcing on icy conductor rails, ensuring that the train is expecting adverse conditions. The decision to apply Ice Mode is made by our Control Team based on incumbent conditions and weather forecast for the day, and communicated to the driver team, who enact on unit set-up. Should the driver err, or forget to turn it on, the train will automatically remind them when the temperature falls to -2oC.
Approximately a quarter of the fleet is also fitted with third rail de-icers, applying a litre per mile of de-icing solution to the third rail head directly through the shoegear. Whilst this has been successful in previous years, we continue to look to improve. Working with our suppliers, we have identified a more viscous de-icing product to increase adherence to the third rail head. We will be modifying the fleet for Winter 2016/17 to accept the higher viscosity de-icer, predominantly increasing pipe bores to maintain existing flow-rates.  Bombardier is also undertaking feasibility studies on our behalf to fit sleet brushes, to clear snow and sleet from the current rail when snowfall has been high.
The limited preparation required on our Class 378 is in stark contrast to the management of our older AC traction EMU fleet – the Class 315 and Class 317 units. The Class 317 fleet specifically has been very susceptible to snow incursion into the traction motors. The air intake arrangement for these traction motors has already had in excess of 10 iterations – roughly a change every three years during its life. The fleet was once so badly affected by snow that the damage caused was still being managed in-service on some trains by end of the following summer. In instances like this, a pragmatic approach is required. Limiting speed drastically reduces snow incursion, and as such, LOROL has devised an emergency snow timetable for the routes on which these trains operate, with lower speed running. This presented a secondary opportunity. The Class 317 and Class 315 fleets routinely operate diagrams with high levels of coupling and uncoupling before and after peaks. Ice build-up on couplers, and snow dropping into electrical boxes whilst coupling is a risk for all units that split/join. Our emergency timetable consists of fixed formation units, meaning no coupling is carried out unless under controlled conditions at the start of the day. A constrained but reliable service is in preference to an unreliable attempt at delivery of a normal service. Whilst it is not ideal, we see service management as a pragmatic solution to a complex problem.
Doors
The modern KBRS door system fitted to the Class 378 and Class 172 fleets along with the very high 'metro' duty cycle means that they require little specific preparation for winter, with the exception of a light graphite lubrication of the nosing rubbers of the Class 172 fleet to prevent sticking in freezing temperatures.
A similar lubrication of the door rubbers on the older EMU fleet is added to their light maintenance regimes for winter, but these fleets require further mitigation against ice and snow.
Historically, de-icer has been used across the industry as a measure to combat ice build-up after the event. Over recent years, however, there has been an industry-wide move towards preventative measures. On both Class 315 and Class 317 fleets, this includes application of a 'pre-icer' solution to the door tread-plates to prevent ice adhering to the surfaces and hindering smooth operation of the doors. This activity is carried out on a nightly basis when temperatures are expected to drop below freezing.
Operation
During expected freezing temperatures, LOROL tweaks its operation through Control-led decisions. These include leaving DMUs running throughout the night to ensure diesel fuel doesn't wax and steam cleaning of snow from underframe components. Managing this effectively is based on having a clear, coherent strategy dependant on temperature and weather forecast, which is communicated to all of the key maintenance management staff.
Focused resource
Winter is a severe resource drain, it is imperative, therefore, that all resource is focused in the correct places. Passenger feedback on heating means operators are beset by complaints of trains that are too hot or too cold. Whilst some of these are genuine, others are caused by that enemy of engineers across the world – personal preference. LOROL's more modern fleets can be interrogated remotely to confirm whether passenger complaints are valid. This is a technology that is difficult to replicate on the older fleet without significant investment, and as such they have been retro-fitted with a more novel solution – a digital thermometer and USB download point on each coach, to easily check on heating performance if/when complaints are made.
The future
On a company basis, LOROL holds seasonal reviews of performance and trends, identifying actions and monitoring progress through internal Performance Improvement Groups. This helps to hone plans, but we are not only introspective. Whilst the UK railway has devolved fleet maintenance to a TOC-by-TOC basis, the industry has a broad support network for fleet engineering teams. The RSSB website is a fantastic source of best-practice with regard to research papers into cross-industry problems. Equally, performance forums such as ATOC's ReFocus allow for sharing of best-practice between operators, so that winter performance plans can be developed further for the winters to come.
As I child, I grew up wanting snowfall in winter. However, as a railwayman, I have grown to hope that all seasons are just 'tepid'. And as a realist, I know the rail industry must hope for the best but plan for the worst.
Biography

Martin Beable is Fleet Engineering and Asset Manager for London Overground Rail Operations Ltd (LOROL). Leading a small team, Martin is responsible for delivery of third-party contracted maintenance and engineering compliance across a fleet of over 400 vehicles.