Helping to improve GB rail winter operations
The members of the UK's RSSB (the Rail Safety and Standards Board) include infrastructure companies, train and freight operators, rolling stock owners and suppliers to the industry. Head of the Delivery, Research and Standards Department at the RSSB, Jane Dobson, explains what the organisation is doing to help this industry tackle winter challenges.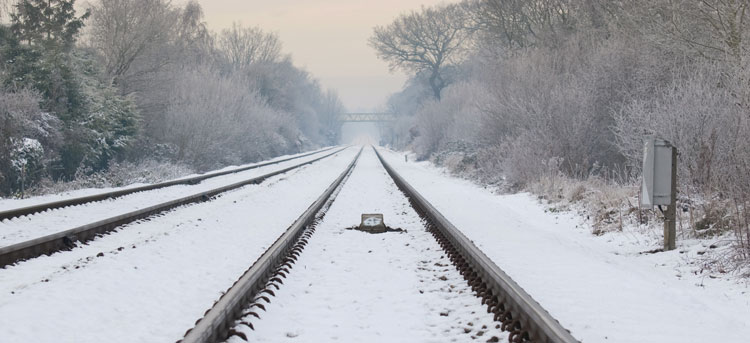 Extreme weather events in the last few years have shown that the rail industry has an insufficient understanding of the affect weather has on our rail infrastructure. A prime example of this is the Dawlish Sea Wall incident in February 2014.
At Dawlish, the waves breached a sea wall designed to withstand a severe 'one in a hundred years' storm and resulted its collapse. An official investigation predicted that by 2080 similar, very severe storms could occur as often as every 14 years, with the incidence of waves breaking over the sea wall increasing by at least 60 times. The findings have raised serious doubts about the line's continued use in the future.
In addition to climate change, seasonal occurrences such as leaves on the line, ice and frost, happen year-on-year, causing major disruption throughout the network and to passengers.
To overcome this, the rail industry needs to know how it will perform in the current and future climate to achieve a highly reliable railway, increased capacity, value for money and a 'predict and prevent' ethos.
The British railway system prides itself on having a thirst for knowledge and developing a strong evidence base on which we identify findings, which help to create appropriate solutions. This is where RSSB can play a part.   
Climate change impacts
It is widely recognised that both mitigation and adaptation to climate change are necessary and should be managed as part of a complementary process. Many countries, for example Japan and Germany, have already created national adaptation plans to tackle climate change.
Against this international background, the British Government passed the Climate Change Act 2008. One provision of the Act required Network Rail to report, in 2010, what activities they were undertaking in order to understand and adapt to future changes in the climate.
Beyond the climate change issue, the UK Department for Transport (DfT) estimates the welfare cost of transport disruption from severe winter weather to be circa £280 million per day in England1. While there will be reductions in snow days across the UK, cold weather events will still occur year-on-year, including those recent winter conditions we have been facing.
It doesn't take a rail engineer to understand that low temperatures plus snow and ice impacts the whole railway system. A 2003 RSSB document estimated that the winter weather months (December to February) caused 120,474 delay minutes, representing 10.6% of the annual total delay minutes.
For passengers and staff, the main impacts include:
Increased slips, trips and falls in icy conditions
Impaired decision-making by staff during extended work periods in cold temperatures
Disruption to staffing due to dependence on the road network to get to work in winter conditions.
Slips, trips and falls account for 46.8% of the safety risk to passengers, which is also the largest risk to the workforce.
The main impacts of such weather conditions on infrastructure can often be severe and disruptive. These include:
Rail breaks, cracks and/or associated misalignment problems
Tree and branch fall onto tracks due to snow loading
Ice falls in tunnels, under bridges and other structures causing damage or derailment of trains
Frost heave of track beds and earthworks
Freeze-thaw damage to concrete sleepers
Increase risk of earthworks failures due to desiccation.
The severity of these situations was seen in a derailment in the Summit Tunnel during winter 2010. The cause was an ice-build up falling onto tracks which resulted in train and minor track damage with closures for 24 hours.
'Tomorrow's Railway and Climate Change Adaptation'
To support Network Rail's response to the 'Adaptation Reporting Power', Network Rail and RSSB came together to start a programme of work under the general banner of 'Tomorrow's Railway and Climate Change Adaptation' project.
RSSB's role, on behalf of the rail industry, is to manage research programmes in an independent, professional and cost effective way. Rail-related fact-finding and research on climate change issues was first undertaken by RSSB in 2003 to identify vulnerabilities of the railway to current and future weather patterns.
A report into specific sea-level rise impacts on coastal railways followed in 2008 in collaboration with Network Rail and the Environment Agency and since 2009, the mainline network has been subject to studies on the potential impacts on safety and performance of climate change, with assistance from the UK Met Office.
In early-2015, we published findings from Phase 1 of 2 of the 'Tomorrow's Railway and Climate Change Adaptation' project which provided us with solid evidence that the milder, wetter winters and more frequent and intense extreme weather events will most certainly affect the resilience of the entire railway system now and in the future.
Phase 1 of the project set out to answer the following three key questions:
How will UK climate and weather change in the future?
What are the impacts of climate change and extreme weather on the GB railway currently and how might these change over coming decades?
What is the GB rail industry doing to respond and adapt to the potential impacts of projected climate change and extreme weather?
During Phase 1 of the project, we surveyed the possible effects of changing weather patterns on Britain's railways as part of an industry-wide attempt to assess and mitigate risk by anticipating future challenges. By looking at and addressing these problems now, industry can plan ahead to consider future changes to its approach to railway design and operations.
The Phase 1 research assembled a consortium with a range of different talents and skills. Organisations involved included Arup, CIRIA (Construction Industry Research and Information Association), JBA Consulting, the Met Office and the University of Birmingham.
The consortium discovered that higher summer temperatures, changing patterns of rainfall, more frequent and intense extreme weather events such as heatwaves or in this instance, cold snaps and heavy rainfall and storms, higher sea levels and larger storm surges, will affect the resilience of the whole railway system, particularly track structures, earthworks and rolling stock.
The first phase identified over 120 recommendations relating to increasing the resilience of Britain's railways and its various sub-systems in the short, medium and long-term; with 10 key recommendations highlighted as priorities following consultation with GB rail experts.
The project is coming to a close and Phase 2 findings will be published in early-2016.
'Review of the rules for the operation of trains through flood water'
Another RSSB project focusses on the operation of trains through flood water – a problem not just restricted to the winter months. The aim of the 'Review of the rules for the operation of trains through flood water' project is to better understand the physical phenomena involved in trains running through flood water.
The research identified that the main origin of potential damage from flood water on tracks is not aerodynamics, as previously thought, but contact of the wheels with flood water when trains pass through at high-speed. This is a knowledge gap for which further research is proposed in the areas of:
Monitoring – monitoring vehicles encountering flood water and consequent water-related damage
Deflection – a short series of observations using the methodology outlined in this research would address this issue
Computational Fluid Dynamics (CFD) – a targeted series of CFD calculations for a rotating wheel passing through water of various depths at various rotational speeds
Warning systems – studies undertaken to identify a more sophisticated advance warning system that could be linked the Network Rail meteorological, weather radar work.
The project has a series of outcomes for industry to implement, which include:
Continue to use the Rule Book speeds in floods
Monitor the relation between water damage to trains and running into floodwater more precisely to understand the extent and costs of such incidents
Consider development of real-time floodwater monitoring at trackside.
Looking ahead – Predictable and Optimised Braking
Our Future Railway programme facilitated a Predictable and Optimised Braking competition, launched in October 2014, and sought novel solutions which can provide increased braking performance and reliable braking rates that are independent of wheel/rail adhesion. Predictable and optimised braking on the UK rail network will benefit all users by enabling more reliable timetabling and increase capacity.
The competition included two phases with the most promising applications going on to receive funding to further develop and demonstrate the braking system. Mole Solutions was one of the winning entries and was granted funding to carry out a six-month feasibility study to investigate its proposed solution.
Mole Solutions uses the same technology of magnetic propulsion and braking it has developed for its freight pipeline, which carries unmanned capsules safely and securely in enclosed pipes.
Subject to a successful feasibility study and further testing, Mole Solutions could open up a new system of train control whereby off-vehicle braking would become an interactive part of the journey management process.
The work we have carried out over the years serves to show that we are building a strong 'evidence base'. This evidence base will then enable us to advise industry on how they can best tackle performance issues during extreme weather events and develop that 'predict and prevent' ethos, for this and the next generation.
Further information about these projects can be found via our free, interactive web tool SPARK2.
About the Rail Safety and Standards Board (RSSB)
RSSB was established in 2003 after the publication of the Review of Fatal Accident Inquiry Legislation report by Lord Cullen. We are an expert, not-for-profit organisation which supports the rail industry to improve safety and performance. We bring organisations together to help deliver clear benefits to passengers and businesses while providing value to the taxpayer. Our members include infrastructure companies, train and freight operators, rolling stock owners and suppliers to the industry.
References
Department for Transport, DECC and Defra, December 2011
Biography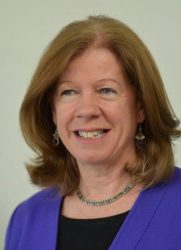 Jane Dobson studied languages at Oxford Brookes University, and later in her career did a European Business Management Diploma at Canterbury Christchurch University. She joined Eurotunnel in 1986 and played an active role in the development of road and rail freight traffic through the Channel Tunnel, and represented Eurotunnel at the European railway lobbying organisations. After nearly 20 years with Eurotunnel, she moved into railway consultancy with Interfleet Technology Ltd, working in both London and India, and most recently she joined RSSB as Head of the Delivery, Research and Standards Department, and is responsible for the effective delivery of RSSB's directly managed research projects.
Issue
Related organisations