British Transport Police efforts continue to make level crossings even safer
The British Transport Police (BTP) continues to build on the work that has already been undertaken to fundamentally look at the way in which they deal with and report incidents at railway level crossings. Becky Warren, Inspector for Fatality Management and Disruption at the BTP, explores further.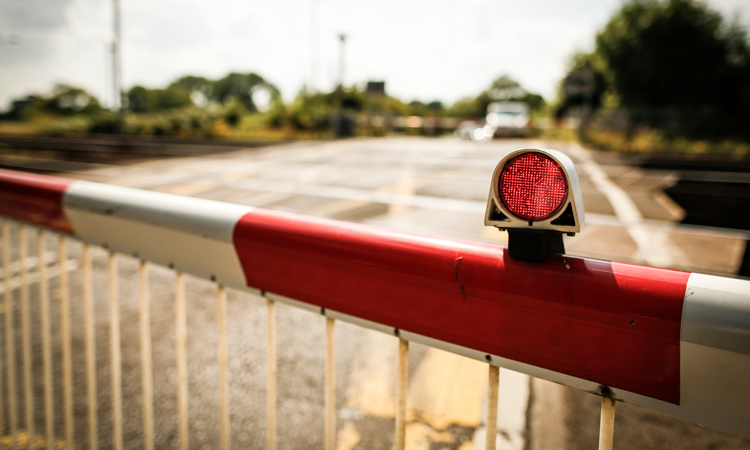 Strategy
There are over 6,000 level crossings in the UK and as the national police force for the railway we recognise that there remains the need to raise awareness of the risks associated with deliberately misusing them.
Our strategy for achieving this is broken down into a number of strands. The use and deployment of mobile safety vehicles, driver awareness courses being offered to offenders instead of a fixed penalty and points on their driving licence, partnership working with Network Rail, the utilisation of all forms of media and new ways of working through education – specifically with the innovative Yvonne Arnaud Theatre Group.
Operation Look
All of this is brought together in regular multi-agency weeks of action known as Operation Look. Whether it is business as usual or an Operation Look campaign – the aim and purpose of all activity is to educate drivers and users of level crossings on the safe and legal use with the ultimate aim of reducing risk and increasing safety at all level crossings across the UK.
The mobile safety vehicles have more than proved their worth and are currently being used extensively across the UK by all of BTP's geographical divisions. This is just one of the ways in which BTP works in partnership with Network Rail to target level crossings where there is, or believed to be, a risk of drivers failing to comply with the level crossings lights and barriers. They are jointly tasked by Network Rail and British Transport Police to focus activity on the crossings with the highest risk and levels of failure. It is vital that we work closely with partners as this is not just a policing issue but also a business issue. There are a number of knock-on effects of incidents which occur at level crossings which can have an impact far wider than those who are involved in the incident. If the incident involves a train driver and a motor vehicle, not only is it the driver's family and friends who are impacted, any passengers and their families are also impacted; then there are the other road and rail users who are at the least inconvenienced through either being stuck in traffic or having their trains delayed or cancelled. People miss flights, job interviews, visiting relatives in hospital or even funerals – and so it goes on. The train driver may never drive again, with the associated impact on his or her family and the impact this has on the industry and although the costs of these incidents are not a driving factor, they are not insignificant if there should be an incident at a level crossing.
The majority of drivers who are captured failing to comply with the level crossing signs are eligible for referral to undertake a driver awareness course. These courses focus on educating the driver not only in how to use the level crossing safely and legally but also what the consequences and impact of their actions could be. The course is delivered by AA DriveTech on behalf of British Transport Police. A crucial part of the course includes an evaluation solicited from the drivers who attend to get their perspective. The latest figures show that over 88% of drivers attending this course think the course content is good or excellent; 94% are happy with the delivery and more than 83% believe the course would be of benefit to all drivers.
The latter is one of the many reasons why we run the level crossing campaigns across the UK – to get the message out to as many people as possible.
We have held three successful Operation Look weeks since September 2014. These have been well-received by the public and key stakeholders and we have another one planned for October 2015.
The initial Operation Look saw extensive coverage on television, radio and newspapers – both local and national. Operation Look 2 culminated in a slot on a primetime network show 'The One Show' viewed by millions and reaching the biggest audience to date.
Operation Look 3 concentrated on finding new ways of getting our critical message across, particularly to pedestrian users. Although they may not be committing an offence if they cross the crossing as the lights are flashing and barriers are descending, they most certainly are putting their lives and the lives of others at risk through their actions.
We employed an innovative and direct approach during this most recent week of action. The Yvonne Arnaud Theatre Group, based in Guilford, has developed a play which it already presents to schools around the UK. The group has produced and performed a play, consisting of a series of monologues, at level crossings, on trains, community centres and schools close to crossings.
'Off the Level' focuses on education for young people and has been delivered across the UK in schools. The experience also includes a workshop where the young people can be involved in the outcome of the play and alter the ending of the play which is based around six characters played by three actors. They initially play three young people and their comings and goings to and from college via a level crossing – using it correctly each time – this culminates with one of them rushing across after the lights and barriers have started to come down and being hit and killed by a train. This is interjected by monologues from each of the actors who play the bereaved parent, the train driver and the BTP Officer who explain how the incident impacts them. The young people then get to see the play again but are given permission to stop the play at any point and join in. They then discuss their thoughts and feelings and, how acting on an impulse or through peer pressure, tragic circumstances can occur. This has received positive feedback from not only the schools but also the children themselves who find the interactive experience extremely useful in understanding the risks associated with level crossings.
Operation Look has so far seen hundreds of level crossings throughout the country with engagement being key to its success. Drivers appreciate the face-to-face interaction with British Transport Police and Network Rail staff. Look out for the next operation coming soon.
Biography

Becky Warren is Inspector for Fatality Management and Disruption for the British Transport Police (BTP) and has been an Officer with the BTP for over 21 years. She began her career as a Constable and Sergeant at Brighton. Having worked in the Strategic Development Department and then as a Line Inspector on the Piccadilly Line, she now leads a team who look at how BTP manage railway fatalities and disruption related matters and leads on level crossing issues for the force including oversight of the Mobile Safety Vehicles.