How are high levels of rail integrity achieved?
Chris Eady, Executive Director of the Institute of Rail Welding, takes a look at the topic of broken rails and rolling contact fatigue and, with quotes from Brian Whitney at Network Rail, explains why it is necessary to repeat the importance of rail integrity management.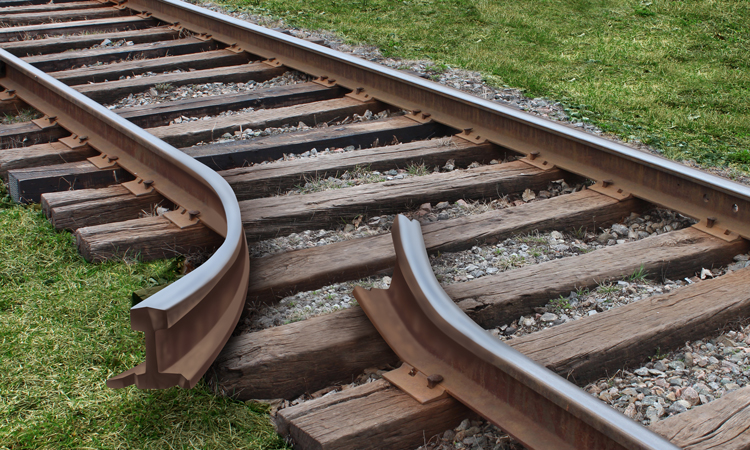 'At 12.23 on Tuesday 17 October 2000, train ID38 travelling in the UK from London Kings Cross to Leeds derailed roughly 0.5 miles (0.8km) south of Hatfield Station. The train, operated by Great North Eastern Railway (GNER), was carrying 170 passengers and 12 GNER staff. Four passengers were killed and over 70 people were injured, four seriously, including two of the GNER staff.'
These are the opening words of the final report by the Independent Investigation Board into the train derailment at Hatfield. The report found that gauge corner cracks, caused by rolling contact fatigue (RCF), had propagated into the high rail, resulting in the fragmentation of the rail over a 35m-length.
As a necessary consequence, the Hatfield disaster resulted in increased technical and operational focus on rail wear and rail failure mechanisms; the outcomes of which have driven the introduction of new technologies and procedures to minimise the risk of a recurrence.
RCF: A major cause
RCF continues to be a major cause of premature rail replacement and a significant driver of maintenance and inspection efforts but, since Hatfield, Network Rail management of rail integrity has dramatically reduced the number of rail breaks.
Brian Whitney, Principal Engineer Track and Civils said: "Our current broken rail performance is one of the best in Europe, with fewer breaks per kilometre than many similar infrastructure operators."
So, how has this high level of rail integrity been achieved?
Through a greater developed understanding of rail damage mechanisms, enhanced rail inspection methodologies, improved materials, and increased quality control of rail maintenance and renewal, the incidence of broken rails has been driven down from an annual rate of 700 to 800 to around 150 per year, or fewer. This year rail breaks are expected to be approximately 100, an all-time low. One key tool for informing engineering decision-making is the Network Rail, in-house developed TrackEx system, which integrates physical data on rail condition, track geometry and usage, with wheel-rail interface theory. This use of modelling to analyse vehicle-track interaction has enabled Network Rail to improve management of the wheel-rail interface, through optimisation of rail lubrication and rail grinding plans and targeting the application of premium rail steels at key locations.
With the typical modesty of an engineer, Brian has made it clear that: "our achievements in improving rail integrity have been a team effort, and I have been privileged to work with many talented and knowledgeable colleagues, past and present." However, Brian has been at the heart of Network Rail's activities in addressing the underlying causes identified post-Hatfield. His knowledge and understanding of rail materials and damage mechanisms have been instrumental in the development of new technologies and standards, and he has also passed on his knowledge through published papers, presentations and web-based videos to educate and inform about RCF, its identification, avoidance and remediation.
The development and introduction of, first, the pedestrian Sperry ultrasonic testing (UT) equipment, and then the train-mounted Sperry UT equipment improved the quality and the speed of inspection data capture. Innovation continues with a new eddy current testing system that will be fitted to all rail-based inspection trains to provide a detailed picture of surface damage and deterioration, including the presence and growth of RCF cracks, so that further improved treatments and management processes can be introduced.
As Brian says: "One of the major factors when considering the scale of achievements in improving rail integrity performance to this degree is that it is set against significant increases in traffic across the network."
In the last 15 years the total tonnages across the network have doubled.
Brian continues: "The consequential increase in rate of deterioration through increased usage alone demanded significant advances in management and maintenance effectiveness just to maintain integrity performance at a similar level, let alone to drive down rail breaks by 87%."
Increasing operational pressures have been accommodated by the introduction of a train-based grinding programme to better manage the rail profile and control conicity, thereby reducing the volume of surface damage and increasing rail life, whilst minimising track possessions. This has necessitated the introduction of purpose built trains to target in-traffic preventative grinding, as well as corrective grinding in plain line and S&C. Development of a Rail Defect Management System (RDMS) has improved the accuracy of reporting and allocation of minimum actions for their safe and timely management and, through automatic linkage with the Ellipse work planning tool, has created standard jobs with fixed timescales for the removal of defects.
The improved monitoring of rail condition, better identification of precursors to rail failure, timely intervention and rectification and improved maintenance quality have combined to reduce the rate of high-risk defects and increase component installed lives.
Whilst weld quality was not implicated in the report, around the time of the Hatfield disaster Network Rail was already committing efforts to reducing the number of rail weld breaks. Following a study into rail welding training and skills, Network Rail committed to supporting the formation and operation of the Institute of Rail Welding1 (IoRW). Brian Whitney is the Chairman of the IoRW, and this important stakeholder group of rail welding providers, process owners, and rail welder training providers has effectively engaged in informing and guiding improvements in the control of rail weld quality over the same period, which has seen rejection rates reduce from around 3.5-4% to 1.5%, eliminating over 1,000 weld replacements each year. Also, Brian's leadership and expertise has been instrumental in developing standards and procedures that have been effective in significantly reducing the occurrence of weld breaks.
In recognition of his achievements, especially in the dissemination of his understanding of RCF management and rail weld integrity solutions, Brian has been selected to receive the 2015 Larke-Lillicrap Award from The Welding Institute.
Like a broken record, there is a constant need to repeat the importance of improved rail break performance. In addition to their continued focus on increasing rail integrity, Brian and his team's efforts are working to develop and introduce new technologies and new standards for rail renewal and rail restoration that will also further improve rail life-cycle cost and competence assurance for rail welding quality and inspection personnel.
Reference
Biography

Eur Ing Chris Eady BSc(Hons) MSc CEng MRAeS FWeldI is Associate Director for Professional Affairs and Certification at TWI. He is responsible for the direction of both The Welding Institute, licensed by the Engineering Council to register Engineering Technicians, Incorporated Engineers and Chartered Engineers, and TWI Certification Ltd, UKAS-accredited for certification of personnel and manufacturers for compliance with European and International Standards. Chris acts as Executive Officer of the Institute of Rail Welding, the stakeholder group focused on quality, technical development and competence in rail welding.